Oh My Pie! A Chocolate Chip Dessert To Wow Your Paleo Friends
September 27, 2015 — 8:35 AM
Oh my, pie! I can't be certain, but I think there is a Southern law that says you must eat your weight in pie if ever in the Southern states. Pie is not just dessert — it is as essential as the air you breathe. This version is the perfect marriage of traditional pecan pie and chocolate!
Chocolate Chip Georgian Pecan Pie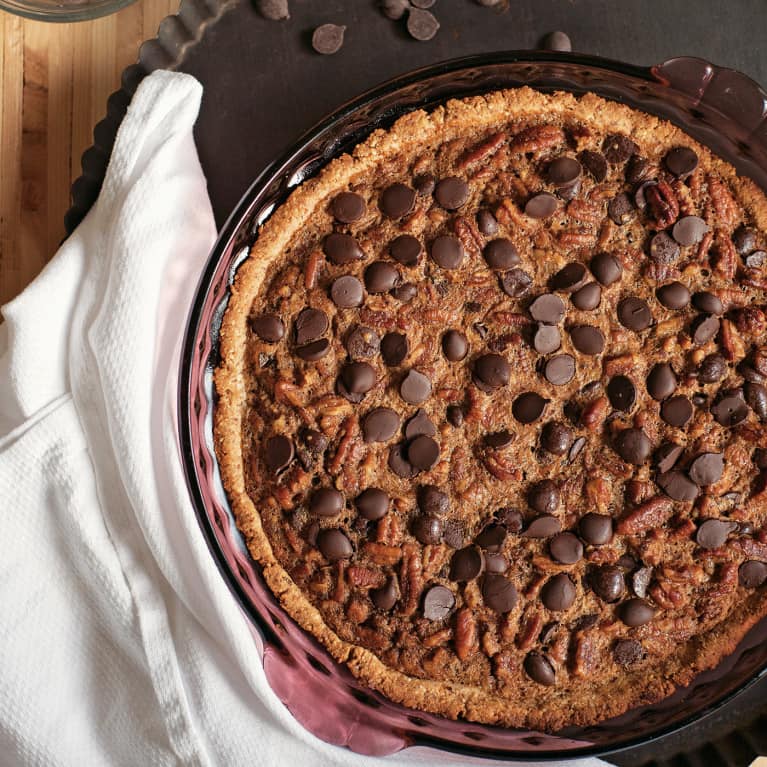 Serves 8
Ingredients for the crust
1 cup (120 g) cashew meal (or grind your own)
1 cup (120 g) almond flour
1 egg
1 tablespoon (15 ml) pure maple syrup
¼ cup (30 g) tapioca flour
Pinch of salt
Ingredients for the filling
3 eggs
3 tablespoons (45 ml) coconut oil, melted
¾ cup (130 g) dairy- and soy-free chocolate chips, plus more for sprinkling on top (optional)
1½ cups (225 g) pecan halves
¼ teaspoon sea salt
½ cup (100 g) maple sugar
1 teaspoon (5 ml) pure vanilla extract
1. Preheat the oven to 350°F. To make the crust, combine all ingredients in a bowl and mix until well incorporated. Lightly grease pie tin and press the mixture into a nice even layer in the base and up the sides. Parbake the crust for 5 minutes, then remove from the oven.
2. To make the filling, mix all the ingredients in a bowl until well combined, and then pour into the parbaked pie shell. If adding more chocolate chips, sprinkle them on top.
3. Return the filled pie to the oven and bake for 30–40 minutes, or until set. Remove from the oven and set aside to cool slightly. Serve warm with a dollop of whipped cream, if desired.
This recipe is from Down South Paleo: Delectable Southern Recipes Adapted for Gluten-free, Paleo Eaters