A Dreamy Cinnamon Pecan Coffee Cake (That's Also Gluten-Free & Paleo)
August 30, 2015 — 8:44 AM
If you're a believer that cake isn't just for birthdays, mark this recipe. We Southerners believe cake is for all occasions — including breakfast!
Celebrating before 9 a.m.? Do it up, y'all! This is delicious with New Orleans-style Café au Lait.
Cinnamon Pecan Coffee Cake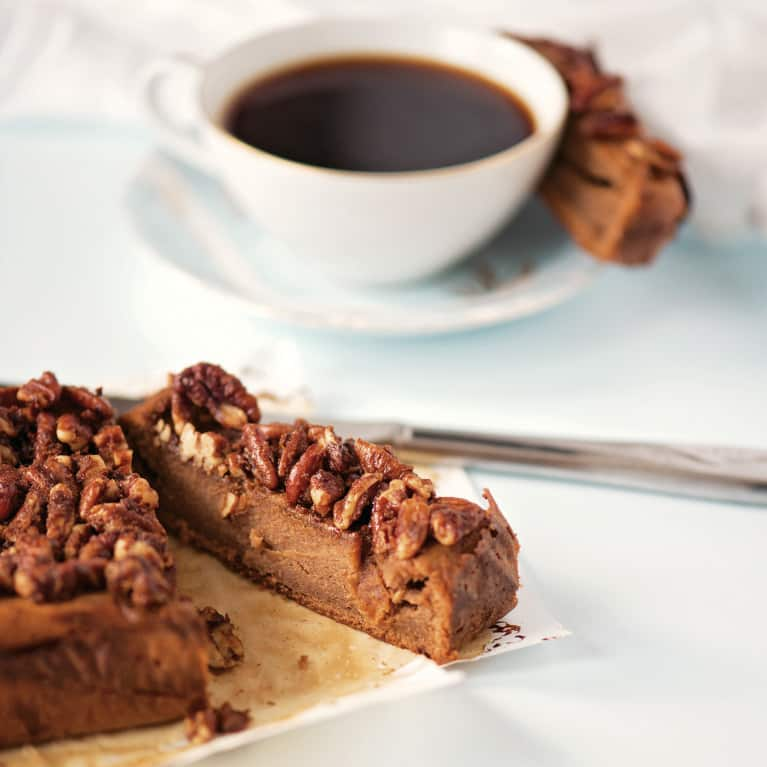 Serves 9
Ingredients for the cake
1 cup (150 g) pecan halves
¼ cup (60 ml) avocado, coconut or olive oil
3 pastured eggs
½ cup (120 ml) full-fat coconut milk (or preferred dairy-free milk)
¼ cup (30 g) coconut flour
¼ cup (30 g) tapioca
¼ cup (30 g) water chestnut flour
¼ teaspoon sea salt
⅓ cup (65 g) coconut palm sugar
1 teaspoon (5 ml) pure vanilla extract
½ teaspoon ground cinnamon
Ingredients for the topping
½ cup (75 g) pecan pieces
¼ teaspoon ground cinnamon
2 tablespoon (24 g) coconut palm sugar
2 tablespoon (30 ml) avocado, coconut or olive oil
Preparation
1. Preheat the oven to 350°F (180°C, or gas mark 4).
2. To make the cake, combine all the ingredients in a blender. Blend until you have a creamy consistency, then pour into an 8 x 8-inch (20 x 20-cm) greased baking pan or casserole dish.
Alternatively, you can bake this in a loaf pan. Bake for 20 minutes.
3. To make the topping, while the cake is baking, combine the topping ingredients. Remove the coffee cake from the oven and spread the topping over the top of the cake.
4. Return to the oven for an additional 10–15 minutes, until the topping is crisp. Remove from the oven and allow the cake to cool for 10 minutes before slicing. Serve warm.
This recipe was an excerpt from Down South Paleo: Delectable Southern Recipes Adapted for Gluten-free, Paleo Eaters