The Perfect Dessert Recipe For Everyone: Mixed Berry Cobbler (Vegan + Paleo)
Be it apple, peach or berry, cobbler is always a winner! This berry version is so scrumptious, you'd never know the crumbly, toasty topping was made with only a handful of healthy whole foods.
It's grain, dairy, nut, egg and soy-free, too!
Mixed Berry Cobbler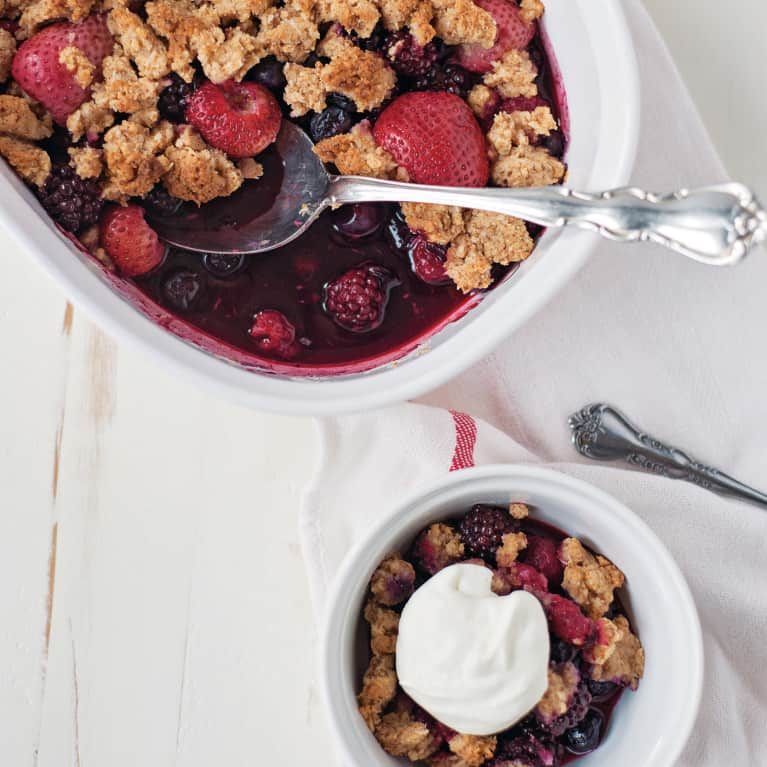 Serves 6
Ingredients for the topping
¼ cup (30 g) coconut flour
¼ cup (20 g) unsweetened shredded coconut
¼ cup (30 g) sweet potato flour
1 tablespoon (12 g) coconut palm sugar
⅓ cup (80 ml) coconut oil, melted, or preferred cooking fat
Pinch of salt
Ingredients for the cobbler
1½ lbs (680 g) mixed berries (strawberries, blueberries, raspberries, blackberries)
¼ cup (50 g) coconut palm sugar
Zest from 1 clementine or tangerine
Coconut Whipped Cream (page 159, optional)
Preparation
1. Preheat the oven to 350°F (180°C, or gas mark 4).
2. To make the topping, in a bowl, combine the topping ingredients and set aside.
3. To make the cobbler, rinse and trim the berries as necessary. Add the sugar and zest and toss gently to combine. Transfer to a small, greased casserole dish, then sprinkle on the topping mixture.
4. Bake for 25–30 minutes, or until the topping is crunchy but not burned. Remove from the oven and serve warm, topped with the Coconut Whipped Cream, if desired, for extra yums!
This recipe was excerpted from Down South Paleo: Delectable Southern Recipes Adapted for Gluten-free, Paleo Eaters.