A Meat-Free Menu For The Jewish New Year
It's great to have options that work for all dietary needs at a holiday celebration. The following four recipes are a great way to incorporate more meatless (and even vegan) options into your Rosh Hashanah (or any holiday).
Carrot Ginger Soup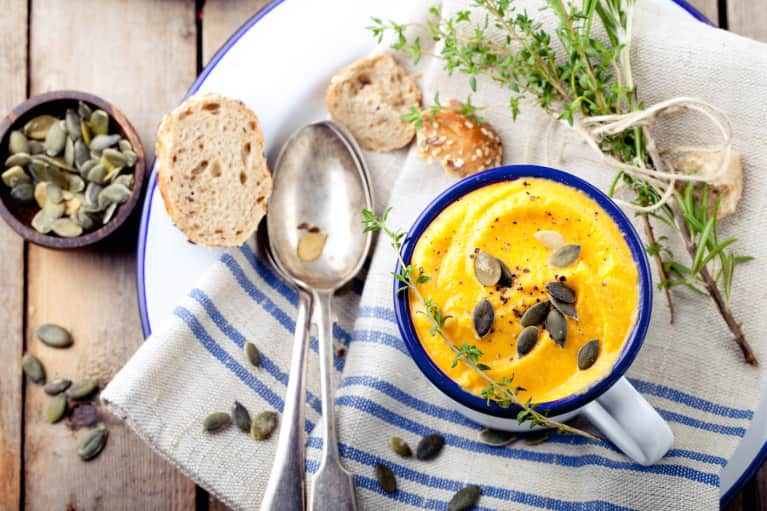 3 tablespoons olive oil
1 large onion, peeled and finely chopped
½ cup raw cashews
1 garlic clove, finely chopped and peeled
7 carrots peeled and diced (approximately one pound)
5 cups stock (plus additional, as needed, for thinning)
2 tablespoons fresh ginger (peeled and chopped)
2 teaspoons ground cumin
2 teaspoons curry powder
Kosher salt and freshly ground black pepper to taste
1 cup coconut milk (plus additional, as needed, for thinning)
Fresh parsley, for garnish
Preparation
1. In a large stockpot or Dutch oven set over medium-high heat, warm the olive oil until shimmering. Add onions and cook, stirring, until they begin to soften, about 5 minutes.
Add the cashews and cook, stirring, until the onions are translucent and the cashews have slightly browned, about 3 minutes. Stir in the garlic and cook for 30 seconds. Add carrots, stock, ginger, cumin, curry powder, and stir to combine. Season to taste with salt and pepper, and bring the soup to a simmer for about 20 minutes. Uncover the soup and let it cool for 15 minutes.
2. Puree the soup in small batches in a blender (starting on slow speed and increasing to high), until smooth. Place a towel over the top of the blender to let the heat out while blocking splatters. You can also use an immersion blender (with soup remaining in the pot), but it may take longer to puree until smooth.
3. If using a blender, return the soup to the pot, add the coconut milk, cover and cook over low heat until slightly thickened, about 15 to 20 minutes. Serve immediately or refrigerate until ready. If serving the soup later, while reheating the soup, thin it out with more broth or coconut milk until it reaches the desired consistency.
Pomegranate, Pistachio + Squash Salad
Serves 4-6
Ingredients
1 cooked butternut squash, peeled and cut into bite-size pieces
6 cups mixed greens
2 apples, peeled and cubed
½ cup shelled pistachios
4 ounces soft goat cheese
½ cup pomegranate seeds
Ingredients for the dressing
1/3 cup balsamic vinegar
3/4 cup extra virgin olive oil
1 tablespoon honey
3 tablespoons pomegranate juice
1 teaspoon Dijon mustard
Salt and pepper to taste
Preparation
1. For the dressing, whisk all ingredients together. Drizzle dressing on salad to taste. There should be more then enough for an extra salad or dipping raw veggies.
2. In a bowl toss the squash, greens, apples, and dressing. Top with pistachios, goat cheese, and pomegranate seeds.
Pomegranate Braised Tofu With Mushroom-Infused Quinoa
Serves 4-6
Ingredients for tofu
1 tablespoon sesame oil
14 ounces organic firm tofu
1 cup pomegranate juice
2 tablespoons soy sauce or 1 tablespoon Bragg amino acids
1 garlic clove, crushed
½ teaspoon honey
Juice of half a fresh orange
Fresh pomegranate seeds for garnish
Preparation
1. Halve your brick of tofu into two long bricks, then slice each into 1/4-inch rectangular pieces. Fill a baking dish with the pomegranate juice, soy sauce orange juice, and crushed garlic and whisk in the honey. Arrange the tofu pieces in the pomegranate marinade. Marinate in the refrigerator for 1 hour.
2. Once tofu is marinated, remove the slices from the dish, reserving the liquid. Heat the sesame oil over medium-high heat in a frying pan. Once the oil is hot, brown the tofu pieces on each side until golden brown. Make sure your oil is hot enough; the tofu should sizzle when it hits the pan. Once the tofu slices are browned, return them to the marinade, which now becomes the braising liquid.
3. In an oven preheated to 350F, bake the tofu with the marinade for about 30 minutes.
Ingredients for quinoa
1 tablespoon sesame oil
½ onion, chopped
1 cup mushrooms, chopped
1½ cups quinoa, rinsed and drained
3 cups vegetable stock
1 teaspoon soy sauce or Braggs amino acids
Salt and pepper to taste
Preparation
1. In a sauté pan heat the sesame oil. Add the onions and cook, stirring, until they begin to soften, about 5 minutes. Add mushrooms and cook, stirring, until the onions are translucent and the mushrooms have slightly browned, about 3 minutes. Set aside.
2. Add the quinoa and stock in a large pot and bring to a boil . Once it comes to a full boil reduce the heat and cook for 10-15 minutes. Remove from heat, add soy sauce, salt and pepper and add mushroom mixture and combine.
3. When quinoa and tofu are ready, place tofu over the quinoa and garnish with fresh pomegranate seeds. Then drizzle the marinade over both the tofu and the quinoa.
Chocolate Brownies (Gluten-Free)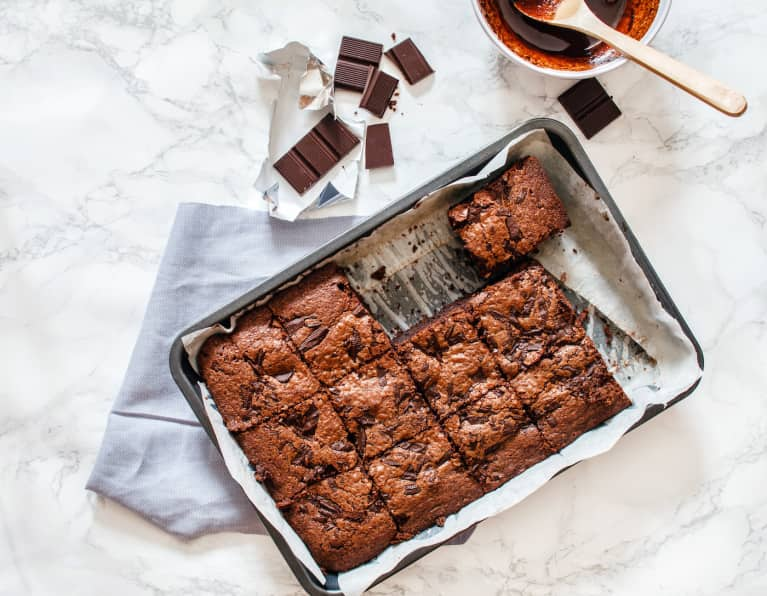 8 ounces bittersweet chocolate, chopped (or semisweet chocolate chips)
6 tablespoons unsalted butter (or coconut oil), plus extra for greasing the pan
½ cup coconut sugar (if you don't like things too sweet you can reduce to 1/3 of a cup)
2 eggs at room temperature, beaten
1½ teaspoons vanilla extract
1/3 cup almond flour
½ cup chopped walnuts (optional)
For garnish: fresh berries or pomegranate seeds and powdered sugar (optional)
Preparation
1. Preheat oven to 350F degrees. Grease an 8-inch-square baking dish. In a double boiler, melt the chocolate. Then add butter, melt, and stir to blend. Remove from heat and pour into a mixing bowl. Stir in the sugar, eggs, and vanilla and mix well.
2. Add the flour. Mix well, until very smooth. Add the chopped walnuts (if desired). Pour the batter into the greased baking pan. Bake for 35 minutes, or until set and barely firm in the middle. Allow to cool on a rack before removing from pan.
Optional: garnish with berries or powdered sugar, or both.
These recipes are excerpted from the book My Fat Dad.