The Wheat Even Gluten Sensitive People Can Eat
Last year, I underwent a multitude of autoimmune, thyroid, and stomach issues that caused me to examine the food I was eating. After eating any type of store-bought, pre-packaged foods that were made from modern wheat, I noticed that my symptoms would be exacerbated, so I tried eating homemade einkorn-based items for a while. (Einkorn is a type of heirloom wheat.) The headaches, inflammation, stomach pains, and energy spikes started to ease up noticeably.
Only 1% of Americans suffer from true Celiac's Disease. So why are upwards of 30% of Americans actively trying to avoid gluten? Because for many people, gluten in modern wheat gives them headaches and stomach aches, along with feelings of fatigue and bloating.
Modern wheat is a hybrid of different types of wheat, giving it between 28 to 42 chromosomes in its DNA. The more complex cellular structure of modern wheat can make it harder for some sensitive stomachs to digest, making something like heirloom einkorn wheat (with fewer chromosomes) much easier for the stomach to process.
Einkorn
Einkorn is an a heirloom wheat, meaning it hasn't had its DNA structure altered — it has only 14 chromosomes.
Einkorn berries can be used in a multitude of ways, just like wheat. You can cook the berries to make risotto, sprinkle on salads, or make an einkorn grain bowl with veggies and protein for a hearty dinner.
As a home baker, it's my favorite flour to use for breads, muffins, pancakes, and crepes, no contest. It makes baked goods fluffier, hold more moisture than regular white flour, and is more nutrient-dense.
I order my einkorn online, and you can buy the wheat berries whole or in flour form.
I make my signature Almond Butter Chia Banana Bread with einkorn flour now. Everyone always remarks on the wonderful texture the bread has and asks what ingredients I use. Now, you can all know:
Almond Butter Chia Banana Bread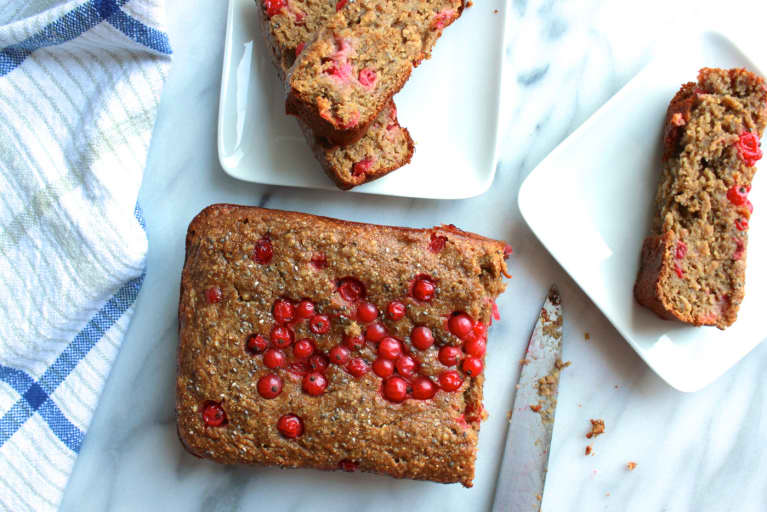 3 very ripe medium bananas
1/3 cup unsweetened applesauce
1/2 cup creamy raw almond butter, room temp
1 large egg, room temp
1/2 cup raw coconut sugar
1 cup einkorn flour
1/2 cup almond meal
1/2 teaspoon baking soda
1.5 teaspoon baking powder
1 tablespoon chia seeds
oil to grease pan (I used coconut oil)
Preparation
1. Preheat oven to 350º F
2. Combine dry ingredients (einkorn flour, almond meal, baking soda & powder) in a small bowl and lightly whisk to combine.
3. Peel and mash bananas using a fork in a large mixing bowl. Add applesauce, and coconut sugar and mix well. Add in egg, whisk until blended in, then stir in almond butter until smooth and consistent.
4. Add dry ingredient mixture to the wet mixture in 3 parts, stirring gently after each addition. Be careful not to over-mix, you want to just stir in gently enough until combined, no more.
5. Gently stir in chia seed, reserving some for later. Stir minimally until combined.
6. Lightly grease 8.5 x 4.5-inch bread loaf pan with coconut oil. Add in batter, and sprinkle reserve chia seeds on top. (I added currants for decor as well).
7. Place pan in the oven and bake for 30-40 minutes until edges are darkened a bit and start to pull away from the pan. Good test tip- stick a toothpick in the center and if it comes out clean, it is done. If batter sticks to it, it needs some more time.
8. Remove from oven, let it sit in the pan for a few minutes, then transfer to a wire rack to cool. Slice and serve!
Photo courtesy of the author