A Lighter, More Nutritious Take On Pizza (Even The Kids Love It)
Pizza is a favorite in my household. I mean, who doesn't love pizza? So, I've been on a mission to find a lighter, more nutritious alternative to traditional pizza that would be so delicious that even the kids would love it.
Enter cauliflower crust pizza with a paleo twist, of course. Cauliflower takes on a bread-like consistency and you can't even tell you're eating a vegetable! It's pretty amazing.
I'm not gonna lie, it took many attempts to figure out how to make this one without having the crust fall apart. You want to know the secret to a successful crust? Squeeze out as much moisture as you can.
If you're looking for an awesome alternative to your usual bread crust pizza, give this paleo version a shot. It's gluten-free, dairy-free and tastes fantastic!
Cauliflower Pizza Crust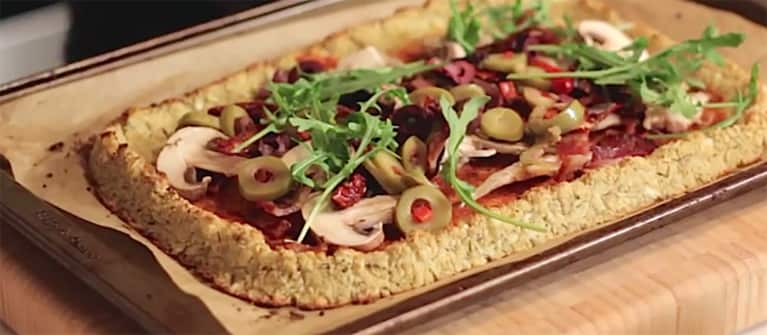 Makes 1 large pizza crust
Ingredients
1 large head of cauliflower
1 egg, beaten
½ cup almond meal
1 Tablespoon Italian seasoning
1 Tablespoon garlic powder
½ teaspoon oregano
Pinch of salt
½ cup pizza sauce or tomato paste
Preparation
1. Pre-heat oven to 400 F. Line a rimmed baking sheet with some parchment paper.
2. Break up your cauliflower and pulse it in a food processor. You may have to do this in batches. The idea is to pulse it to a small, rice-like consistency. You want to end up with about 4 cups of cauliflower rice when you're done.
3. Bring a couple inches of water to a boil in a large pot. Add in the cauliflower and cook for 5 minutes or until the cauliflower is tender.
4. Don't skip this step! Strain in a fine mesh strainer and place all of the strained cauliflower onto a clean dishtowel. Pull up the sides of the towel and squeeze out as much water as you can from the cauliflower. This step is a MUST in order for the cauliflower to stick together. Make sure you get as much water out as you can.
5. Transfer the cauliflower to a large bowl and add beaten egg, almond meal, garlic powder, Italian seasoning, oregano and a pinch of salt. Combine everything together.
6. Transfer to your parchment sheet and form the dough. You can shape it into whatever shape you like. I often do small circles so we can all make our own personal pizzas. One large rectangle will work well too. Remember to make the edges a little higher than the rest to create the effect of crust.
7. Bake for 25-30 minutes until it browns.
8. Top with pizza sauce or tomato paste. Add any toppings that you have on hand ... get creative!
9. Put back in oven for 10 minutes. Cool and enjoy.
Photo courtesy of the author