Quick No-Cook Meal: Stone Fruit + Tomato Gazpacho
I'm a big fan of gazpacho in all forms. Late peaches ripen about the same time as backyard tomatoes, and this is one of my favorite summertime versions.
I always make a generous amount, but you can easily cut this recipe in half. I like to strain leftovers to use as a salsa-like topping on goat cheese and sandwiches.
Stone Fruit and Tomato Gazpacho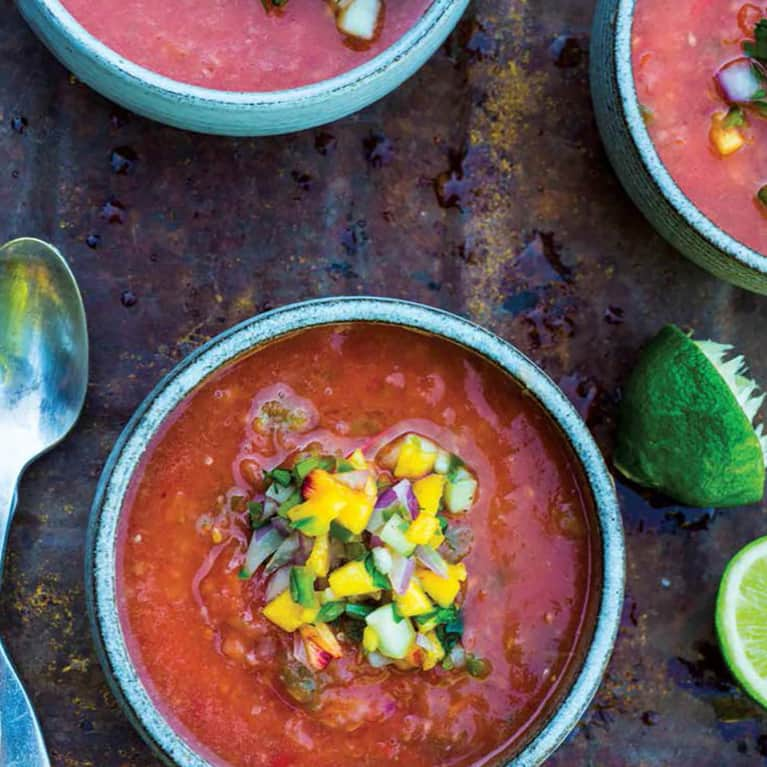 1 pound of peaches or nectarines, peeled and cut into small chunks
1 large slicing cucumber, or 3 Persian cucumbers, peeled and cut into small chunks (Note: slicers are what most large grocery store cucumbers and called)
½ medium red onion, roughly chopped
1 small jalapeño pepper, seeded and roughly chopped, or to taste
2 pounds juicy tomatoes, cut into chunks, plus 1 medium ripe tomato for serving
1 tablespoon extra-virgin olive oil, plus more for serving
1 ½ tablespoons cider vinegar
2 tablespoons freshly squeezed lime juice, more to taste
Kosher salt and freshly ground black pepper
6 lime wedges, for serving
2 tablespoons chopped basil or parsley, both if you have them
Preparation
1. Place ¼ cup each of chopped peaches and cucumbers, 2 tablespoons of red onion, and 1 teaspoon of jalapeño in a small bowl. Cover and refrigerate until ready to serve.
2. Place 2 pounds of tomatoes, remaining peaches, cucumber, red onion, and jalapeño in a blender and puree until the gazpacho is as smooth as you'd like. (If you have a small blender, you may need to do this in batches.) Pour the gazpacho into a large bowl and add the olive oil, cider vinegar, lime juice, and ¾ teaspoon each of salt and pepper.
3. Chill for at least 2 hours or overnight. Taste again after chilling and add additional lime juice, salt, and pepper to taste.
4. To serve, finely dice the reserved peaches, cucumbers, red onion, jalapeño, and remaining tomato. Add the basil or parsley (or both), mix to combine, and season with salt and pepper to taste. Ladle the chilled gazpacho into bowls, top with tomato-peach salsa, and drizzle with olive oil.
Prime picks: Juicy tomatoes such as Jaune Flamme, Red Boar, Missouri Pink Love Apple, or Chocolate Stripes are great here.
This recipe is excerpted from Tomatomania!: A Fresh Approach to Celebrating Tomatoes in the Garden and in the Kitchen.