The One Salad You Must Make Before Summer Ends
This Peach Summer Salad is super flavorful, celebrates what's in season right now, and really hits the right balance of being light enough for summer, but substantial enough to last me till dinner.
You could easily put some grilled chicken or fish on top to up the protein factor, I often put a soft-boiled farm egg, as a vegetarian.
I also love the recipe for the pickled onion — it really elevates the flavor of any meal you make, and is incredibly easy to have on hand in your fridge to put on anything at all (salads, sandwiches, grains, toast, etc.).
Peach Summer Salad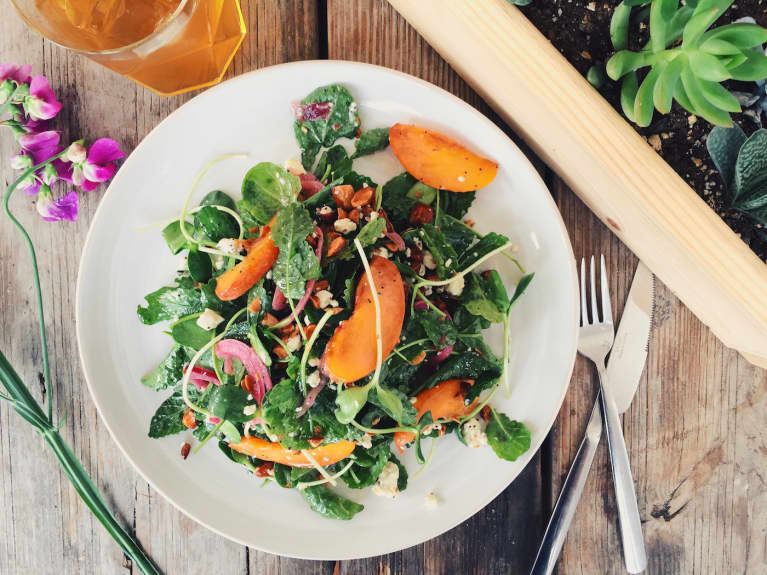 3 cups baby kale
1 cup sunflower shoots
1 ripe peach, sliced
1/2 cup almonds, toasted and chopped
1/4 cup pickled red onions*
1/4 cup crumbled blue cheese
4 tablespoons lemon poppy seed vinaigrette**
Preparation
1. In a large bowl, toss together greens, half of sliced peach, toasted almonds, pickled onion, blue cheese, and vinaigrette.
2. Toss remaining peaches and toasted almonds on top for garnish, and serve.
* Pickled Red Onion
Ingredients
1/2 cup white vinegar
1/2 cup water
1/4 cup sugar
1 cup red onion, sliced very thin (we love our mandolin)
Preparation
1. Combine water, sugar, and white vinegar in a small pot and bring to a boil, stirring occasionally.
2. Pour over sliced onion, in a bowl, and let cool at least 30 minutes (though taste best after 2 hours). Keeps in refrigerator for several weeks to use on salads, sandwiches, grains, toasts, etc.
**Lemon Poppyseed Vinaigrette
Ingredients
1 cup extra virgin olive oil
1 lemon, zest and juice
1/4 cup white balsamic vinegar
1 tablespoon poppy seeds
pinch salt, pepper
Preparation
Combine all ingredients well. Keep leftovers in refrigerator for up to one week.
Recipe by Miri Jung, Head Chef at Stonefruit Espresso + Kitchen in Brooklyn, NY.
Photo courtesy of the author