How I Saved Nearly $40,000 A Year By Downsizing
Six years ago, my husband and I moved out of our waterfront apartment in Venice, California, and into a converted Sprinter van. Although the choice to move into the van was ours, the circumstances that led us there were out of our control.
The U.S. economy was suffering its greatest recession since the notorious Great Depression. Like millions of other Americans, I had just lost my job and, without my income, we could no longer afford our high rent. In fact, we couldn't afford much at all.
My husband was (and still is) the owner of an online adventure store, Outdoorplay. Hit with the sudden cash crunch threatening hundreds of thousands of businesses, my husband chose to cut his own pay rather than let go of any of his employees.
That left us with a combined income of $1,500/month and a van with 108 square feet of usable living space. My husband already owned the van and lived out of it when he went on rock climbing trips, so it was already equipped with a bed, small fridge, and two-burner stove.
To console ourselves for becoming newly minted homeless people, we decided to go on a road trip — but not just any road trip. We set out to drive the Pan-American Highway from Canada to the tip of South America.
To get used to our new digs, and make sure we weren't going to kill each other in such a tiny space, we decided to spend a full year going from Los Angeles to Canada and back down again before crossing the border into Mexico and heading south. If we were going to have a meltdown, best we do it on our own turf.
Needless to say, the new living quarters changed our lifestyle dramatically.
In exchange for our downsized lifestyle, we get to spend the majority of our days doing what brings joy and purpose to our lives.
We no longer had a bathroom, so I had to learn to use the Freedom Whiz — a female funnel that facilitates peeing in a bottle. I'll spare you the details of my first time. Let's just say, even the dog was shocked.
Of course, there's more to be done in a bathroom than can be fixed with a funnel, a bottle, and good aim. To solve this issue, we both joined 24 Hour Fitness — a gym with hundreds of locations up and down the West Coast. Not only could we exercise and shower whenever we wanted for $40/month each, we had a free place to park every night without having to worry about the police knocking on our door. We'd effectively reduced our "rent" to $80/month between the two of us.
Before we set out, we sold my car to save on gas and consolidated to one cellphone plan, which, as a native Southern Californian, felt like losing a limb and sharing an eyeball. I could no longer afford to eat out, shop at Whole Foods, or pay to get my hair and nails done professionally. Instead, I settled for simple home-cooked meals prepared on our tiny two-burner stove, manicured my own nails, and had my husband touch up my roots for me (read: he's a keeper!).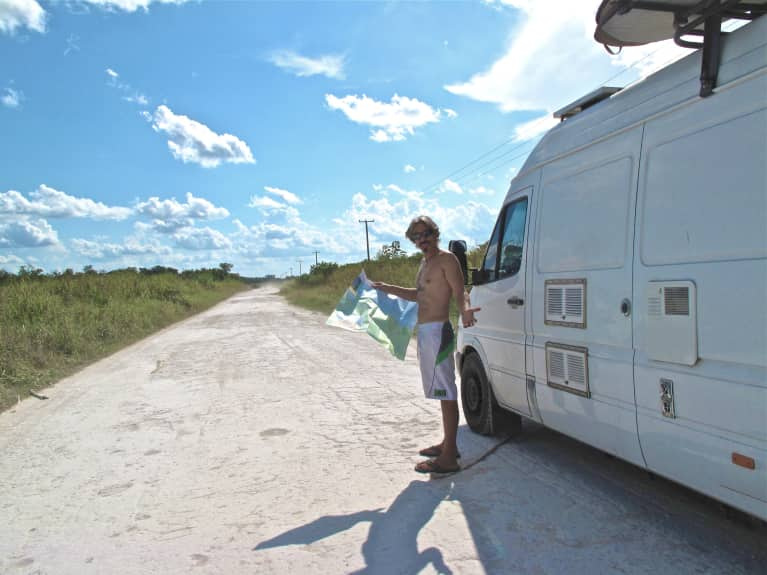 Always willing to help the family out, even our dog, Kiki, cut spending. Whereas she used to eat a combination of wet and dry food and frequent the groomers once a month, now she ate only kibble and endured a DIY doggie mat.
Some expenses disappeared without notice. Without a job, I no longer needed to dry-clean suits and sweaters. Other costs were curbed by shifts in attitude. With limited closet space, we adopted a useful rule to which we still adhere today: "If one comes in, one goes out." Now, before I buy a new dress, I ask myself how often I'll wear it and which dress I'd be willing to swap it with.
In the end, these seemingly simple lifestyle changes affected our wallets in a huge way. Here's how our monthly finances looked before and after downsizing: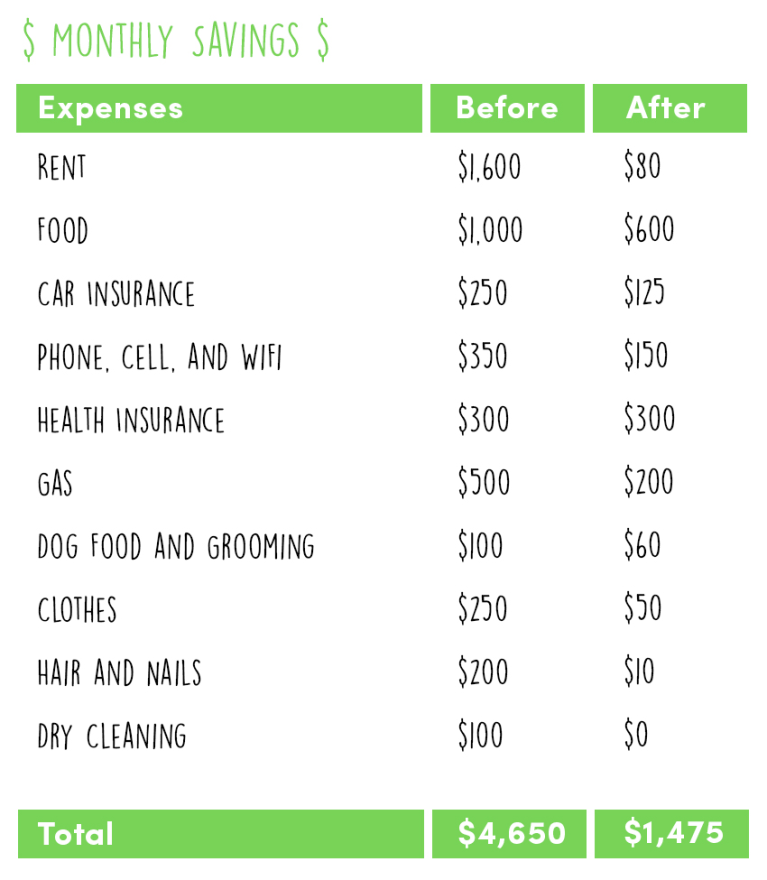 That's a difference of $3,175 a month.
Despite all we gave up at the start of our van life, we quickly learned to appreciate all that we were gaining by living light. Sure, before we'd had a Venice Beach ZIP code, but now we could take on any ZIP code — San Diego one morning and Mexico the next.
Before, my husband and I only saw each other in the evenings and on weekends, but now we spend all day together, seven days a week. Contrary to what we originally feared about spending all of this time together in a confined space, living in the van has actually improved our relationship. It's taught us the value of clear communication, because there's just no room for passive-aggression or emotional distance in such a tiny space.
It's been six years since we first set out on the road and, though our online business is again thriving, we still choose to restrain our consumption and live in a recreational vehicle — albeit a bigger one to accommodate our new daughter.
Our spending has increased a bit; we now have to pay rent in campgrounds and RV parks (usually about $600/month), and have to cover an extra person's health coverage, educational expenses, and clothes. Even so, we still spend $1,000 to $1,500 less per month than we did in that apartment in Venice.
In exchange for our downsizing lifestyle, we get to spend the majority of our days doing what brings joy and purpose to our lives. What could be worth more than that?
Photo2 courtesy of the author