Meet The Champion Boxer Who Loves Yoga & Meditation
When boxer Chris Algieri entered the Light Welterweight division of professional boxing in 2008, he rose to the world stage quickly, fighting some of the biggest names in the sport with remarkable confidence. Until his fight last year with the notorious Manny Pacquiao, the 31-year-old underdog from Long Island, NY, was undefeated.
The former world-champion kickboxer now has 22 fights in the pro boxing arena under his belt, including bouts against Russia's Ruslan Provodnikov, and, most recently, Amir Khan of the U.K.
But the secret to his cool-headed success may not be what you think.
Finding calm in the eye of the storm is important.
Since a young age, Algieri has been an avid practitioner of martial arts. Meditation and yoga-inspired stretching has been integral to his training for over two decades. During his four-year career as a decorated professional kickboxer, Algieri began practicing yoga to improve his flexibility, and developed a regular meditation practice to find a sense of peace and calm.
"My sports have always been extremely aggressive and violent," he told mindbodygreen in an email, "so finding calm in the eye of the storm is important."
Like many professional athletes, Algieri integrates mindfulness practices as a recovery tool. He also incorporates visualization techniques to help alleviate anxiety before he even steps into the ring.
Being relaxed makes you faster.
In his mind, he'll run through the entire fight over and over again, exploring every possible scenario. "I see the entire fight played out before it even happens, so I have no surprises," he said.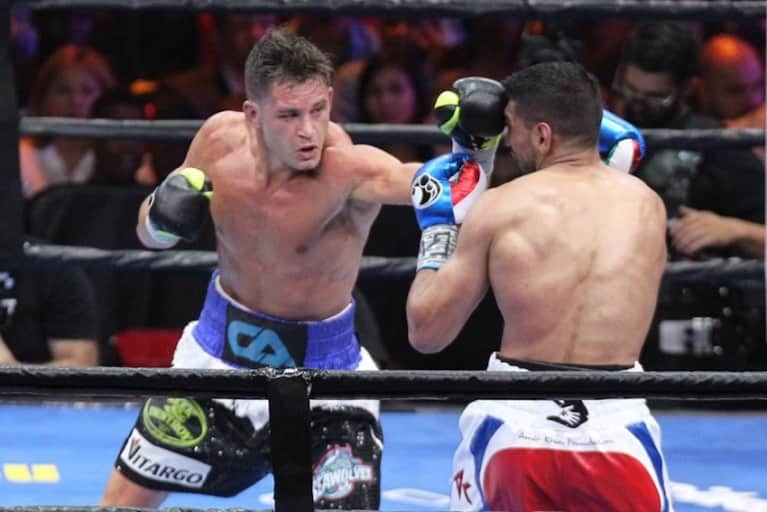 Large-scale, televised fights are wrought with distraction — a challenge for a sport that requires extreme concentration. Boxing is as much mental as it is physical, and for Algieri, yoga and meditation help him to find focus during stressful situations.
"You have to think, act and react quickly," he said. "Being relaxed makes you faster."
Between rounds it's crucial to regain control of the breath to allow for quick recovery. Algieri's breathing practices help put him in a zen state, so he can reenter the ring calm and refreshed.
During a bout, the body goes into fight-or-flight mode, raising adrenaline and cortisol levels, heightening the senses and desensitizing the body's ability to experience pain. A boxer competes in peak physical condition to withstand the trauma of repetitive strikes, but once the adrenaline rush is over, the pain will inevitably set in — sometimes not until hours later.
In an attempt to find some relief, Algieri will often meditate on his physical pain, using his breath as an awareness tool for post-fight self-assessment.
Algieri's lifelong dedication to martial arts naturally led to studying Eastern religions and philosophies. But when asked whether or not he was a spiritual person, he simply replied, "I find myself looking inward often."
His thirst for knowledge extends to a passion for nutrition — with several sports nutrition certifications and a Masters degree in Clinical Nutrition from New York Institute of Technology. Yoga, meditation and nutrition are Algieri's wellness trifecta for success.
I never skip meals to make my weight.
A fight saps the body of strength, so Algieri relies on nutrient-dense foods for recovery. Dark, leafy greens, a rainbow of fruits and vegetables, healthy fats, oils and plenty of protein make up his food philosophy. He eats plenty of anti-inflammatory foods, like pineapple, to reduce the recovery time from bruising and swelling, and never shies away from butter.
Since boxing is a weight-restricted sport, Algieri sticks to a regimented daily wellness routine so that he doesn't have to obsess over every pound. "I never skip meals to make my weight," he said, prioritizing health and recovery over restriction.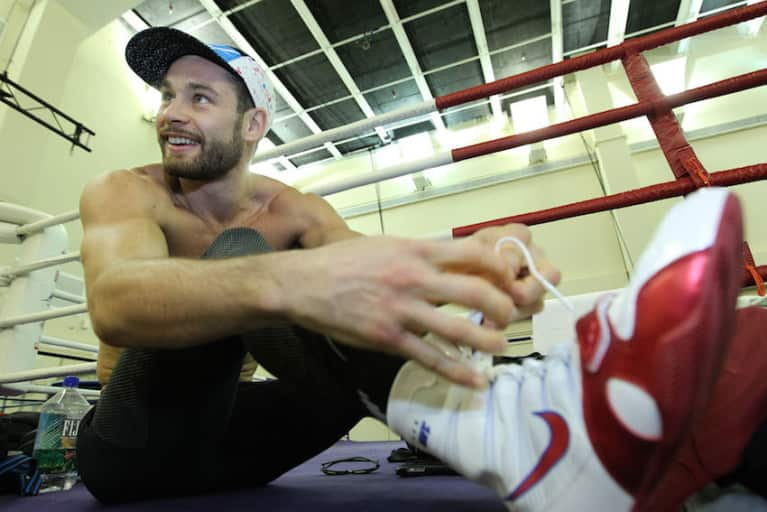 Whether he's training and fighting or simply going about his everyday life, it's this mindful mentality that keeps Algieri performing at the top of his game. He's always continuing to find balance, dancing between the violent nature of his persona in the ring, and who he is outside of it.
"The Chris Algieri in the ring and the Chris Algieiri in society wouldn't even recognize each other on the street," he said.
There may be a lot of stereotypes associated with boxing, but Algieri states that at the highest level of competition, it is in fact, a beautiful sport. "You have two finely tuned performers at the peak of human physical condition, competing at incredible speeds in the barest and most naked form of competition … Man vs. Man," he said. "It is the best sport in the world."
And while violence is indeed part of the sport, Algieri was quick to point out that violence is also inherent to mother nature herself.
For many, boxing is indeed a spectacle. But for the boxers themselves, it's an art form — a craft that is perfected for innumerable hours over the course of many, many years. Just like other athletes that compete in elite level sports, a state of oneness is achieved, and countless sacrifices have been made so a dream can be realized. "Boxers are real people, it is not a game and it is not like the movies."
Photos courtesy of Team Algieri and Edward Diller Photography