A 30-Minute Recipe To Rescue Monday Night
This recipe is inspired by one of my favorite brunch spots in NYC. I love how effortless this recipe is, yet how beautiful and complex it tastes when it's done.
Feel free to sub other greens in place of the kale, like spinach or Swiss chard.
Baked Eggs With Artichokes, Kale, Burrata + Arrabbiata Sauce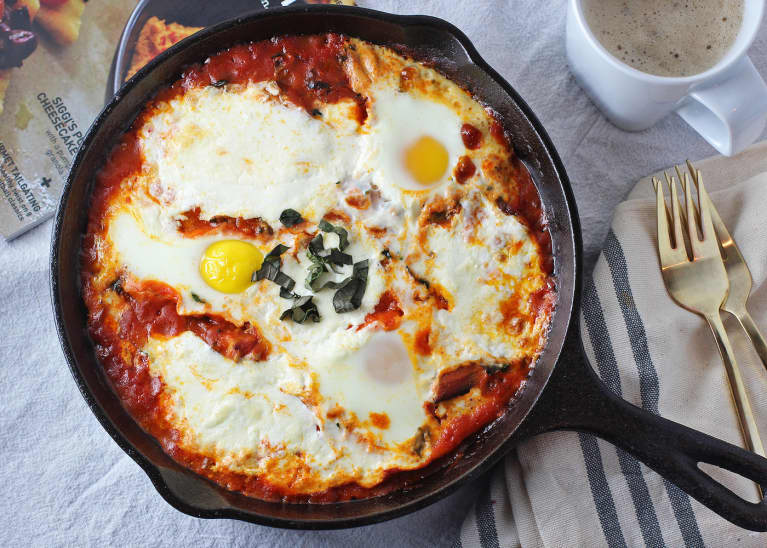 1 tbsp olive oil
1 clove garlic, minced
2 cups lacinato kale, shredded
1 cup artichoke hearts (canned, rinsed and drained)
2 cups arrabbiata* tomato sauce
8 oz burrata cheese, sliced
3 eggs
Preparation
1. Preheat oven to 350°F. In a cast-iron skillet over medium heat, add olive oil and garlic. Sauté until fragrant, 2–3 minutes. Add kale and sauté for 5 minutes. Add artichoke and sauce and continue to cook for 2 minutes.
2. With a spoon, make 3 indentations in the sauce. One at a time, break the eggs into a small bowl and then slip into each indentation. Evenly place the sliced cheese around the pan. Bake for 25 minutes. Serve.
*Arrabbiata sauce is a spicy tomato sauce often used on pasta.