9 Things Never To Say To A Mom Of Triplets
After an uneventful shopping trip at Target, I made my way to the cash register. My three two-year-olds were sitting contentedly in the cart, taking in the landscape. I was enjoying a moment of peace when I saw a woman make a beeline for our shopping cart.
"Are those triplets?!"
"Yes."
She placed her hand firmly on my forearm, looked me square in the eye and said, "I'm so sorry."
I wish I could say that these types of interactions were unusual, but they're not.
In situations like this, I simply smile and respond, "I think I'm pretty lucky!" That's because I know most people mean well. And of course, there's a novelty factor when encountering triplets. So I certainly understand the desire to chat.
But if you'd like to start a conversation with a mom of multiples, please be careful about what you say. Many comments can come off as invasive, offensive or even upsetting. Here, I'm sharing the most common ones I hear as the mother of triplets:
1. "I'm sorry."
There's no reason to pity a mother of triplets. There are hard times for sure, but the rewards are pretty big, too! Most triplet moms I know feel pretty blessed with their situation.
2. "Are they natural?"
Any question that refers to the conception of babies should be considered completely off-limits during a casual encounter. Conceiving a child is a very personal, private subject.
3. "I guess I can't complain since I only have one baby."
Please complain. Vent. Make me feel human! We're all moms and we're all in this together. I don't minimize your struggle just because I'm the mother of three.
4. "Wow, you got three in one shot!"
Although you may see three healthy babies now, I wish people knew how challenging a triplet pregnancy truly is. It often requires a long bed rest, countless ultrasounds to monitor the health of the babies, pre-term birth and weeks spent worrying about three tiny babies in the NICU. Referring to that as "one shot," as though that makes it easy, is insensitive.
5. "At least you're done having children."
Maybe. But maybe not. While three children may be as many as you would ever want, you can't presume that to be true about everyone.
6. "Three is easier than one because they have each other."
Perhaps I will understand this one when my children are a little older. But, for the first two years at least, this is nonsense. While there are a lot of words I would use to describe newborn triplets, easy is not one of them. My children didn't even seem to notice they were in the same room together until they were about 8 months old. Now that they're two, I often feel more like a referee than a mom.
7. "I'd kill myself."
This is extremely offensive, for more than one reason. And yet, this is actually one of the comments I hear most often. I'm always baffled by it.
Triplets aside, joking about suicide is in poor taste. But the statement also suggests that my children, whom I love dearly, are such a horrid curse that it would be better to be dead than to raise them. That is terribly upsetting.
8. "You have your hands full."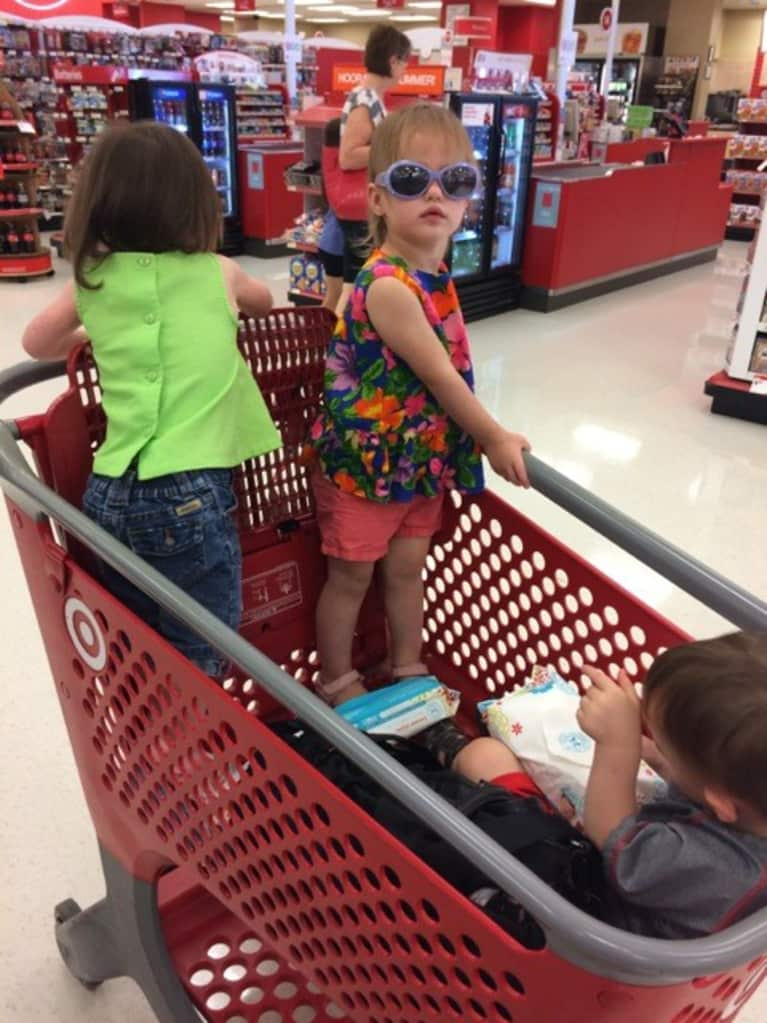 I rarely leave the house without hearing this statement from someone. While not a terrible or offensive thing to say, it's just a bit tiresome. But, because I know you mean well, I'll still force a smile and say, "Yes, I do!" with as much cheer as I can muster.
9. "I couldn't do it."
Sure, it isn't easy. But when we left the hospital, we didn't get to say, "Oh, that one looks easy. We'll just take her." If you had triplets, you know what you would do? You would raise them. And you would probably surprise yourself with what you could do, just like all of the triplet moms before you.
Bottom line: When you do encounter a mom of multiples, please remember that she is just a person out with her family. If you'd like to talk to her, and she seems open to it, go right ahead. Maybe start by smiling and saying something like, "You have such a beautiful family." I bet you'll get a warm reception.