This Man Didn't Use Electricity Or Make Trash For A Year. Here's What His Life Is Like Now
mbg Sustainability Editor
By Emma Loewe
mbg Sustainability Editor
Emma Loewe is the Sustainability Editor at mindbodygreen and the author of "The Spirit Almanac: A Modern Guide To Ancient Self Care."
The last time millions of people saw Colin Beavan, he was switching on his apartment lights after a year of living in the dark. It was the last scene in his documentary, No Impact Man, which chronicled his life as the ultimate eco-martyr.
For a year he lived by a set of rules designed to make as little impact on the environment as possible. Don't make any trash. Don't buy new products. Don't use carbon-emitting public transport. Don't eat food grown more than 100 miles away. Don't use electricity.
Beavan says these seemingly limitless restrictions didn't leave him feeling deprived. Instead, he found pleasure in being more connected to the earth, and less consumed with disposable culture.
Living in a home without heat or air conditioning forced him to spend more time outside exploring New York City with his young daughter. A sustainable, local diet gave him a new appreciation of food and the farmers who devote their lives to growing it. And, of course, all those stairs helped him lose 20 pounds. (Elevators were off limits — even the one to his ninth-floor apartment.)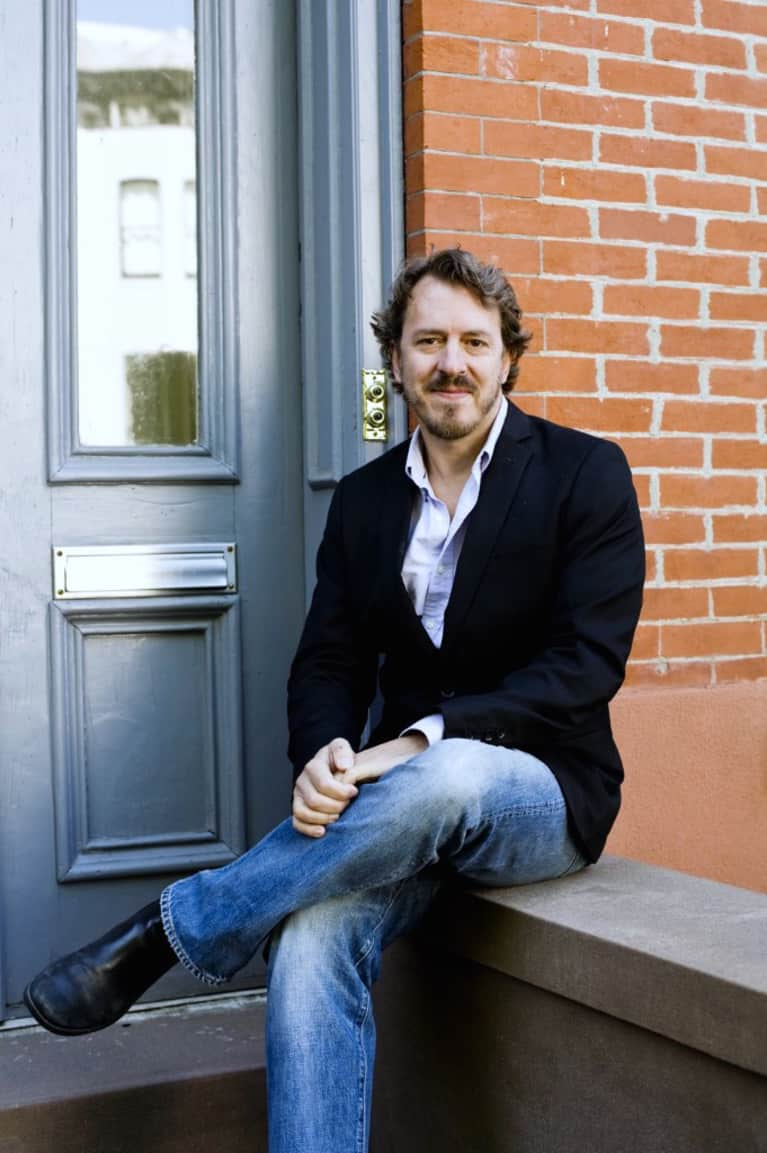 Nearly a decade has passed since No Impact Man retired his cape and returned to everyday life, but Beavan continues to find joy in using less. And now he's devoted his life to helping others do the same.
I recently sat down with him in a Brooklyn cafe within walking distance of his apartment (he still doesn't use the subway and prefers to walk or ride a bike) to discuss life after the No Impact phenomenon.
The man I talked to was notably more laid-back than the stressed working dad who took to screens in 2009.
His hair was longer, his clothing loose, and his mannerisms softer yet more confident. It appeared that he was still living, and loving, a greener existence.
MBG: Do you still keep up with some of your green practices from No Impact Man?
CB: Yes. The thing is, I don't even think of them as different anymore. My freezer is filled with nothing but compost.
I ride my bike and walk most of the time. I'm still a vegetarian. I live on the top floor of the town house now, so I relented and put in an AC unit a couple of summers ago but I only use it a few times a year, and never during the day.
I keep these precepts to remind myself to think of the bigger picture. And it just so happens that riding bikes is way more fun than other forms of transportation, and eating vegetarian will keep me alive longer, so I can see my daughter grow up.
What was the transition back to normal life like after going no impact for a year?
I definitely felt guilty at first, and I still feel a little guilty about my consumption — its something I'm very aware of. Though I no longer have strict rules, I notice if I throw away too much stuff.
What's your anti-green pet peeve?
Bottled water and single occupancy vehicles. At the same time, I use the term "pet peeve" loosely. I'm not judgmental about people, because I think we really are stuck in a system of consumerism.
People want to be happier and live better, but it's about how to find the kind of happiness that helps the world, too.
You're a practitioner of Zen and Buddhism. Does this coincide with your environmental work?
Both environmentalism and spirituality ask questions, like "How do I live? What's my relationship to my community? What should I really spend my life doing?" Our consumer economy has a bunch of answers to those questions, but increasingly people are finding those answers unsatisfying.
All religions are about understanding our relationship to each other and to the world. There are types of environmentalists who think that our problems will be solved if we just create more solar power and wind farms. I'm not one of those.
I think that to save our habitat, we have to change how we relate to everyone and everything around us.
Tell us about your No Impact Project.
I started the No Impact Project in 2009 and we run weeklong no-impact engagement programs for colleges and businesses. It's about living as environmentally as possible and some people call it a "retreat from consumerism."
So far, over 70,000 people around the world have been part of it. Our research shows that even after two years of going through No Impact Week, people are still three times more likely to maintain environmental living habits.
Sounds great. And you also have a new book coming out!
When I first started the No Impact Man book, it wasn't about living as environmentally as possible. It was about creating a story that attracted attention to the environment. As a communication strategy, it was wildly successful. It used narrative nonfiction to engage people in the quest for better lives. It was really a spectacle to subvert people's thinking.
The new book will subvert self-help. People want to be happier and live better, but it's about how to find the kind of happiness that helps the world, too. I'm not interested in your being happy and driving an SUV. A good life is one that's good for you and good for your neighbors.
I'd imagine it's hard to do environmental work without becoming discouraged. How do you stay positive?
It's a matter of what you put your attention on, and I try and stay focused on the now. By all appearances, in any given moment, we have the best lives in the world. Keeping your eye on those amazing things is not a way to excuse yourself from the not amazing things that are happening — it's just a way to give yourself energy. Happy people have more to give.
This conversation has been edited and condensed
Photo courtesy of colinbeavan.com