These Are The Healthiest States (According To Twitter)
People like to tweet what they eat. And since you are what you eat — by the transitive property — you are what you tweet.
According to an analysis of 50 million geotagged tweets, Texas loves doughnuts, Vermont's passionate about bacon, and the Big Apple can't get enough — big surprise — apples. And how do we burn those calories off? New York runs, Vermont skis, and Texas, uh, eats. To each his own!
But can our tweets really reveal how healthy we are?
Researchers from the University of Vermont's CompStoryLab think so. They built an online, interactive instrument — dubbed the Lexicocalorimeter — that sifts through tweets for food- and exercise-related words, and counts how many calories Americans both consume and expend to roughly determine each state's "caloric balance."
The researchers found that Mississippi expended the fewest calories, and Colorado burned the most. As you might expect, the states that consumed a lot more calories than they burned had higher rates of obesity.
See which food and activity was most prominent for your state by checking out the maps below!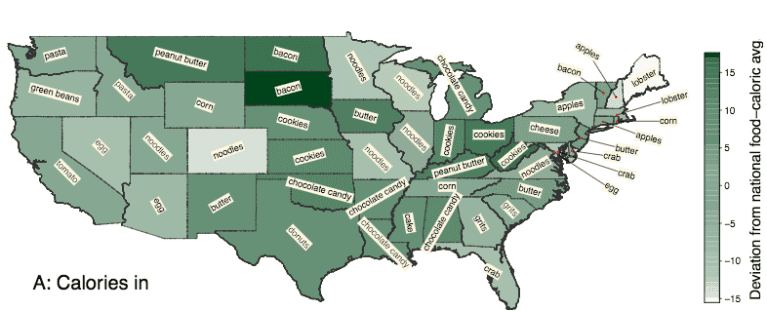 (h/t co.EXIST)
Do these findings match up with what you tweet?