15 Destination Races To Complete Before You Die
If you roll your eyes at people who plan relaxing, beach getaways with zero plans of getting off their chaise lounges — this list is for you. From an overnight relay race in Cape Cod to a wine country half marathon, whatever vacation adventure you're seeking, we have you covered: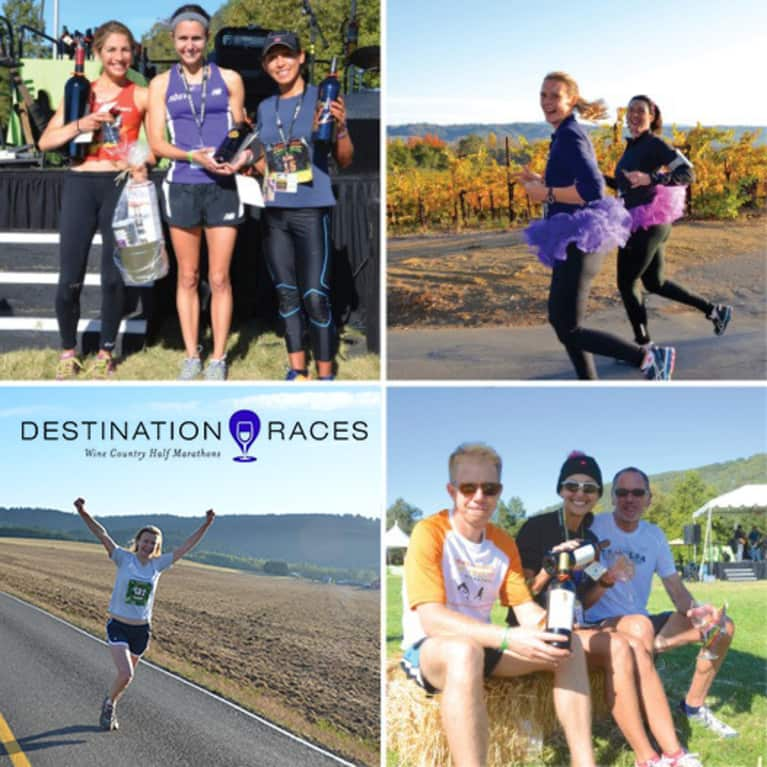 Photo courtesy of Destination Races
1. For the vino: Wine Country Half Marathons
DestinationRaces.com hosts eight wine-country races. They're all at least 13.1 miles, and some have an extra 5K or a two-person relay. Depending on what time of year you're looking to race, you can choose from a half marathon in Santa Barbara or one that takes you from Napa to Sonoma and more. Each of their races end with a wine and music festival — and some races serve wine shooters at certain mile markers.
Race day: Various dates for fall 2015
Fee: Varies according to race location
2. For the insomniac who loves adventure: Ragnar Relays
Here's what you need to compete in one of these races: 11 friends (or five, for an ultra team), two vehicles and a lot of energy — you'll be competing into the wee hours of the morning. During a Ragnar Relay, each participant will run three times, with each run ranging from three to eight miles. When you're not running, you're either driving, cheering on your teammate or sleeping. The relay race takes place over two days and one night, and your team will cover 200 miles. There are 17 Ragnar Relays all over the country, from Cape Cod to the Florida Keys (already full for February 2016).
Race day: Various dates for fall 2015
Fee: Varies according to race location
Photo courtesy of Rock 'N' Roll Races
3. For the runner who loves a good after-party: Rock 'N' Roll Marathon In Las Vegas
This is the only event that literally shuts down the famed Las Vegas strip. You can choose from a 5K, 10K, half marathon or full marathon race — the live entertainment throughout the races will help to motivate you through the miles. Splurge for the VIP-package and you'll get recovery massages and access to a full buffet post race.
Race day: November 12-15, 2015
Fee: $60 - $145
4. For the history buff: Bay To Breakers
This San Francisco-based race has been around since 1912. The 12K route runs through the city and ends at Ocean Beach, or the breakers. It's a celebration of the history of San Francisco and the people who inhabit it. Don't be fooled, it's still a challenging run for the 50,000+ participants. The infamous Hayes Hill pops up at mile two and stretches for close to a mile.
Race day: May 15, 2016
Fee: Not confirmed for 2016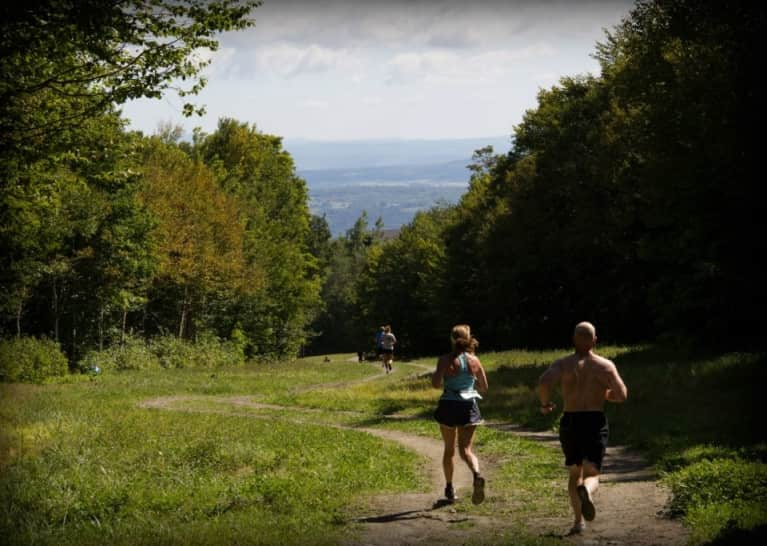 Photo courtesy of Jay Peak
5. For the family of runners: Jay Peak Trail Running Family Festival
This race has it all: 5K, 25K, 50K and a kid's trail race. The runs are rated in difficultly like a ski slope would be (ranging from green circle to black diamonds), and anyone over the age of four can participate. Though most people visit Vermont in the winter, it's a beautiful destination city for the fall — you may be able to catch some early foliage.
Race day: September 5-6, 2015
Fee: $15 - $85
6. For the non-competitive family: Life's a Beach (LAB) Triathlon
The LAB is meant to make triathlons more approachable and fun — anything goes! You can use a boogie board, floaties or any other swimming aids for the short 200-yard swim. You don't need a mountain bike to race — beach cruisers are welcomed and encouraged. The race includes a run on the beach with three, fun obstacles throughout. Active family fun for all, kids aged nine and older can participate.
Race day: September 12, 2015 (Sarasota, Florida) or June 11, 2016 (Hampton, Virginia)
Fee: $55 - $75, depending on the location
7. For the scenery lover: Maine Lighthouse Ride
What better way to end your summer than with a beautiful bike race along the coast of Maine? The route takes you through the coastline and up to nine lighthouses. You can bike 25, 40, 62 or even 100 miles on this ride.
Race day: September 12, 2015
Fee: $25 – 70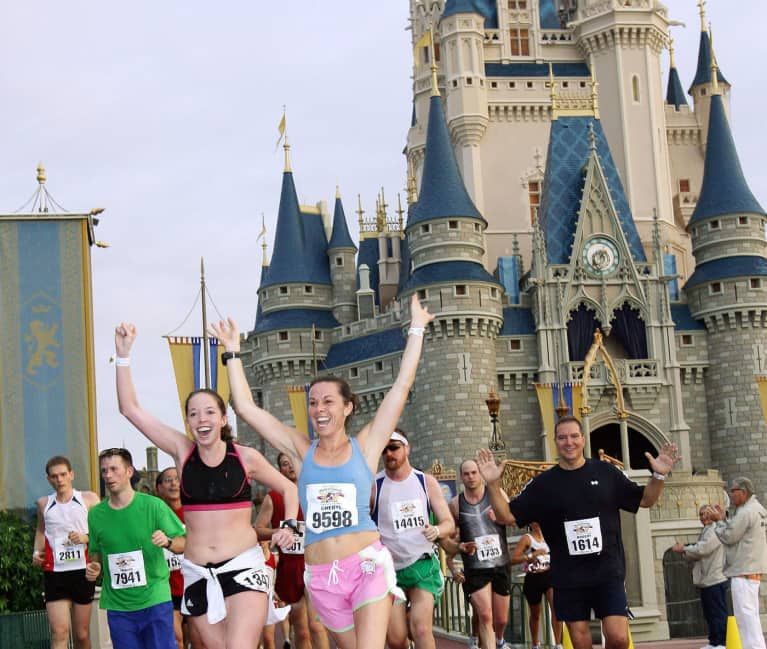 Photo courtesy of Disney
8. For the childish runner: Disney Race
Run Disney sponsors several races at Walt Disney World in Florida, Disneyland in California and at Disneyland in Paris. Options include theme races like the Tinker Bell Half Marathon, Disney Princess Half Marathon or Star Wars Half Marathon. Note: Costumes are not provided.
Race day: Various dates in fall 2015
Fee: Varies per race
9. For the anti-urbanite: The JTB Maui Marathon
The New York City and Boston Marathons are almost impossible to get into — you have to complete a certain number of sanctioned races and then enter a lottery. The Maui Marathon? You're in with a few clicks, and the scenery's not so bad either. If you're traveling with less experienced runners there are also half marathon, 10K, 5K and one-mile races.
Race day: September 20, 2015
Fee: $15 - $120
Photo courtesy of NYRR
10. For the thrill seeker: New York Road Runners NYC Half Marathon
This is no ordinary half-marathon race — it's a running tour of New York City's best sights. The most awe-inspiring part? Running through a blocked-off Times Square — but first you must conquer the hills of Central Park.
Race day: Sometime in March 2016
Fee: Not confirmed for 2016
11. For the novice triathlete: HITS Triathlon Series
From Palm Springs to Napa Valley, the HITS Triathlon goes everywhere you want to be. As their slogan says, there's "A distance for everyone." Each weekend event features five distances, starting with the easiest, the "open" which is a 100-meter swim, three-mile bike ride and one mile run. Everyone can experience a triathlon, in a beautiful setting — at their own pace, no pressure!
Race day: Next one is August 15, 2015, but there are more races into the fall
Fee: Varies per location and distance
12. For the mountain lover: Iron Horse Bicycle Classic
Can you bike faster than a train? In 1972, a group of 36 riders decided to try and thus the Iron Horse Bicycle Classic was born. Starting in Durango, Colorado, the race leads riders through the Southwest area of the state, ending in Silverton. Over the years, other events have been added like team trail rides and BMX races.
Race day: Memorial Day weekend 2016
Fee: Not confirmed for 2016
13. For the ultra marathoner: Big Bend 50
Big Bend Ranch State Park is located in west Texas and has 238 miles of trails — perfect if you're looking to run an ultra marathon (50 miles) on your Western vacation. The race offers two other options, a 30K and 10K. It's trail running at its best.
Race day: January 17, 2016
Fee: $100 - $140
14. For the athlete with the winter blues: Miami Marathon
Looking for an excuse to visit South Beach in January? Look no further. This race promises to be the perfect "racecation in paradise." You'll run among the palm trees, through the downtown area, beaches, art district and cross the finish line in the bay area.
Race day: January 24, 2016
Fee: $120
15. For the music lover: St. Jude Country Music Marathon
Explore music city on foot with this fun race. There's a different route for the full and half marathons, but each are equally as cool. The half marathon route takes you through much of the city as you start at the Country Music Hall of Fame and Museum, and run through the Gulch, Music Row, 12 South neighborhoods and more. The full marathon route starts the same way, but then continues over the Cumberland River into the East End and over to Shelby Park. Of course the race ends with live music and refreshments.
Race day: April 30, 2016
Fee: Not confirmed for 2016