A Guide To Open Your Heart Chakra & Invite Love Into Your Life (Infographic)
Part four of mindbodygreen's Chakra Series dives into the heart, the center of the seven chakras and perhaps the one to which even the biggest skeptic can relate. Because let's face it: we're all familiar with matters of the heart.
When our Heart Chakra (Anahata) is blocked, we get stuck in our relationships (romantic and otherwise), and lose our ability to follow our true calling. We begin listening to our busy head more than our heart, for fear of following its true desires.
Helpful healing tip: Meditate on the mantra YAM, the primordial sound to invoke the element of air.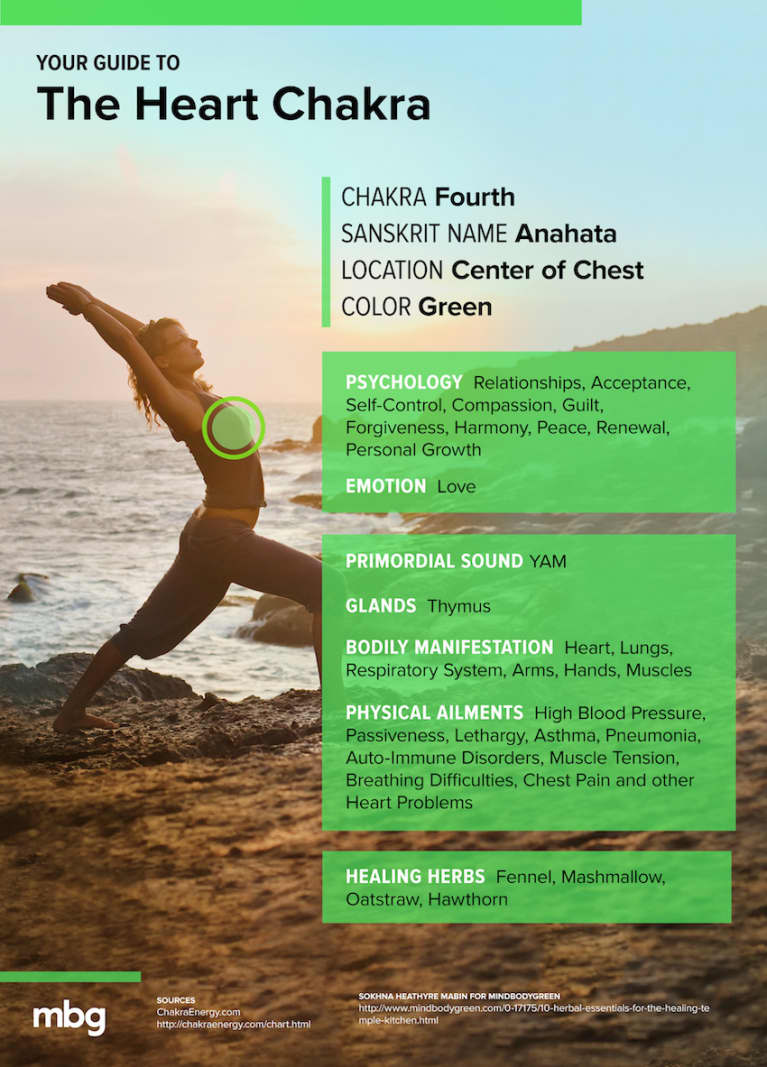 The Heart Chakra is where we're often most vulnerable, meaning we're quick to close it off as a way to protect ourselves from getting hurt. But this blocks love from flowing freely in and out, preventing us from our inherent need to give and receive.
Practices like heart-opening yoga poses and heart-centered, guided meditations can help to reopen this powerful energy center of the body.
The Sanskrit word Anahata translates to unhurt, unstuck or unbeaten. When your Heart Chakra is healed, you cease being codependent. You're filled with trust in yourself and others, and you're fully connected to the divine, loving source of it all.

With the air element associated with this chakra in mind, you can invite in a higher, spiritual understanding of love, and develop a greater sense of compassion for all living beings. Air and love are both limitless, yet both require reciprocation in order to flow freely with abundance.
Photo Credit: Shutterstock, Graphic design by mbg creative