Yoga for Kids: Q & A with Beth Reese of Yoginos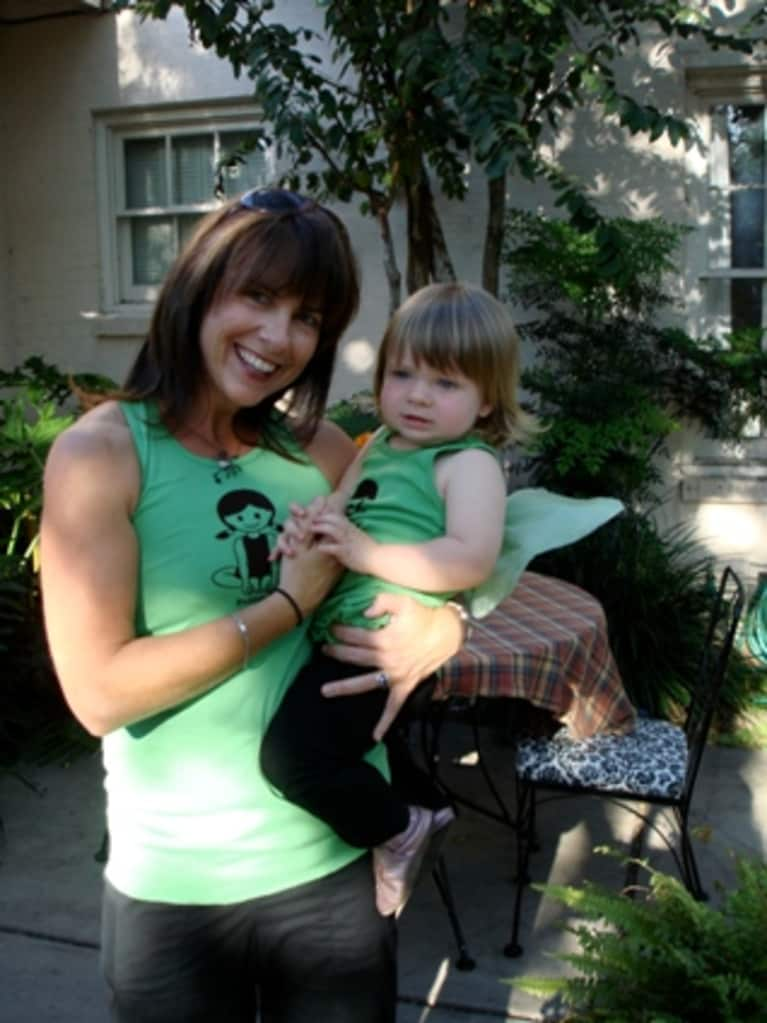 Sure, I love yoga for dudes, but imagine how many dudes (and women) would be practicing yoga if we had more yoga for kids programs? Elizabeth Reese of Yogiños is trying to spread yoga to kids around the country, blending language, art, and meditation.
Elizabeth talked to us about her inspiration for Yogiños, how yoga has helped her daughter, and even shares some great tips for children on the mat.
How/why did you come up with the concept of Yogiños?
Honestly, at first, it was a tiny whisper from the wind that I treated more like a fly buzzing in my ear. I swatted it away. Teach yoga to children? It seemed like such a detour from what I had been doing. Then the whisper became more of a shout that I couldn't ignore, and Yogiños: Yoga for Youth® was birthed. With a little hindsight, I see now that the path that I'm on with Yogiños is a synthesis of so many aspects of my background, and it has become an incredible way for me to share my passions for yoga, art, education, language, and wellness.  
When the idea for Yogiños began forming in my head, I was a visiting instructor at Texas A&M University-Corpus Christi, and also the visual arts columnist for our newspaper, the Corpus Christi Caller Times. My educational background is in art museum education, and much of my research, writing, and teaching has focused on creating educational programs for art museums and helping museums bring art to youth in relevant and inspiring ways, including using art as a catalyst to inspire meaningful personal and cultural awareness and social interaction.
Like many other parents and educators, I have been dismayed by cuts in arts education and physical education. As I experienced the effects of these cuts with my own children, I became passionate about doing whatever I can to bring art and movement to children. Yogiños is a result of this passion.
I describe Yogiños as a trilingual, interdisciplinary yoga for kids program teaching strength, flexibility, balance, nutrition, respect for and awareness of self, others and the environment both on and off the yoga mat. Classes are facilitated in English, Spanish, and Sanskrit, and they weave in original art, music, games, stories, collaboration and sensory-integrated activities to align bodies, hearts, and minds. I have been fortunate to have many incredible people join me early in shaping Yogiños including Meredith Blanks Paterson, Director of Yoga Trainings and the Austin area.
People began asking how they could bring Yogiños so now we have classes in Corpus Christi, San Antonio, Austin, Dallas, Houston, Park City, Utah, and Baltimore, Maryland. We conduct trainings in several cities throughout the year, and we also conduct workshops for classroom teachers, school administrators, museum staffs, and other groups interested in integrating tools of yoga and meditation into their curriculum and into their interactions with children. (Dates and locations of our trainings are posted on our website, yoginos.com.)
In late 2009, I reconnected with a childhood friend, Sean Madaras, who is now a producer in LA, and he put together an incredibly talented film crew to make our first DVD, The Story of Ganesha. The DVD centers around the ancient tale of the little boy who becomes the elephant-headed prince. We filmed the first DVD in the Art Museum of South Texas, and we used original works of art from the Crow Collection of Asian Art in Dallas as well as an original musical score throughout the film. The DVD includes individual and partner yoga poses, cardiovascular and relaxation exercises, and elements of all 8 limbs of yoga.  Each child is empowered to experience yoga through art, culture, collaboration, and narrative.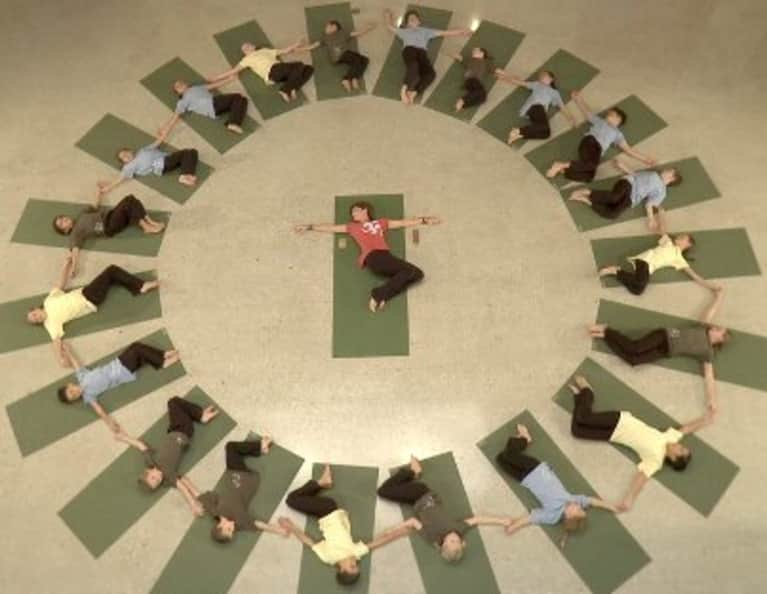 I'm excited to announce that we are currently in post-production on our second DVD, Vishnu's OHMazing Journeys, which was filmed in the Crow Collection of Asian Art in Dallas and developed and funded in partnership with them. In this DVD, we use original works of art to tell some of the stories of Vishnu, specifically stories about the choices he made to help the earth. The DVD also emphasizes that each of us are the artists and creators of our own journeys. Vishnu's OHMazing Journeys is scheduled to be released in early Summer 2011.
Can you tell us more about how yoga has helped your daughter?
Without a doubt, many of my first opportunities to engage the tools of yoga off the mat stemmed from my journeys with my incredible daughter, Jordan. When she was about 6 years old she was diagnosed with sensory-integration disorder. Her formidable outbursts and tantrum explosions at age 6 were clearly age inappropriate, and we decided to seek advice. Quite honestly the diagnosis was a relief to us both: there was nothing 'wrong' with either of us. Rather, we had new information we could use to find tools to help her feel better in situations where too much sensory input overtaxed her systems.
As we began occupational therapy, I saw that many of the coping skills she learned were similar to elements within my yoga practice. Combining the skills she has learned through therapy and yoga means that Jordan has a range of pranayama, pratyahara (sense modulation), and asana techniques that she incorporates into her daily life. These tools have also brought her an awareness of the goodness that is always within her. They have helped her build confidence, pride, and resilience from the inside. My journeys with Jordan and her sensory-integration challenges have absolutely influenced the construction and design of Yogiños: Yoga for Youth®.
Kids and yoga -- do you have any tips for a parent who wants to get their child practicing?
This is a great question! I definitely have some ideas, and at the same time, I want to encourage parents to release a little of the pressure. Yoga at home can take so many different shapes, so parents shouldn't feel like they have to teach full-fledged yoga classes every afternoon. Remember, yoga can be experienced as a way of life in addition to time on the mat.
My first thought is to begin talking about (the talking is key) and incorporating yoga tools into your daily activities. For example, when you're stuck in traffic, running late, and feeling frustrated, say aloud "This traffic is really bad, and it is making me feel angry. I can feel my shoulders tightening up. I'm going to take some deeps breaths like I do in yoga to help me calm down a little." Encourage your child to breathe with you. Then, ask your child if he or she ever feels angry and engage in a discussion about other times when deep breaths might be beneficial to both of you. Encourage your child to tell you the next time he or she stops to take some deep breaths. In this simple exchange, you have planted so many seeds for your child. He or she now knows that it's ok to get angry -- that it happens to everyone -- and that there are tools that we can use when we feel this way. You have also opened a great big door for your child to come to you the next time he or she feels frustrated or angry.
This model can then be applied to many other tools of yoga: "I'm doing some sun salutations this morning because they help me wake up and feel good about the day ahead of me. What stretches do you feel like doing this morning?" Even if your child isn't ready to participate with you right then and there, I think you'll find that he or she begins to incorporate yoga into the day in surprising, self-empowering ways.
My last offering is the most difficult to implement for many, yet I think it is vital to our health as parents and to the health of our relationships with our family members. Carve out and prioritize time for your own yoga and meditation practice, whatever that means for you. In doing this, you are taking care of yourself and you are modeling an invaluable practice of self-care that your children will carry with them into their adulthood.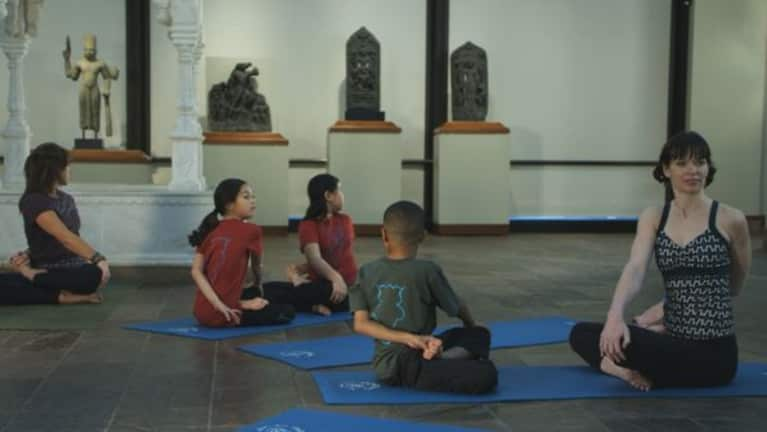 What's the biggest challenge with teaching kids yoga?
For many teachers, myself definitely included, classroom management is a challenge. I am always refining my responses in the moment to different classroom dynamics. Saying that, I'd like to take a step back and look at classroom management from slightly different perspective.
Some of the difficult behaviors that children enact in yoga classes and in other classroom environments stem from the students not being empowered to learn and express themselves according to their strengths as individuals. I believe this occurs because many education policies -- and I am speaking about education in a broad, pre-K-12 sense -- are still based on ideas associated with the industrial revolution and assembly line practices that do not nurture and empower the individual learner.
Additionally, and perhaps subsequently, many educational policies rely on banking or depositing information into children at the expense of ignoring or even worse -- discounting -- their personal, cultural, and social experiences and knowledge. This mode of education often prohibits independent choice and movement within the learning space, and as a result often creates learners who lack self-confidence, creative problem solving abilities, and social interaction skills.
Going back to teaching yoga to children, I repeatedly find that one of our biggest challenges, especially in the early sessions, is empowering children to use all of their intelligences -- musical, linguistic, natural, and kinesthetic to name a few -- as they participate in the activities we do. We have to conscientiously and repeatedly provide a safe space for children to express themselves in ways that they're not necessarily used to doing. 
It is my belief and intention that when we teach the whole child -- body and heart in conjunction with the mind, we respectfully empower them to cultivate the goodness already within them and we ignite their innate capacity for self-confidence, creative problem solving, and social interaction.
Are their certain poses or particular ways of practicing that kids seem adept at?
I am continually surprised and delighted by what youth -- including toddlers -- are able to grasp when they are treated as important, contributing members of society. From breathing to physical poses to reflecting on and sharing the good choices they make, young yogis are adept in a full range of yoga activities when those activities are modeled and encouraged.
For example, classes include the importance of making choices based on foods that are close to the earth. The other day I asked a group of 3-6 year olds: which is healthier, popcorn or potato chips? A four-year-old boy jumped up and proudly announced, "the potato because it grows IN the earth and corn grows higher than the ground." He had really taken to heart what we had been talking about. His answer sparked a lively discussion in which everyone worked together to think of other criteria we can use to determine what is the healthy choice in a given situation.
Additionally, I find that youth are like adults; it's critical to start with the foundation of a pose or activity and then build from there, adding refinements and more difficult variations as the child is ready. I also find that shorter attention spans predispose younger yogis to need more "moving poses" like walking down dog -- and a faster-paced, shorter class than older youth and adults.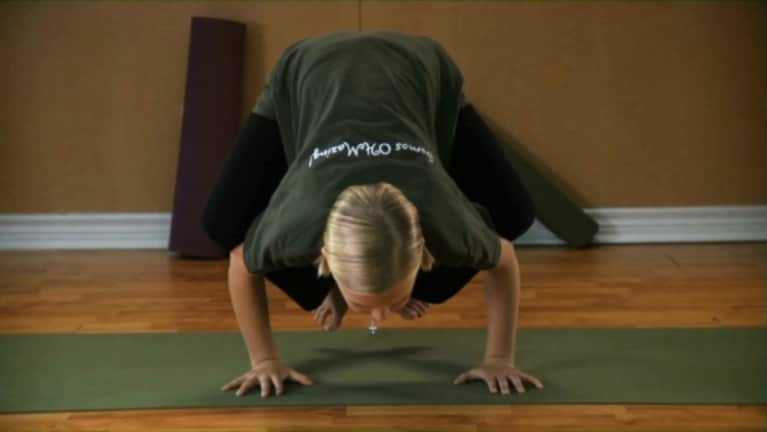 How/when did you first begin your practice?
I began my practice in 1999 when I was pregnant with my first daughter and searching for forms of exercise that would support my rapidly changing body. For many years my practice was almost purely physical and focused on asana. Over the last few years my practice has expanded as I learn to weave the holistic nature of yoga and the 8 limbs of yoga into my life in every aspect. Looking at yoga holistically is one of the founding principles of Yogiños. We call it "OHMazing": making good choices for yourself, others, and the environment both on and off the mat and in every aspect of your life.
Who has influenced your practice?
While I have learned and continue to learn from yogis and non-yogis alike, Anusara yoga is now the most influential philosophy and practice in my life. I completed my 200-hour teacher training with Christina Sell and continue to work with her as I am able, including pursuing Anusara-Inspired status this year. Additionally, I look to other yogis, methods, and philosophies to improve and empower my practice and choices on and off the mat, including Iyengar, Hatha, Vinyasa, Ashtanga, Anusara, power yoga, Jivamukti, and Yin Yoga. I have taken classes from and studied with "Richard from Texas," David Belz, Sharon Gannon, Paul Grilley, Jules Febre, John Friend, Manorama, Judith Hanson Lasater, David Life, Sarah Powers, Saul David Raye, Desiree Rumbaugh, Sianna Sherman, and Doug Swenson. I am also greatly influenced by my three OHMazing yogis under the age of 12.
Where would you like to see Yogiños in 5 years?
In 5 years I would like to see it implemented in studios, schools, community organizations and museums so that many children and educators are contemplating what it means to make OHMazing choices for themselves, others and the environment throughout each day. Toward that end, we have workshops, trainings, and classes in place to help individuals, teachers, administrators, and business leaders implement Yogiños programs in their respective areas.
Additionally, I believe that adult yoga teacher training programs would serve their students well to include modules on philosophies and practices for facilitating yoga for youth. The global community is in an absolute crisis with youth experiencing dangerous levels of obesity, diabetes, high cholesterol, low self-esteem and body-image, as well as various addictions and numerous abusive behaviors. Here I am confident that the yoga community at-large can serve as agents of change through offering increased opportunities for young people to engage in yoga as a lifestyle from formative years into adulthood rather than beginning in adulthood. Currently, I am in conversation with Leeann Carey Yoga about creating this opportunity.
What's next? What are you working on?
In the immediate future I am collaborating with the Crow Collection of Asian Art to create multidisciplinary programs for Earth Day Dallas. The programs will be for youth and families of all ages, including a yoga class/concert in partnership with MC Yogi for 30,000 high school students.
The partnership that Yogiños: Yoga for Youth® has with the Crow Collection of Asian Art has become an extraordinary opportunity to weave the philosophies of yoga and Yogiños into the museum's on- and off-site educational programs. In partnership with the museum, we are also collaborating with Big Thought, an after-school program provider within the Dallas Independent School District; the Dallas Theater Center; the Cancer Support Center in Dallas; and the Dallas Independent School District.
Partnering with the art museum also includes the co-creation of educational materials. This spring we will publish an activity book written with Jennifer Buergermeister of CuraYoga in Houston as well as our second DVD, Vishnu's OHMazing Journeys.
Closer to my home in South Texas, I am working with the Corpus Christi Independent School District through our YES (Yogiños Empowers Students) initiative to develop a pilot program for an elementary and middle school this spring. This initial offering will then expand into their new, federally-funded K?12 Metropolitan Schools of Innovation and Design, incorporating the philosophies and practices of Yogiños: Yoga for Youth® into the curriculum of these schools. With this program, we hope to integrate yoga tools and the concept of making OHMazing choices throughout the day for students, staff, faculty, and families.
For more on Beth and Yogiños: