12 Real-Life Perspectives On Standing Desks
Here at mindbodygreen.com, we try to practice what we preach. After Apple CEO Tim Cook made headlines earlier this year by declaring, "sitting is the new cancer," and countless studies have highlighted the negative effects of inactivity — we felt it was about time to convert to standing desks.
The solution? This model from StandSteady.com that raises the monitor and keyboard roughly a foot off of the desk: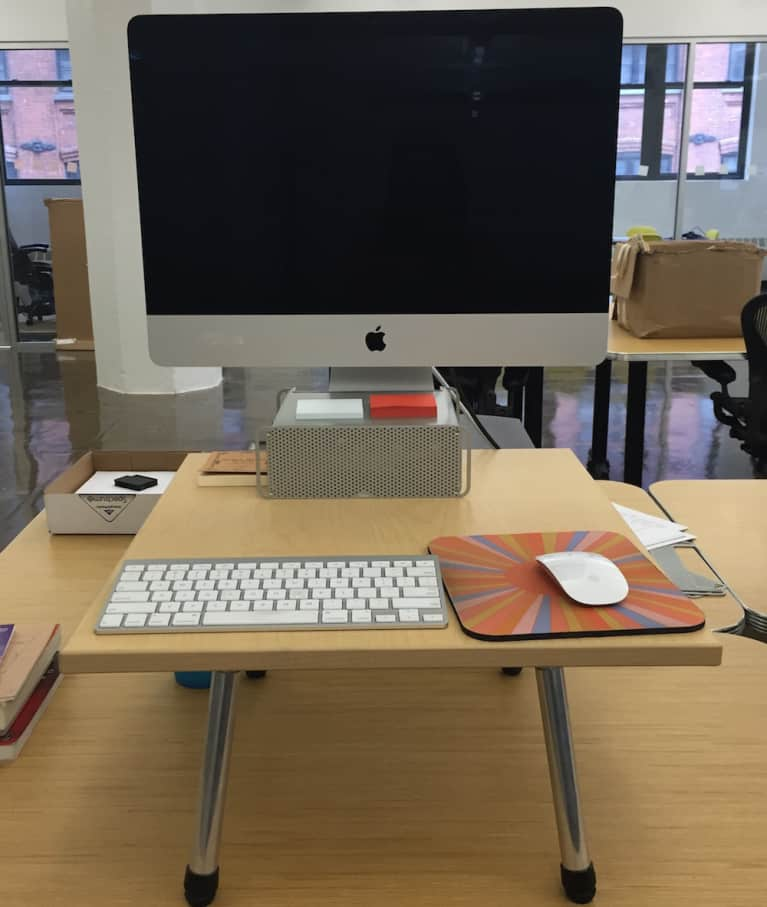 To sum up the quotes below — it's been an adjustment. While some are back to sitting, many are still standing. The general consensus is this: A mix of sitting and standing throughout the day is probably the best solution. For more in-depth reviews, check out these comments from MBG staffers:
1. Makes it too hard to focus.
"I hated mine. Too hard to focus, I felt like I wasn't actually zoning in when I need to. It almost felt too informal." — Jake Sussman, Business Development Manager
2. Sitting when you get home, after standing all day, feels amazing.
"I was the first one to try out the standing desk, and I'm still standing. Once you go home after work, sitting down and relaxing takes on an entirely new meaning." — Nico Oscoff, Head of Production
3. Standing feels like a workout.
"I think it's pretty great so far. I feel like I'm doing something productive, and that I don't need to workout. Which is probably untrue." — Andy Santamaria, Brand Partnership Sales Lead
4. Leads to increased energy.
"I find myself becoming more restless at my desk, yet possessing an overall higher level of energy throughout the day — and less of an energy dip after lunch." — David Porzio, Vice President of Product
5. This model needs some adjustments.
"I LOVED mine, until the second week. I wanted to sit down periodically. So now I'm back to sitting. I would prefer a desk that you can adjust up and down throughout the day, or maybe a lean stool." — Heidi Pashman, Social Media Manager
6. Back area feels better, but now feet hurt.
"By the end of the day, I'm tired! I've been going to bed earlier. My back, neck and shoulders feel so much better than when I was sitting, but my knees and ankles hurt now." — Carrie Farrell, Event Director
7. Standing all day put too much pressure on the back.
"At first (like most things in life that are new and exciting), I loved the change. Though, after two weeks my lower back began hurting, which is usually not a problem for me. I also found it exhausting. So I'm back to sitting and am making sure I get up and move my body more often." — Andrea Rice, Yoga Editor
8. Helps to remind you to take breaks.
"I like that standing makes me more likely to take breaks, there's not much standing between me and walking away from my computer. Though, on the negative side, I definitely feel pressure on my heels and knees, so I've been putting one knee on a chair to relieve the pressure occasionally." — Lina Gonzalez, Senior Designer
9. A combination of standing and sitting feels right.
"I love it because my hip flexors aren't as tight, but standing all day is putting a lot of pressure on my legs, so I'm probably going to split my time between standing and sitting." — Allison Daniels, Happiness Editor
10. Standing could help you focus.
"The first day we got our standing desks, I made a point to stand the entire day and I was exhausted. Now, I've been sitting and standing, but I find I'm more focused when I'm standing." — Una Graonic, Audience Development Manager
11. Another vote for sit/stand combo.
"Since sitting is the new smoking, I had to try a standing desk. The first week felt great. I definitely got excited for meetings with conference tables and chairs for a nice break. During week two, after an intense boxing class during lunch, I transitioned to sitting. I'm now doing a combination of both, which feels like the right mix for me." — Colleen Wachob, Head of Revenue
12. The verdict is still out.
"I have yet to assemble mine because I've seen everyone around me drop like flies." — Emi Boscamp, Associate Editor