We May (Finally!) Be Getting A Recommended Daily Value Of Sugar
We deserve to know just as much information about added sugars on packaged foods as we have for years about sodium, certain fats, and other nutrients. The U.S. Food and Drug Administration agrees, which is why they're recommending that a percent daily value of sugar be included on food packages.
"The FDA has a responsibility to give consumers the information they need to make informed dietary decisions for themselves and their families," said Susan Mayne, Ph.D., director of the FDA's Center for Food Safety and Applied Nutrition, in a statement.
The proposal would require companies to include not only the amount of added sugars in the product on Nutrition Facts labels, but also their percent daily value.
"The percent daily value would be based on the recommendation that the daily intake of calories from added sugars not exceed 10 percent of total calories," writes the agency.
Here is the current label (left) next to the proposed one (right). The arrow indicates where the percentage would go: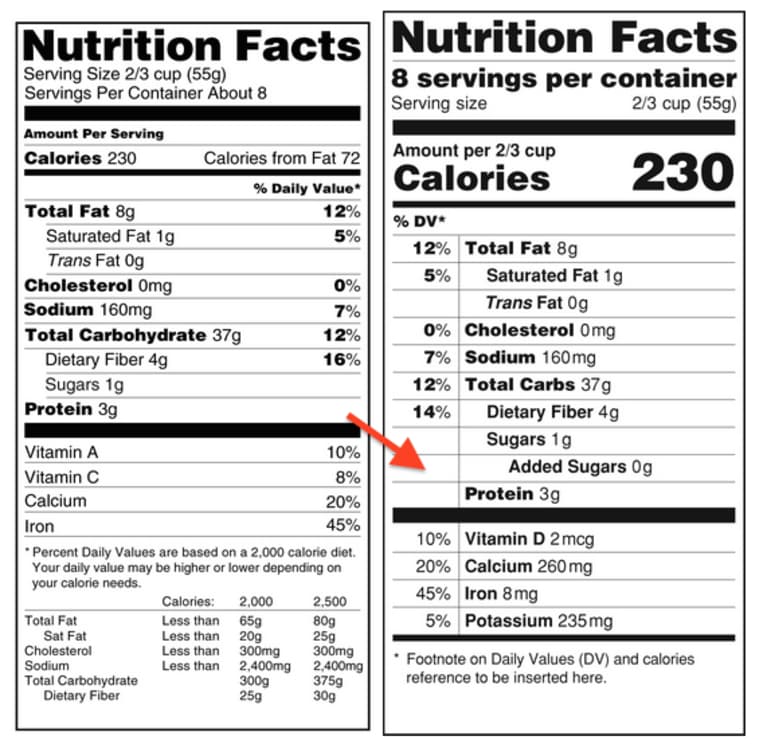 Along with the addition of "added sugars," calories and serving size would be emphasized much more.
The more transparency, the better! What do you think of the proposed changes?