The Ultimate BBQ Salad (No Meat Necessary!)
On a warm summer's day, when the barbecue sizzles and your body craves freshness, this juicy, grilled vegetable salad will nourish your soul.
Rainbow chard, similar to its close relative, the almighty kale, is packed with vitamins, antioxidants and important minerals like magnesium, iron and calcium.
You can find baby rainbow chard more suitable for salads, because the grown variation is quite bitter and needs cooking.
Combining all colors of the rainbow, this salad doesn't just look stunning, but tastes delicious, balancing the sweetness of your baby tomatoes, peppers and red onions, the bitterness of your aubergine and leafy greens, and the salty umami flavor of the garlic dressing.
Grilled Vegetable + Rainbow Chard Salad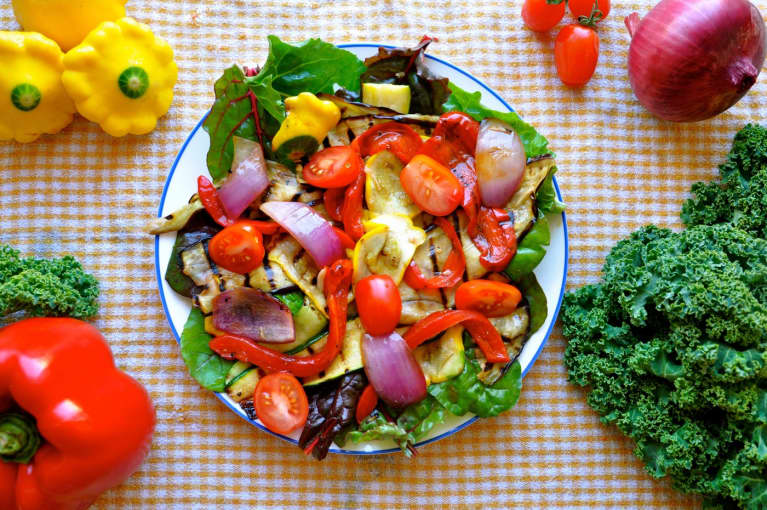 4 cups of organic baby rainbow chard
2 zucchini (yellow and green)
1 red bell pepper
1 aubergine
1 red onion
1 whole bulb of garlic
2 cups of organic cherry tomatoes
4 tablespoons extra virgin olive oil
Juice of half of a lemon
A pinch of Himalayan salt
Fresh cracked pepper
Preparation
1. Heat a griddle pan or grill to high heat. Once hot, place the whole bulb of garlic with skin on, and turn when each side has browned. Remove when all sides are grilled.
2. Slice your zucchini, aubergine, bell peppers and red onions in thin strips, either with a sharp knife or a mandolin. Char your vegetables in batches with a little oil until they've softened and you see grill marks on both sides. Set aside on a plate.
3. To make the dressing, peel the grilled garlic (which should be soft) and mash with a fork in a small bowl. Add olive oil, the juice of half of a lemon and season with salt and fresh pepper from the mill.
4. Assemble the salad by creating a bed of your rainbow baby chard leaves, your grilled vegetables and drizzle with the dressing.
Photo courtesy of the author