7 Reasons You Should Know Who Fitness Superstar Kayla Itsines Is
The hottest name in fitness right now isn't a celebrity trainer — and she doesn't have her own television show. Australian personal trainer Kayla Itsines is just 23 years old and has already inspired thousands of success stories with her successful "Bikini Body Guides." Here are a few things to know about the world's latest fitness guru:
1. She has 3.3 million Instagram followers.
Just to put things in perspective, the Tone It Up account has 470K followers, former Biggest Loser trainer, Jillian Michaels, only has 273K followers, and famed fitness guru, Bob Harper, counts just 209K.
2. Even though she named her fitness guides "Bikini Body," she believes all women already have bikini bodies.
Don't hold the bikini thing against her. As Itsines told Cosmopolitan.com, anyone can wear a bikini, "[Wearing a bikini is about] feeling comfortable and strong and fit and great about yourself…"
3. She produces serious results with 28-minute workouts.
The workouts are super simple — each consists of two different circuits that you repeat twice (at seven minutes each). A circuit is comprised of four exercises that you'll repeat as many times as possible for seven minutes, then take a break before moving onto the second circuit.
4. She has built a healthy army — literally.
A quick search on Instagram of the hashtag she inspired, #KaylasArmy, brings up 692,385 posts. It's a mix of healthy eats, gym selfies, before-and-after shots and motivational quotes. Kayla's army is a positive, healthy bunch of (mostly) women who keep each other motivated.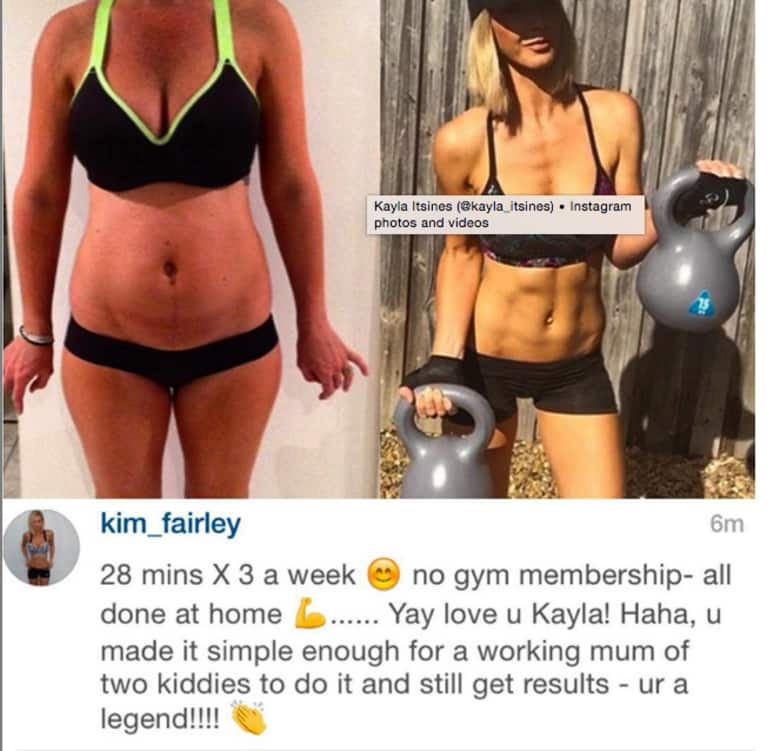 5. She's making fitness affordable.
Her 12-week workout plan costs $69.97. Which works out to be about $5.83 per week — a lot cheaper than most gym memberships or fitness classes.
6. Her workouts require little equipment making them a big hit across the country.
Don't have a home gym or live close enough to one? Kayla is your girl. All you need to complete her workouts are a set of dumbbells, a medicine ball, two flat benches, a yoga mat, foam roller and jump rope.
7. She's using social media in a positive way.
There are so many ways social media sites like Instagram, Twitter and Facebook are being used in the wrong way. Cyber bullying, trolling and more make a lot of people question if there's any real benefit to being "social."
When it comes to Itsines' accounts, the answer is a resounding yes, there's a huge benefit to using social media. She's using her social prowess to influence and inspire healthy changes in millions of people all over the world. If you're not following her yet, it's probably time to start!