9 Of The World's Craziest Fitness Feats
Whether they completed these challenges for shock and awe, or to raise money for an admirable charity, everyone on this list deserves some respect. Each of these feats are crazy challenging in their own, sometimes weird, way — and a lot of us probably won't come close to doing anything similar — ever. Prepare to be inspired by these athletes' accomplishments:
1. Completing 50 Full Ironmans, In 50 States, In 50 Days
James Lawrence, better known as the "Iron Cowboy," is an endurance athlete who is currently attempting to complete an Ironman, 140.6-mile race, every day for 50 days — in a different state each day. An Ironman triathlon consists of a 2.4-mile swim, a 112-mile bicycle ride and a marathon 26.2-mile run, raced in that order, without a break. He is attempting to raise awareness around child obesity, and all donations will go to the Jamie Oliver US Food Foundation.
2. Holding A Plank For One Hour And 20 Minutes
Yes, you read that right — 16-year-old Gabi Ury broke the world record last May by holding a plank for one hour, 20 minutes and five seconds — exactly double what the world record had been. What makes this feat so particularly remarkable is that Ury was born with VATER syndrome, which means that her spine was severely impaired and muscle groups were underdeveloped. As a child, she underwent 14 surgeries, most of them at the Children's Hospital Colorado. She raised over $50,000 and challenged her core to its limit, to benefit the hospital. Watch the video below and prepare to be amazed:
3. Running 100 Miles At 70 Years Old
Think about running 100 miles today. Then, think about running it when you're 70 years old. Seems impossible, right? Wrong. In June 2015, 70-year-old Gunhild Swanson completed The Western States Endurance Run in 29 hours, 59 minutes and 54 seconds. She stayed the course and climbed more than 18,000 feet and descended nearly 23,000 feet before crossing the finish line to resounding cheers from the crowd. Watch here.
4. Completing 53 Marathons In 53 Days
Last summer, 26-year-old sports therapist Amy Hughes ran 53 marathons in 53 days. She now holds the world records for the most marathons run on consecutive days (it was 17 for women; 52 for men). Hughes took on the challenge to raise money for the Isabelle Lottie Foundation, after a friend's 3-year-old daughter was diagnosed with a rare form of brain tumor. It wasn't easy for her — one week she was fighting a stomach bug and vomiting through the 26 miles, but she did it. On September 27, she completed 1,388 miles and raised £30,000 for the charity.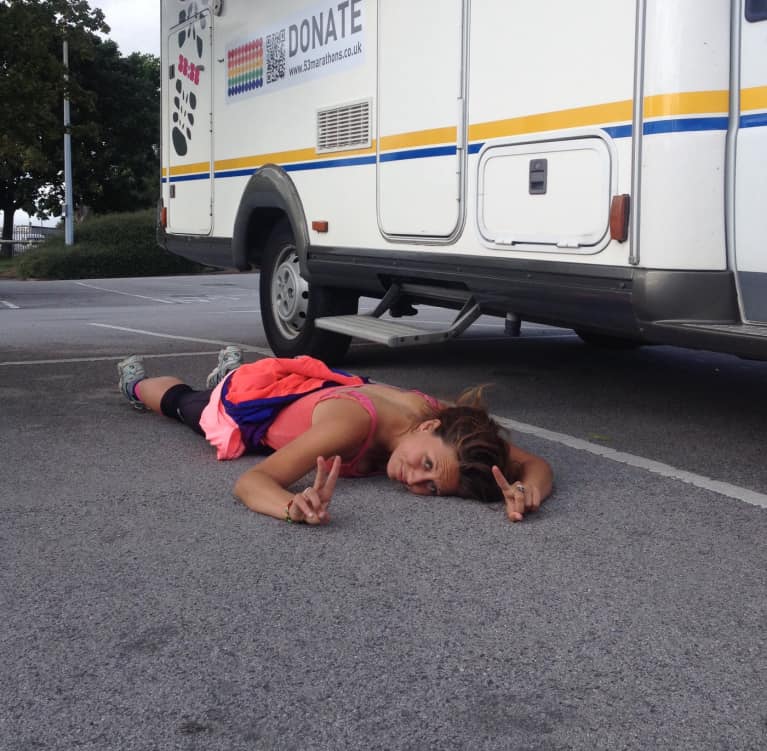 Above, Hughes after completing her final marathon.
5. Walking Across A Tightrope Stretched Over Niagara Falls
You may know American acrobat and aerialist Nik Wallenda from his two recent, televised stunts: Walking along the spinning Orlando Eye (April 2015) and walking across two Chicago skyscrapers (November 2013). Though, he is most well known for becoming the first person to walk across a 1,800-foot tightrope, stretched across Niagara Falls. He braved the wind and mist to complete the challenge in about 25 minutes.
6. Winning The Ultra-Trail DuMont Blanc, Twice
The Ultra-Trail du Mont-Blanc (UTMB) is an ultramarathon (103 miles) on a mountain. Not just any mountain, this race takes place in the Alps across France, Italy and Switzerland and features seven valleys, 71 glaciers and 400 summits. California ultrarunner, Rory Bosio, has dominated this race — coming in first place in 2013 and 2014.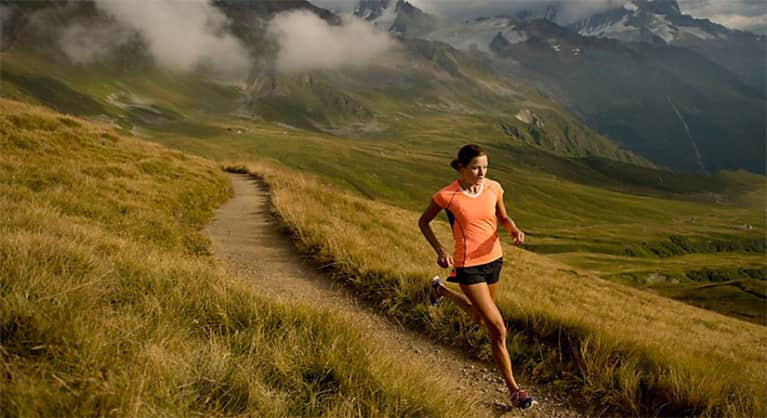 Ultramarathoner Rory Bosio doing her thing.
7. Swimming Across The Atlantic Ocean
In 1998, Benoit Lecomte became the first person to swim 3,716 miles across the Atlantic Ocean. It took him 73 days to swim from Cape Cod, Mass., to Quiberon, France. He swam at least six hours a day with a support boat and a 25-foot electromagnetic field to protect himself from sharks.
8. Performing 1,940 Back-Of-Hand Push Ups In One Hour
Paddy Doyle of Birmingham, UK holds this Guinness World Record after completing said feat in November 2007. He's a former member of the British Army's Parachute Regiment who holds many other Guinness World Records — like one for the most one-arm pushups in a calendar year, meaning he did 4,000 per day. Watch him master some pushups in the video below:
9. Winning The World's Toughest Mudder Competition, Twice
This event is designed to push "mudders" to their phsical and mental limits. It's comprised of a 24-hour obstacle challenge with twice as many obstacles per mile than any other Tough Mudder event. It's a wonder anyone would want to subject themselves to this torture — twice, but that's exactly what 2014's winners did. Last year's female champion, Amelia Boone, won The World's Toughest Mudder in 2012, and male champion, Ryan Atkins, had won also in 2013. Crazy, right?
Hero image credit: Shutterstock