The U.S. Just Took A Huge Step To Fight Climate Change & Barely Anyone Noticed
When it comes to climate change, more and more people are starting to believe that clean energy is the key to a brighter future (literally).
An interactive map released by the Sierra Club shows that coal power plants are being phased out to make way for more eco-friendly alternatives faster than you might think.
In a major green milestone, the 200th coal plant since 2010 just pledged to shut its doors for good.
Coal power plants emit high levels of carbon and other dangerous pollutants like mercury – a chemical that's been shown to cause birth defects and neurological disorders.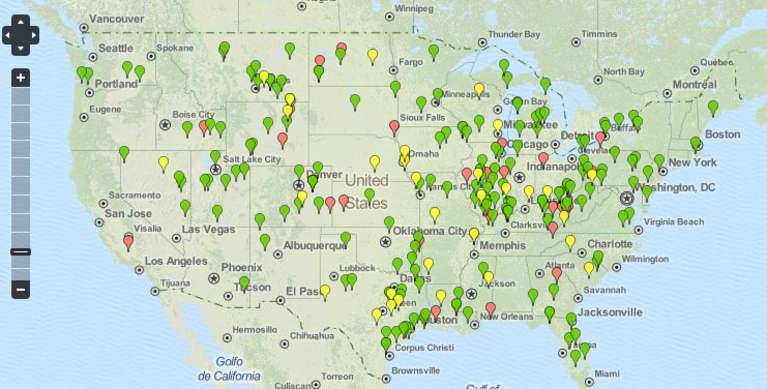 Screen grab from The Sierra Club
As you can see, the green markers (defeated plants) are beginning to drown out the yellow (plants in transition) and red (active plants) ones, especially in coastal states.
According to Treehugger, there were 535 US coal power plants in 2010, meaning nearly 40% of them have been phased out in just five short years.
Natural gas, wind and solar continue to provide popular and increasingly accessible power alternatives.
In fact, natural gas recently overtook coal as our country's most popular energy source. America's solar power use increased 30% in 2014 alone while Iowa is paving the way for wind energy – with more than a quarter of the state's power now coming from wind farms.
We've clearly taken some huge strides toward cleaner electricity over the last five years. Just think what this map will look like by the time 2020 comes around.