Power-Up Pesto With An Unexpected Ingredient
This is the ultimate summer pasta salad dish. My sister requests this every time I make a summer feast. Served warm or cold it's always a crowd pleaser. It's super simple to make and the perfect dish for easy entertaining.
I usually end up doubling the hemp seed pesto so that I have extra in my fridge to toss with veggies or a salad the next day. You can even freeze the pesto in ice cube trays so that you have a portioned amount whenever you need it.
Hemp Pesto Pasta with Tomatoes, Zucchini + Fava Beans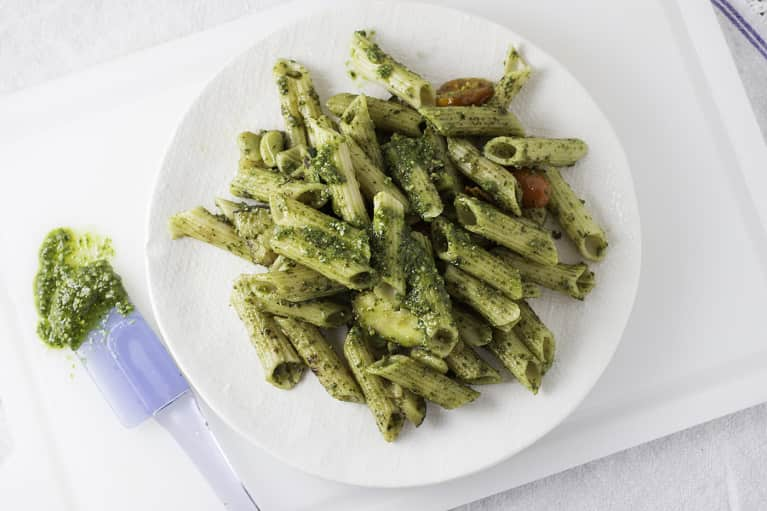 8 ounces gluten-free pasta
2 tablespoons olive oil
2 cloves garlic, minced
1 cup zucchini, chopped
1 cup fava beans, cooked, outer skin removed
1 cup grape tomatoes, halved
3 cups basil
½ cup walnuts
2 cloves garlic
½ cup extra virgin olive oil
1 lemon, juiced
½ cup hemp seeds
Himalayan sea salt, to taste
Preparation
1. Cook pasta according to packaging instructions. Meanwhile, in a food processor, add all the ingredients for the pesto and blend until smooth.
2. In a large sauté pan, warm the olive oil over low heat. Add the garlic and stir until slightly brown and fragrant. Add zucchini and stir 3–5 minutes. Add beans and tomatoes and continue to cook until tomatoes are slightly soft.
3. Strain pasta and put in a large bowl. Toss in veggies and pesto and serve warm or cold.