10 Reasons Why You Should Know Who Ronda Rousey Is
This year, Ronda Rousey took home two ESPY awards (Best Female Athlete and Fighter of the Year) and made major headlines with a few choice words for boxing legend, Floyd Mayweather (more on that later). In case that's the only thing you know about her, here are a few more badass facts about the UFC's (Ultimate Fighting Champion) most infamous leading lady.
1. She's proud of her muscular body, and that she's not a "do-nothing bitch."
In a recent UFC video, Rousey created headlines with a new term: DNB, a do nothing bitch, or "the kind of chick that just tries to be pretty and be taken care of by someone else." Rousey is the complete opposite — a woman who appreciates that her body serves a purpose, "I think it's [my body] femininely badass as fuck because there's not a single muscle on my body that isn't for a purpose..." Right on, Ronda.
2. Ronda Rousey was the first female with a contract with the UFC.
In November 2012, the female bantamweight champion became the first female with a contract to compete in UFC's Octagon.
3. She's competing for her legacy — not for the money.
"Now I'm at the point right now where I'm like, OK, my house is paid off, my car is paid off," she told FanSided.com. "I could probably retire right now. So it's not about money anymore."
"Now it's gotten to a point where it's about legacy for me," Rousey further explained. "I want to build something that survives me."
4. She called out Wal-Mart on Instagram.
This spring, Rousey published a memoir, My Fight/Your Fight, about her childhood, Olympic career and rise to become the reigning female champion of the UFC. Superstore Wal-Mart deemed the book "too violent," to be sold on their shelves.
Rousey's response: "Walk into any Wal-Mart in the United States and you can easily purchase any combination of high-caliber rifle with accompanying ammunition. However if you're looking to purchase a book by a former Olympic medalist and current undefeated world champion, you will have to look somewhere else." Boom.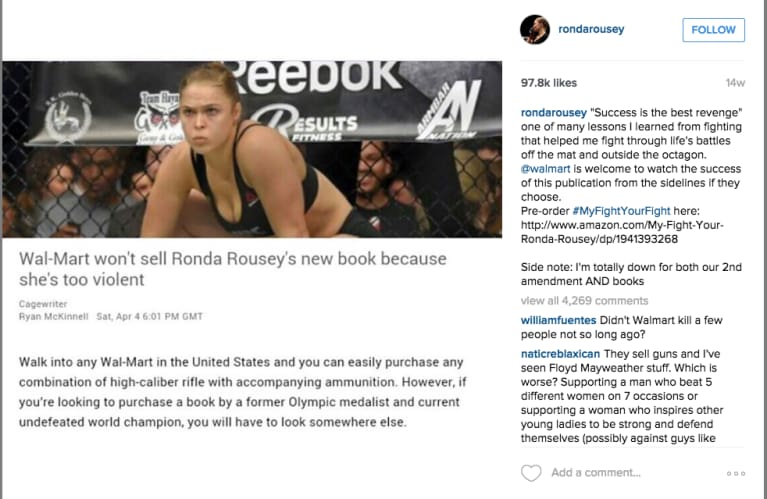 5. She told Jerry Ferrara (also known as Turtle in Entourage) that she would probably break his ribs.
During her cameo in the Entourage movie, Turtle steps into the ring and Rousey roughs him up a bit. Though Jerry Ferrara filmed a few of the scenes himself, he admitted to letting the stunt double step in at one point:
"There is a moment when Ronda flips me onto my back," he told Sports Illustrated Now. "And she actually suggested, she was like 'Why don't you the let the double do that? Because I've broken guy's ribs before and they're a lot bigger than you' ..."
6. She enters the Octagon to Joan Jett's "Bad Reputation."
In 2011, Showtime told Rousey that her walkout theme "Sex and Violence," by the Exploited was inappropriate. So she turned to Joan Jett's infamous "Bad Reputation" lyrics to epitomize her attitude in the ring: "I don't give a damn 'bout my reputation, you're living in the past, it's a new generation."
7. She's undefeated at 11-0.
Rousey beat competitor Cat Zingano in just 14 seconds at UFC 184 in April 2015.
8. She has a signature move — the armbar.
And she demonstrated it on Jimmy Fallon, who demanded they use the safe word, "rumplestiltskin." This move, which she learned from her judo champion days, is designed to hyperextend an opponent's elbow, and hurt like hell.
9. She's fought hard for her confidence.
In the sports world, there's a lot of pressure on your body, physically and mentally — and Rousey has been honest and open about her struggles with bulimia and obsessing over her appearance. More comfortable in her skin today, she told The New Yorker that when she was photographed for Maxim magazine, she arrived sixteen pounds over her fighting weight, so she wouldn't glamorize her body in its "unhealthy" state.
10. She can serve one hell of a comeback.
At the 2015 ESPY awards, Rousey beat out Floyd Mayweather for the title of Best Fighter. In an interview with ESPN on the red carpet, she delivered a zinger to Mayweather, who has a history of domestic violence, "I wonder how Floyd feels being beat by a woman for once."