The 8 Best Places To Get Vegan Ice Cream In NYC
I'm lactose intolerant, so much of my diet is about compromise. I put almond milk in my coffee instead of half-and-half. I hardly ever eat yogurt. (Don't worry: I get my probiotic fix from pickles. Lots of pickles.) And even though cheese is my favorite food, I can only sprinkle it on top of dishes rather than eating a block of it as my entire meal (like I wish I could).
But ice cream is a food with which I don't need to compromise. Dairy-free ice cream sounds so wrong, but you know what? Just like regular ice cream, if it's made properly, it can taste so right.
Food can be creamy without cream. After exploring New York City's vegan ice cream scene this past week, I can confidently stand by that statement.
So whether you're vegan, lactose intolerant, allergic to soy and/or nuts, hate coconut, all or none of these things, there's a place for you. Really.
624 Flatbush Ave., Brooklyn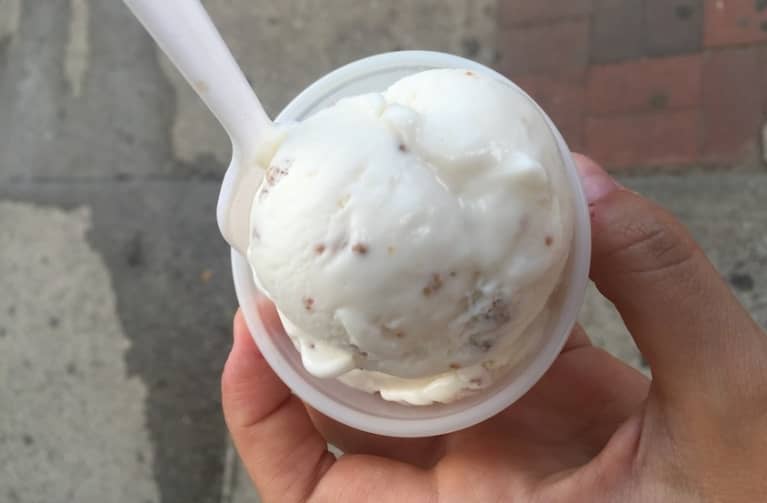 At this tiny, unassuming eatery, the two guys behind the counter serve up a pretty wide selection of tofu-based ice cream alongside vegan Caribbean fare (aka Ital). The ice cream's consistency is indeed creamy, but it's not too thick — so it's still refreshing. Make sure to order their signature flavor, Grape-Nut, which has little crunchy clusters of Grape-Nuts, of course, is akin to Milk Bar's cereal milk ice cream but not as cloyingly sweet.
Multiple locations, Brooklyn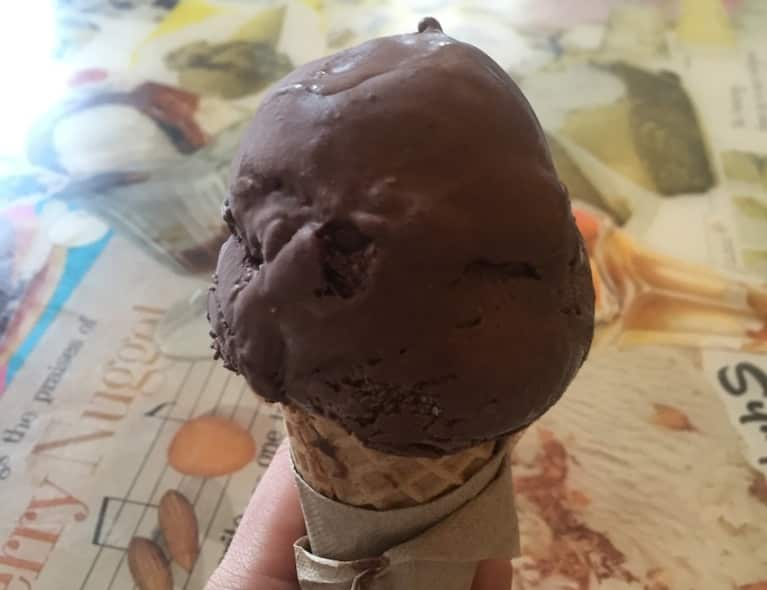 While they have a few interesting sorbet flavors, coconut fudge is their only creamy vegan variety. But it's that good. Hands down, this is my favorite vegan chocolate ice cream. A friendly staff member piles some hefty scoops into a cone, and even when it's a scorcher outside, they stay intact for a while. Other than a hint of coconut, it's mostly just rich, chocolatey goodness. And I highly recommend pairing it with a salty pretzel cone.
Smorgasburg, Brooklyn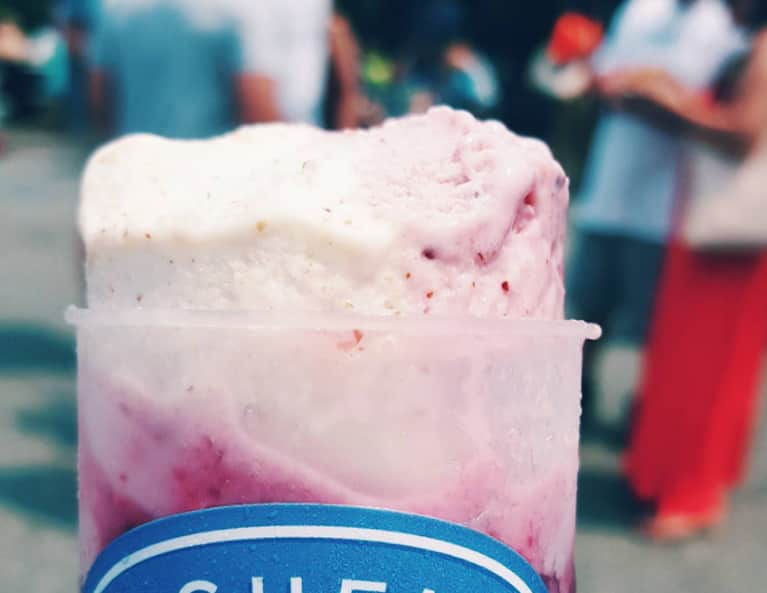 The "Alcreamists" combine almond, cashew, and hazelnut milk to create creamy and inventive dairy-free ice cream flavors. They alter their menu depending on the season, so in the fall, you can get pumpkin soufflé and in the summer, you can get red plum ginger. Plus, they've got awesome push-up pops for your inner child in sophisticated flavors for your grown-up palate, like chocolate chai and salted peanut butter. By pitting sweet against savory, hot against cold, smooth against crunchy, and conventional against unconventional flavors, this place comes up with the most creative ice cream — and it just so happens to be vegan.
Multiple locations, Brooklyn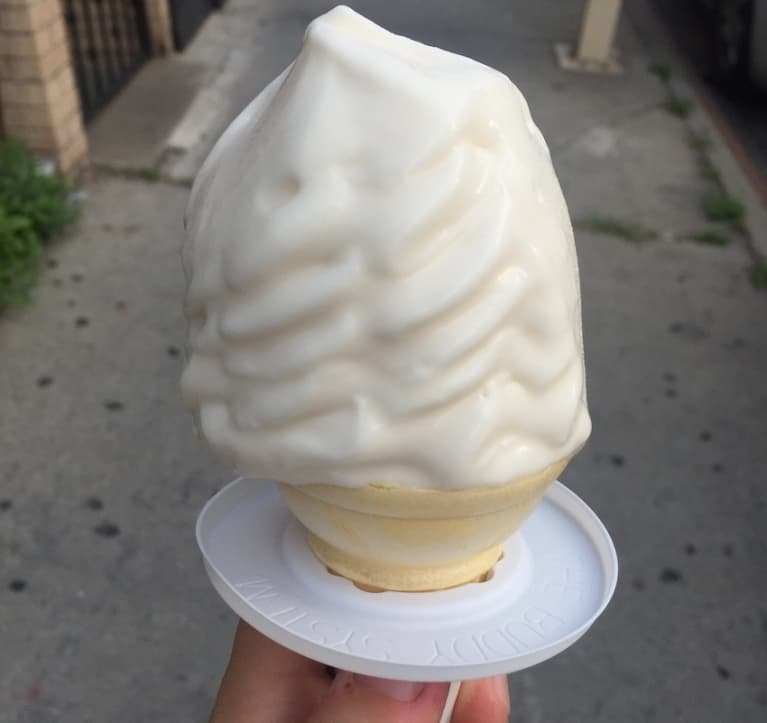 This place looks like a European ice cream shop (you know, brightly colored, expertly sculpted ice cream dotted with crazy toppings on display) injected with neon. Their soy milk-based ice cream is creamy but not too soft, with killer built-in toppings — think peanut butter chips, chocolate chips, nuts, and cookies. This is the spot for mint chocolate chip lovers. They've got soft-serve (pictured) too, but it's kind of grainy and watery, so stick with the solid stuff and you won't be disappointed.
Multiple Locations, Manhattan & Brooklyn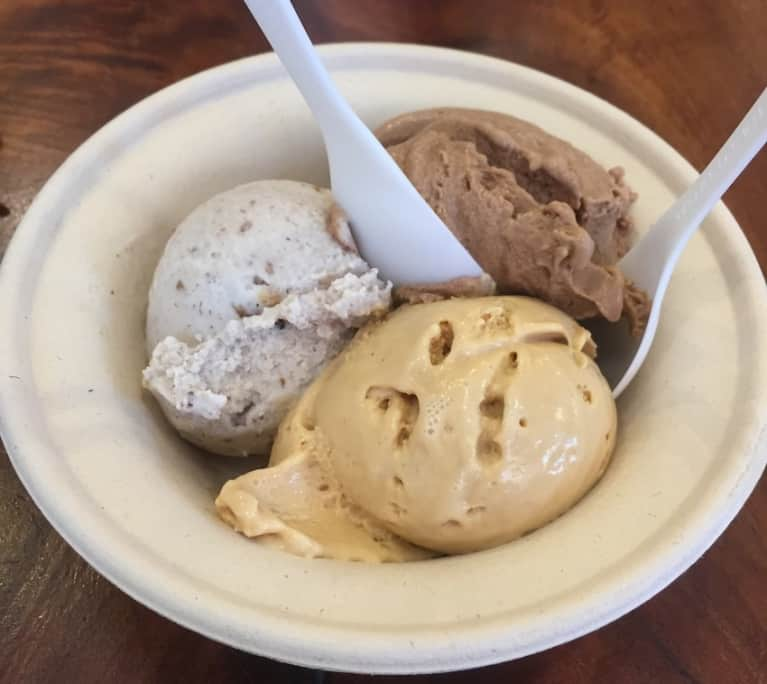 This city staple doesn't specialize in vegan ice cream, but it might as well. Dairy or non-dairy, everything is held to the same standards. Their vegan coffee ice cream is my favorite coffee ice cream ever — and I love coffee ice cream. It's potent and slightly bitter, mimicking espresso, but also sweet and creamy. Sea-salt caramel and banana nut are other great choices. They use a combination of cashew and coconut milk so that we get the richness of the coconut without its overpowering flavor.
37 St. Marks Pl., Manhattan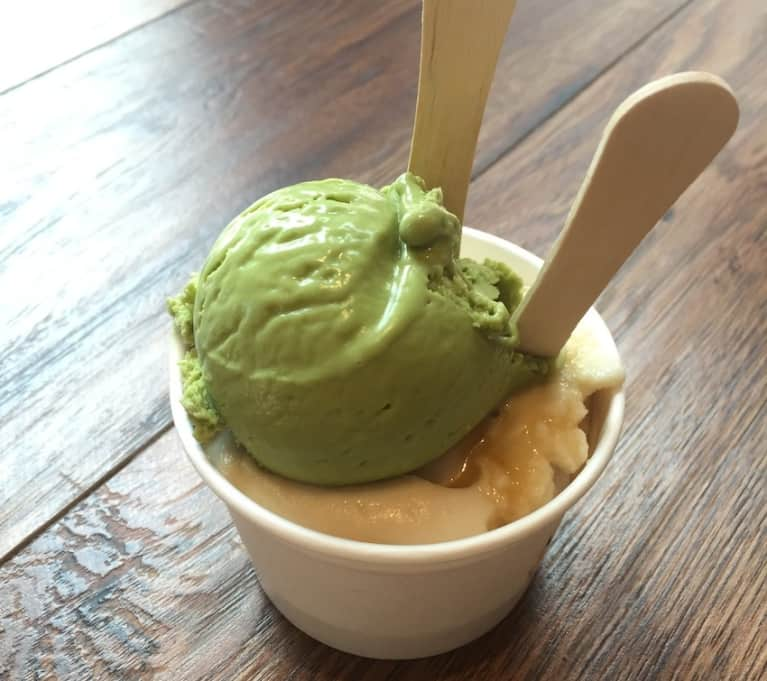 This place, which only serves dairy-free ice cream (hence the "DF"), has an interesting variety of flavors, from green tea to bananas foster, and red bean to peanut butter fudge. Most of the choices are coconut milk-based but they also have some almond milk-based options. I recommend choosing the stronger flavors, like bananas foster — which is super rummy and amazing — because the coconut flavor is very potent, so vanilla, for example, just tastes like coconut ice cream. Everything's got the creaminess but not the heaviness of regular ice cream.
516 E. 6th St., Manhattan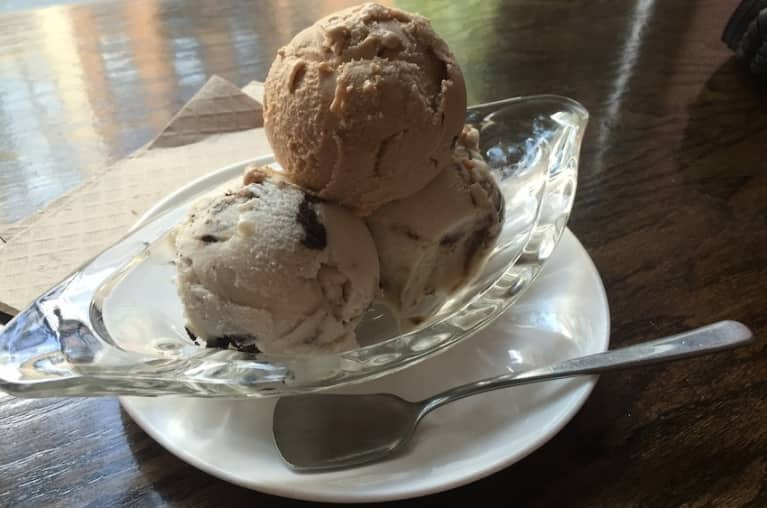 Formally known as Lula's Sweet Apothecary, this vegan institution lives up to its reputation. Out of all the places I tried, this one was my favorite. Made with cashew milk, the ice cream here had by far the smoothest and creamiest consistency without being soft-serve. Peanut-Butter Chip is the best example of that. But if soft-serve is what you're looking for, they do that well too, but usually only have one flavor a day. Other great flavors: "everything but the kitchen sink" and cookies & cream. They've also got the best selection of toppings — from coconut whipped cream to toasted almonds.
27-17 24th Ave., Queens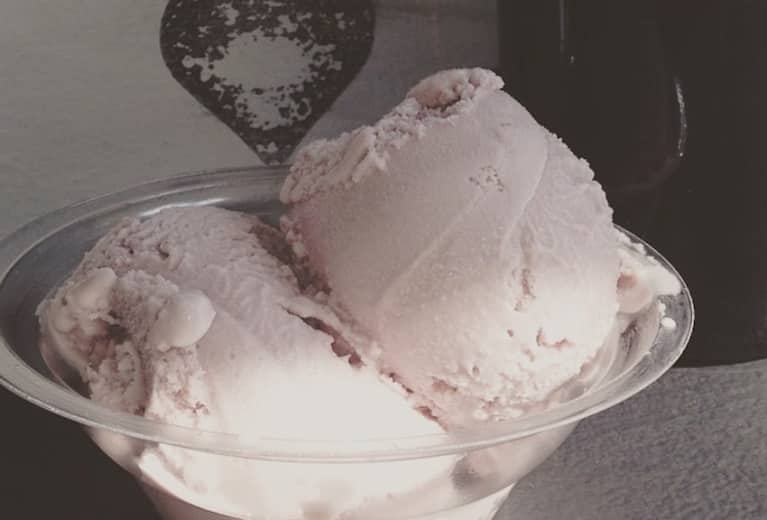 Like Alchemy Creamery, Sweet Jane's has a seasonal menu and gets really creative with its ingredients. While most of their ice creams are not dairy-free, the dairy-free options are the most interesting. Depending on what works best with the flavor profile, they're either made with soy, almond, cashew or coconut milk bases. So, for example, Mai Thai (my favorite) goes best with coconut milk, Mexican mango goes best with soy milk, carrot cake goes best with almond milk, and porter-coffee goes best with cashew milk. They're definitely not afraid to use spices. Oh, and they've got dairy-free fudgesicles, so ... enough said.
Got any more recommendations? Write 'em in the comments below!
All photos courtesy of the author, except the third (from @nnehajainn) and the last (from @sweet_janes)