I'm A Professional Makeup Artist. Here's What I Know About Beauty
"Beauty is only skin deep."
I've heard this proverb over and over and I'm sure you have too. As an entertainment industry makeup artist for over 20 years, I believe that it's meaning — outer beauty is not a guide to character — remains true. I also believe we must shift our focus from outer to inner beauty in order to build self-esteem and character.
So, why am I a makeup artist if it's about inner beauty and not really about products or brands?
I do this because I love to look at faces and connect with my client's inner beauty. My job is more than applying cosmetics and skin creams. It requires that I listen and learn the actors and actresses who sit in my chair. We engage in intimate conversations about life and I'm given a chance to see their spirit, their inner beauty.
Inner beauty is the loving and humble character that shines outward. When someone who's in touch with their inner beauty sits in my chair, the makeup application intensifies their beauty. The person may not look like Angelia Jolie, but once they're camera-ready, everyone sees and feels their beauty.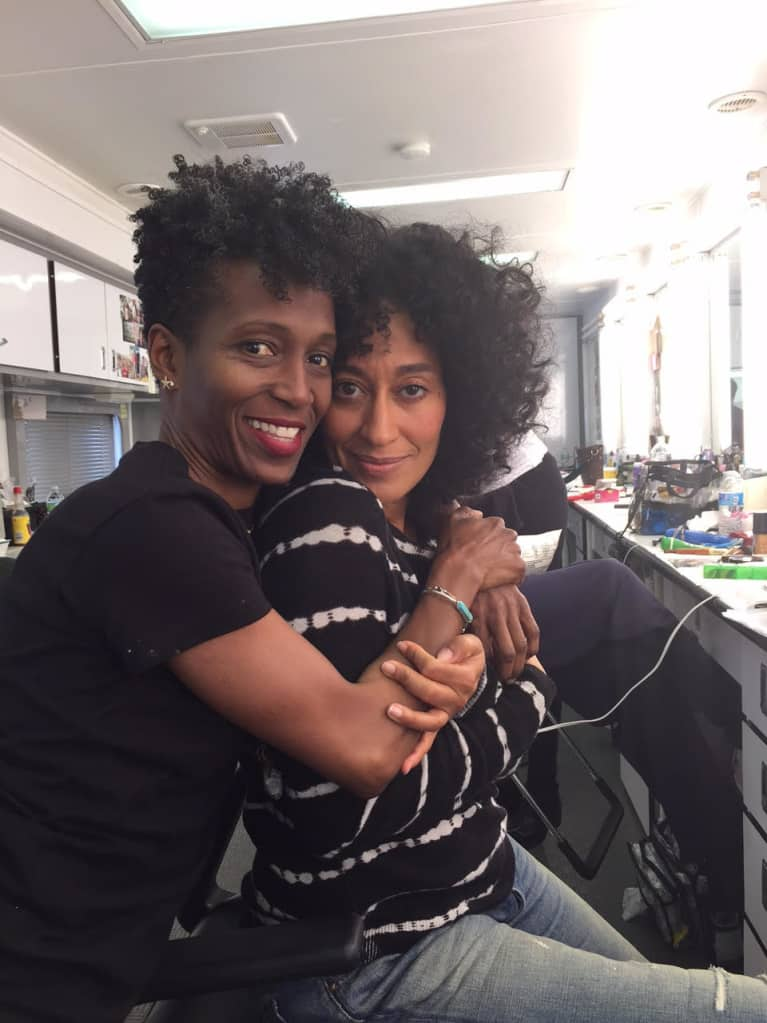 I love working on the ABC television show "Blackish" because I have the pleasure of touching Tracee Ellis Ross, whose inner beauty shines bright. She understands that self-care from inside out is required to create a healthy, vibrant self. A light foundation application exposes her skin because it's important to her and to me that she looks like Tracee. In general, my makeup application isn't to change the face or to create a face mask, but to enhance the inner/outer beauty.
Tracee radiates this beauty when she walks into the trailer and tells a story in such a way that it infects everyone with laugher. Sometimes I laugh so hard my belly aches and tears well. Beauty is when my girlfriend spends quality time with her daughter creating a costume out of paper for the school play and her child's face beams with pride once it's completed.
You see, when you work on inner beauty, you accept your outer "flaws" and "imperfections." I use quotes around these words because they represent our uniqueness, which is our greatness. Society can make us feel as if we're all supposed to look alike. If you don't have straight hair, long eyelashes or manicured eyebrows, you're ugly, unattractive and unwanted. When you acknowledge a stranger with a smile, a nod of the head or a simple hello, no matter their physical appearance, you project beauty that says, I see you, I recognize you, I see our likeness.
Working on your inner beauty/inner self is what really matters. Here are a few ways to work on inner beauty:
1. Be grateful for who you are.
Gratitude opens the door of self-love. Be grateful that you have a nose that allows you to smell, eyes that see, ears that hear, lips that allow you to eat and nourish yourself. Look beyond the physical and understand the purpose of each body part. You'll soon realize how blessed and amazing you are.
2. Embrace your unique beauty.
Recognize your gifts and talents and be willing to share them. Seeing that your uniqueness is good helps you see that the uniqueness in others is good as well because you understand that everyone came to this earth with a gift. It's not just about you; it's about us. Once we begin to look beyond the physical, we can see into the heart and freely give to others.
3. Change the dialogue inside your head.
As humans, we have close to 80,000 thoughts a day. But just because you have a thought doesn't mean it's true. I find it fascinating that we so easily identify what's "wrong," yet have difficulty identifying our good when it comes to this internal chatter.
To counteract an endless stream of negative thoughts, I like mirror therapy. This is when you look into a mirror and say out loud, "I love and I approve of myself." It sounds basic, but beware that in the beginning, you'll feel like you're lying to yourself (at least I did) because you'll see lines you've never seen, freckles you don't like, the size of your eyes and the shape of your lips may bother you.
However, in repeating this mantra, your inner dialogue will eventually shift and you'll begin to believe what you're saying to yourself. Be patient and persistent until the change shows up.
Working on our inner beauty is a never-ending process. I believe that once we tap into our inner beauty, our makeup kits will become lighter. Yes, we may continue to use skin care and products, but we can apply them with a lighter touch and some days we may opt to say, "I'm good" and not wear any makeup at all.
When we accept who we are and know our inner beauty is more important than what's on the outside, we're truly beautiful.