Why I Ditched The Toxic Hair Dye & Embraced My Gray Hair
I was 18 when I found my first gray hair. It wasn't long before that gray turned into two, then five, then more. Over the next ten years, the grays multiplied and eventually I began experimenting with color.
Fast forward to 40. What I most valued in life had been shifting and I became more interested in natural beauty and holistic wellness. I started replacing chemical-laden products with more natural ones. I swapped out my household cleaning products, stopped using harsh chemicals on my face, and limited makeup to eyeliner and mascara. Then I decided to stop coloring my hair.
My concern about the chemicals was only one factor in this decision: I also realized how much time this process had been costing me. My hair grows fast, so I needed to color it about once every four weeks over a 10-year period. That adds up to at least 130 hours (more than five days!) just coloring my hair. There were other things more deserving of my time.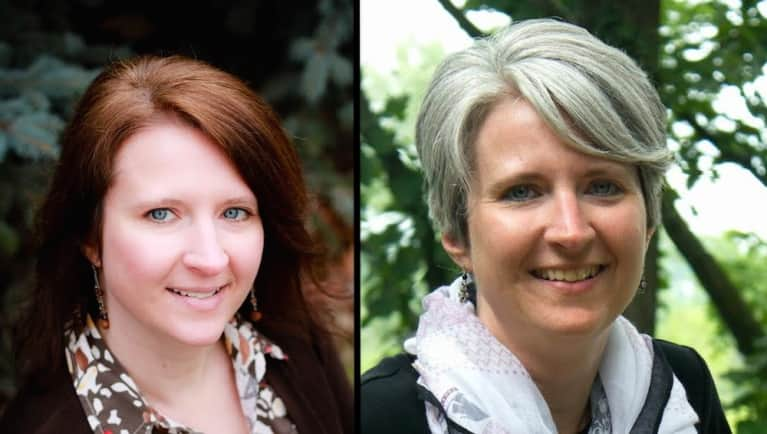 I scheduled an appointment with my stylist and to explore my options. Together we created a plan to make the transition as smooth as possible. I decided to go cold turkey, opting instead for more frequent haircuts that would chop off a little more of the color with each visit.
Nine months and seven cuts later, my stylist cut out the last of the rusty brown. When my hair was dry and styled, I remember looking in the mirror wondering, "Did I just make a huge mistake?" Thankfully the moment was brief; I was committed and there was no turning back.
People were positive, with many saying they wished they could be so brave. The compliments I received helped me to fully embrace my new 'do and wear the gray with confidence. Rather than being self-conscious, I'm grateful for the support and proud for making the decision, one that's allowed more of the real me to emerge.
Have you been considering going gray? Here are a few tips for success:
Decide why you're doing it. As you feel your commitment waning, you may need to remind yourself why you made this decision and why it's important to you.
Proactively inform others of your plan. Tell your significant other and other close friends or relatives before you do it so they can offer support.
Talk to your stylist and work together to create a plan that will work for you.
Decide how you'll do it. Will you choose to go cold turkey as I did? Or will you opt for lowlights or other transitional methods? Will you drastically shorten the length of your hair all at once or gradually go shorter?
Pay attention to the clothes best complement your changing hair color. I quickly noticed that darker colors were much more flattering, giving me an extra boost of confidence on days I was second-guessing my decision to go gray.
Was it worth it? Absolutely.
Even though there were times along the way I wondered if I'd made the wrong decision, I'm glad I did it. I'm using that precious time in more important ways, and exposing myself and family to fewer harmful chemicals. More than that, embracing my gray has been one step in a bigger journey I've been on to shed my false skin, come out of hiding, and show up and be seen for who I am.