Yoga for Moms-to-Be Who Need It Most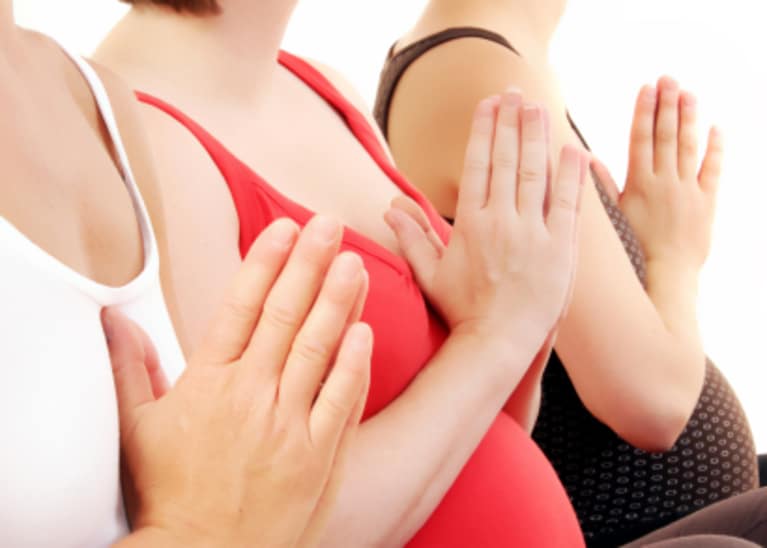 Many moms-to-be swear by their prenatal yoga practice as it helps alleviate stress, manage aches and pains, and develop good breathing habits for Lamaze. In many areas, prenatal classes are expensive, but a non-profit in New York City is offering prenatal yoga for free to moms-to-be who simply can't afford it. Awesome, right?
The Wall Street Journal reports on University Settlement's non-profit prenatal yoga program which is bringing yoga to expectant moms who need it most -- participants ranging from a 16-year-old single mom-to-be to a mother of four who just migrated to New York from Mexico.
Kimberly Ballesteroos, 18 and pregnant with twins, is a beneficiary of the prenatal yoga program and says, "This calms my mind and emotions down. Learning how to control my breathing helps me manage all the stress." Kimberly has a lot on her mind as her boyfriend may-or-may not be able to help support the twins and for now she's living with her parents. At this point she's unsure if she will raise the twins or give them up for adoption. Kimberly works in sales at a clothing store but takes Mondays off to go to her yoga class at the center.
But I think a quote from Aurora Nazario, 24, who just migrated to America and who has trouble with English, says it all, "Being pregnant can be scary. The yoga helps all of us to stay calm, and it is great for the back pain."
Namaste to that!