7 Reasons To Celebrate Women's Soccer
The U.S. Women's World Cup Team is killing it. This week, they beat Germany 2-0 to advance to the final on Sunday. No team has scored against them for more than 500 minutes, and they're ready to win their first World Cup since 1999 after losing to Japan in the 2011 final.
Though it's always fun to cheer for a winning team, there are a few more reasons you should tune into the game on Sunday:
1. Soccer is a global game that offers opportunities for women.
Women's soccer, or football, is played in an increasing number of countries, all around the world. 51 countries in Europe have a women's national league — with 1,208,558 registered players. There are also national football teams in Muslim countries like Afghanistan, Turkey, Jordan and others. In 2012, Azerbaijan became the first Muslim-majority country to host a FIFA women's competition. According to FIFA, 29 million women and girls play football worldwide.
2. They're really playing for the love of the game.
Top male soccer stars make pretty decent ca-ching, like Real Madrid's Cristiano Ronaldo, who has a five-year contract worth $206 million. Whereas in the U.S., the National Women's Soccer League (NWSL) players can make as little as $6,800 a year — and reportedly the NWSL salary cap is around $200,000 per team.
3. Not only do many players have a second job, they're moms too.
Though women's soccer players in the U.S. probably have it better than in other leagues, their salaries are low and most national players have second jobs, and some are moms too.
Having a child used to mean it was time to retire from being a professional soccer player — not anymore. The 2015 Women's World Cup Team counts three moms on their roster: Christie Rampone, Shannon Boxx and Amy Rodriguez. While all three moms acknowledge that it's certainly not easy, they've noted a great deal of support from the league.
4. Women routinely play in worse conditions than men — even in the World Cup.
Professional women soccer players were angered by the news that FIFA would hold the entire 2015 Women's World Cup tournament on artificial turf. Many soccer players blame injuries on artificial turf — no turf is the same, and it doesn't give the same way natural grass does. Artificial turf also has black beads or "crumb rubber," that is made up of scrap, can contain carcinogens and may be linked to cancer.
When Abby Wambach, the 2012 FIFA Women's World Player of the Year, heard the news, she tweeted, "The men would strike [if they were] playing on artificial turf." Female soccer stars filed a lawsuit against FIFA and the Canadian Soccer Association for gender discrimination because the artificial surfaces were inferior to natural grass and men had never played a major tournament on artificial turf, but the suit was ultimately withdrawn.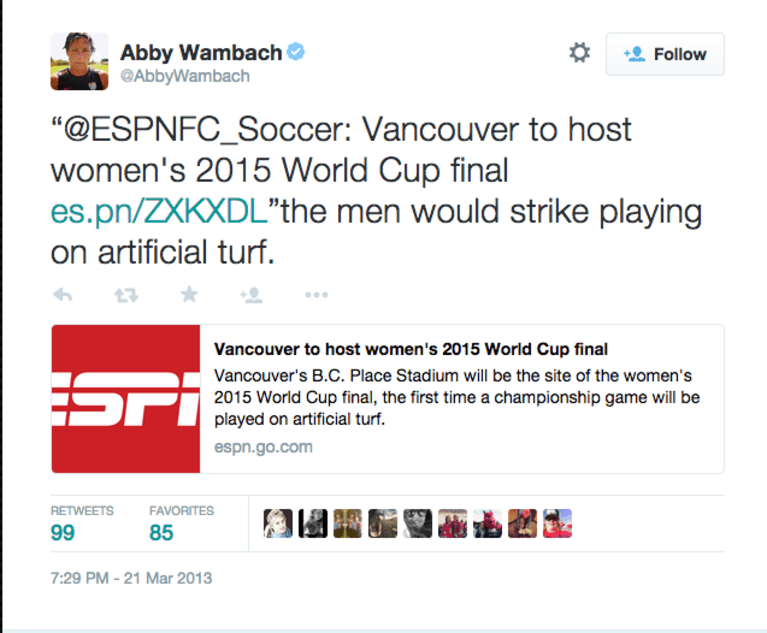 5. Many female soccer players are out and their teams support them.
While men's professional sports' leagues are reluctant to be fully inclusive and supportive of those in the LGBT community, female soccer teams offer acceptance.
An Outsports.com tally found 17 publicly out participants in the 2015 Women's World Cup, versus zero out players at last year's Men's World Cup. Germany's goalie, Nadine Angerer, revealed she is bisexual back in 2010. England's national team has two openly gay players, Lianne Sanderson and Casey Stoney, to name a few. This year's Women's World Cup is a bright spot for LGBT acceptance in a sport that has received criticism for its treatment of gay athletes.
6. Women can play soccer at any age.
In sports like CrossFit, youth is admired and most professional athletes are in their 20s. This is not the case when it comes to women's soccer — Christie Rampone, who has been on the U.S. Women's National Team for eighteen years and is currently playing in the Women's World Cup, just turned 40 last month.
7. The U.S. Women's Soccer Team has won two World Cups (1991 and 1999), while the men's team never has.
Nearly 18 million people tuned in to watch Team USA beat China in the 1999 Women's World Cup. The U.S. Men's National Team has yet to win a World Cup. How about them apples?