13 Quick & Satisfying Smoothie Recipes To Beat The 3pm Slump
A real food smoothie is the perfect breakfast or snack option. They're quick and easy to make and you can enjoy them on the run. You can even prep or prepare your smoothies in advance and store in the fridge so you always have a healthy snack or breakfast option available.
All of my smoothies contain protein to ensure satiety and keep you feeling fuller for longer. When you're hungry or craving sweets it is actually your body asking for protein. So when you get the 3pm sweet craving, eat some good quality protein.
When purchasing your protein powder look for a brand that contains natural protein powder with no added nasties, fillers, sugar, artificial sweeteners, colour or flavours. You should also ensure it's gluten-free and contains high protein. Read the label and ask questions!
These smoothie recipes serve 1 and take 10 minutes to prepare. Simply place all ingredients into your blender and process until well combined. You can serve the smoothies in a glass or in a bowl to enjoy with a spoon.
Summer Mango Smoothie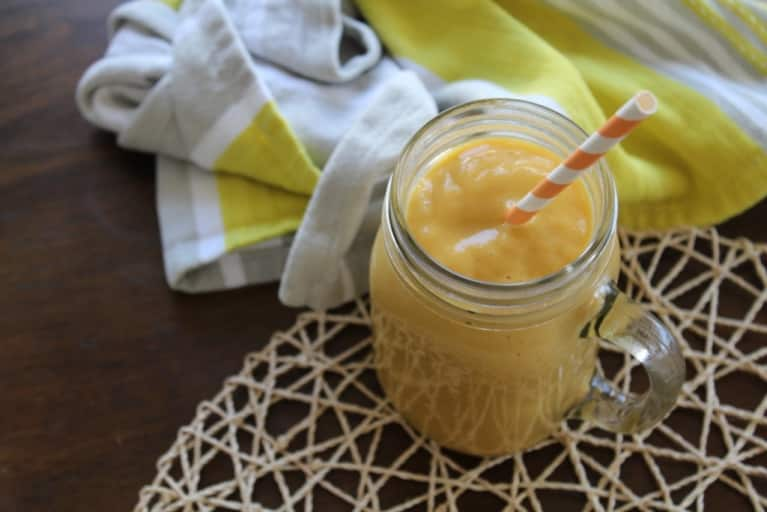 Flesh of 1 mango
1 cup coconut water
1 cup ice
1 serving natural protein powder
1 frozen acai brick
½ cup frozen mixed berries
1 frozen banana (peel banana before freezing)
Flesh of 1/4 papaya
1 serving natural protein powder
Half of the meat and water from 1 young coconut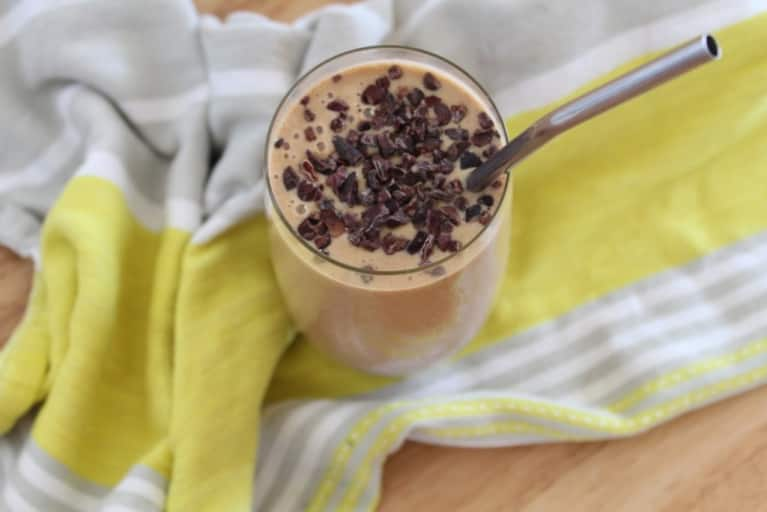 1 cup coconut water
1 frozen banana (peel banana before freezing)
1 serving natural protein powder
1 teaspoon cinnamon
2 teaspoons maca powder
2 teaspoons coconut sugar
3 tablespoons peanut butter
Minty Fresh Green Smoothie
2 cups coconut water
3 stalks kale
1 green apple
1/2 cucumber
1/2 cup mint leaves
2 dates pitted
Cinnamon + Almond Smoothie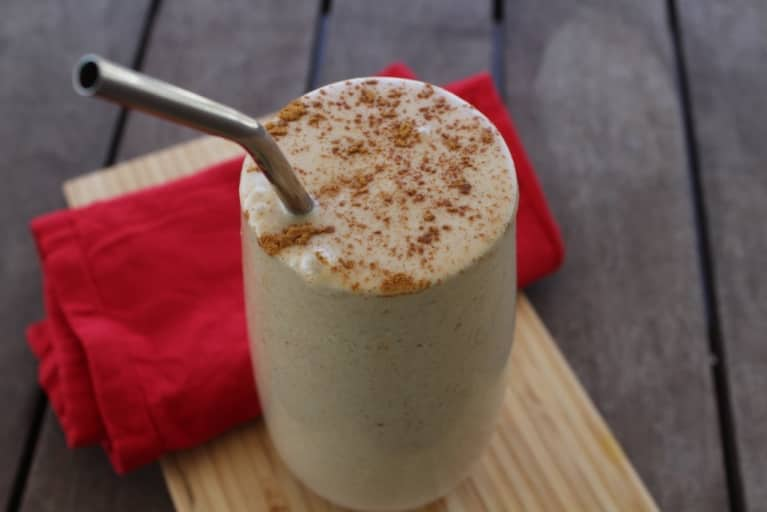 1 cup almond milk (or your preferred milk)
1 cup ice
¼ teaspoon nutmeg
¼ teaspoon vanilla powder
1 teaspoon cinnamon
2 tablespoons shredded coconut
2 tablespoons coconut or greek yoghurt
2 tablespoons raw honey
3 tablespoons almond butter
1 serving natural protein powder
Ultimate Breakfast Smoothie
Flesh of ½ avocado
½ frozen banana (peel banana before freezing)
1 tablespoon shredded coconut
1 tablespoon LSA
1 tablespoon maca powder
1 teaspoon bee pollen
1 teaspoon cinnamon
¼ teaspoon vanilla powder
1 cup water or coconut water
¼ cup blueberries
¼ cup raspberries
1 serving natural protein powder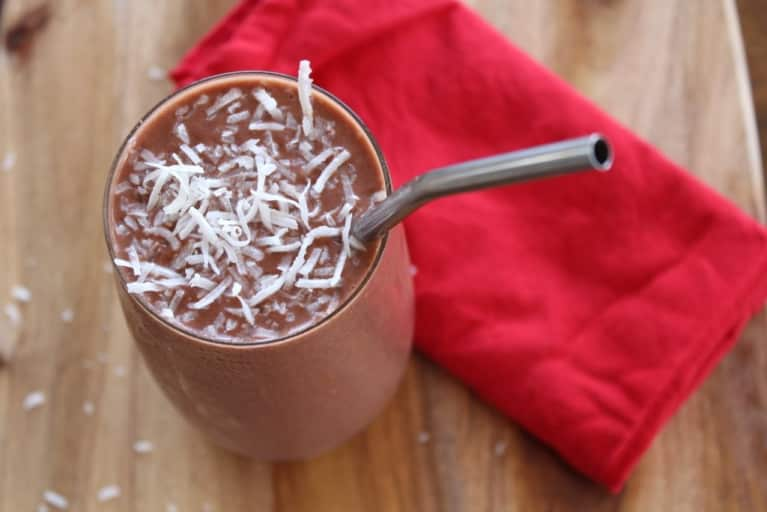 1/3 cup frozen raspberries
1 frozen banana (peel banana before freezing)
2 cups coconut water
1 serving natural protein powder
2 tablespoon cacao powder
1 teaspoon rosewater
1/2 cup frozen mixed berries
1 cup water
1 serving natural protein powder
2 tablespoons cacao powder
2 dates pitted
Chocolate Delight Smoothie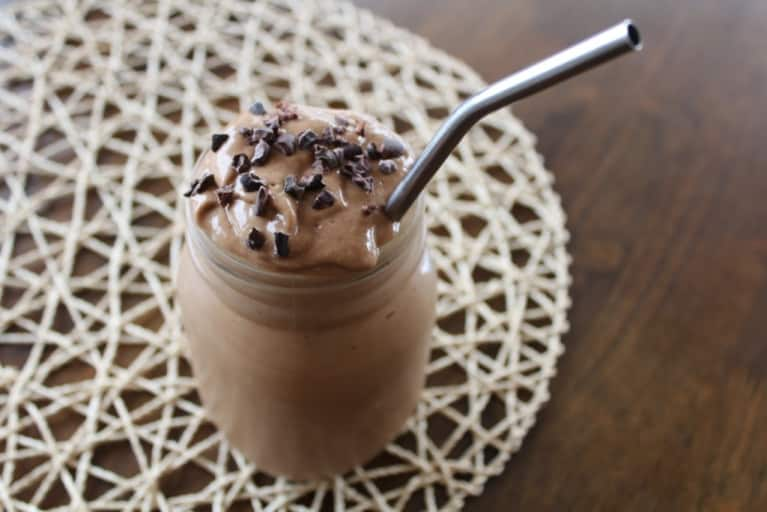 1 frozen banana (peel banana before freezing)
Flesh of ½ avocado
1 serving natural protein powder
1 cup water
1 cup ice
2 tablespoons cacao powder
1 teaspoon cinnamon
1 tablespoon maple syrup
1 frozen acai brick
Flesh of ½ mango
½ cup pineapple flesh roughly chopped
¼ cup frozen berries
1 serving natural protein powder
1 tablespoon chia seeds
1 tablespoon flax seeds/linseeds
2 tablespoons coconut or greek yoghurt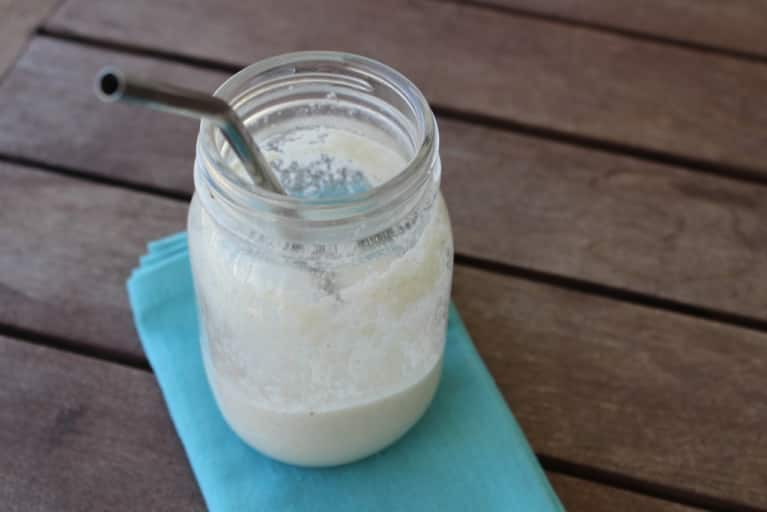 1 cup coconut milk
½ cup pineapple flesh roughly chopped
½ banana
¼ teaspoon vanilla powder
½ tablespoon maple syrup
½ cup ice
1 serving natural protein powder
1 frozen acai brick
¼ cup frozen berries
½ banana
Flesh of ½ mango
Half of the meat and water from 1 young coconut
1 teaspoon honey
2 tablespoons raw cacao powder
1 serving natural protein powder
1 young coconut (water and flesh)
2 tablespoons cacao powder
1 tablespoon maca powder
1 teaspoon ground cinnamon
½ teaspoon ground nutmeg
¼ teaspoon vanilla powder
4 dates pitted
1 serving natural protein powder
¼ cup cherries pitted
Photo courtesy of the author