Farmer's Market Salad With Wild Spinach + Asparagus
Every time I'm at the Union Square greenmarket in New York, I find myself making a beeline towards the Windfall Farms stand as they have the most beautiful and delicious micro greens.
For this salad, I picked up some wild spinach (also called lamb's quarters), micro purple kohlrabi, chive blossoms, and sunflower greens. If you have a garden, it's likely that wild spinach is growing somewhere and you might not even realize it, as it's considered to be a weed.
Wild spinach is actually one of the most nutrient dense wild greens out there! It's high in vitamins A and C, calcium, magnesium, zinc, and riboflavin.
Wild Spinach & Asparagus Salad With Poppy Seed Tahini Dressing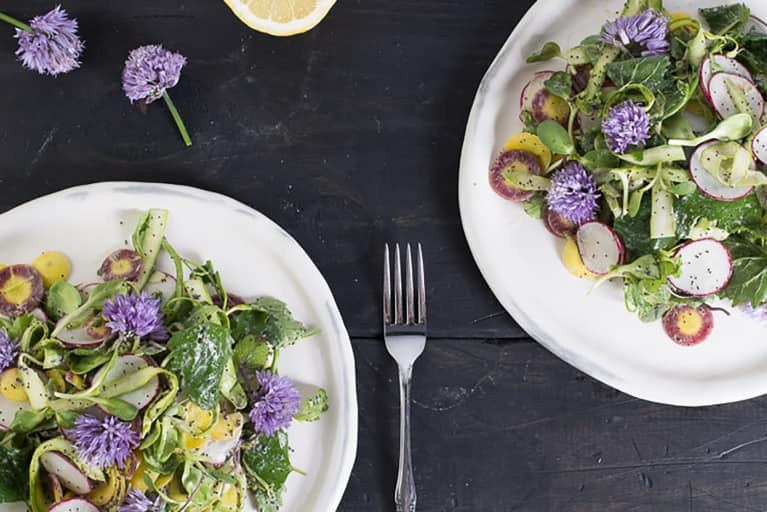 Ingredients for the salad
10-12 stalks of asparagus, sliced as ribbons with a vegetable peeler
5 radishes, sliced thinly with mandolin
2-3 rainbow carrots, sliced thinly with mandoline
handful wild spinach
small handful sunflower greens
small handful micro greens (I used purple kohlrabi)
chive blossoms (optional but so pretty!)
Ingredients for the dressing
1 tablespoon poppy seeds
2 tablespoons tahini
salt and pepper
juice of one lemon
1 tablespoon oil of your choice (I used hemp)
Preparation
1. To make salad, combine all ingredients.
2. To make dressing, combine all ingredients and whisk until well blended. Mix with salad ingredients and enjoy!
Photo courtesy of the author