How To Meditate Anywhere (Even In Crowded, Loud Public Places!)
mbg Class Instructor & Meditation Teacher
By Light Watkins
mbg Class Instructor & Meditation Teacher
Light Watkins is a Santa Monica–based Vedic Meditation teacher, mindbodygreen class instructor, TEDx speaker, and author of Bliss More, How to Succeed in Meditation Without Really Trying. He grew up in Montgomery, Alabama, and graduated from Howard University with a bachelor's in communications.
Light Watkins is a Santa Monica–based meditation practitioner who has been teaching for the past eight years. This week, we're sharing Watkins' expert techniques for coping with anxiety and stress. To learn more, check out his mindbodygreen class, Meditation for Anxiety: Guided Sessions to Halt Panic Attacks & Feel Calmer Every Day.
I recently received an email from a meditator in Chicago who was having a hard time finding a suitable meditation spot during work hours. He didn't want to meditate in a break room, or in a place where someone from work could walk by and see him "sleeping" in the afternoon. He went on to say that the weather in Chicago was not suitable for meditating outside, except on a few occasions.
I live in L.A. where, if worse comes to worse, we can always meditate in our car. But he didn't have a car. So in response to his email, I decided to conduct an experiment during my recent work trip to New York. I would be there for five days, and I wanted to see if I could find suitable public places to meditate (ideally undisturbed) for 20 minutes.
I asked a few local meditators in NYC where they meditate when they're on the go, and the most common answers were:
Public libraries
Hotel lobbies
Subway, taxi, and airplanes
And here were my criteria for potential meditation spots:
They had to be open to the general public with no purchase required.
They had to be indoors (in case the weather was unsuitable).
The seat had to have decent back support.
The location had to be within walking distance from wherever I found myself when it was time to meditate, which was usually in or near Union Square.
I never use headphones or sunglasses while meditating.
After meditating, I rated each location on a scale of 1 to 10, with 1 being undesirable for meditation, and 10 being highly desirable.
Here's are five locations where I sat to meditate, and how I rated each one: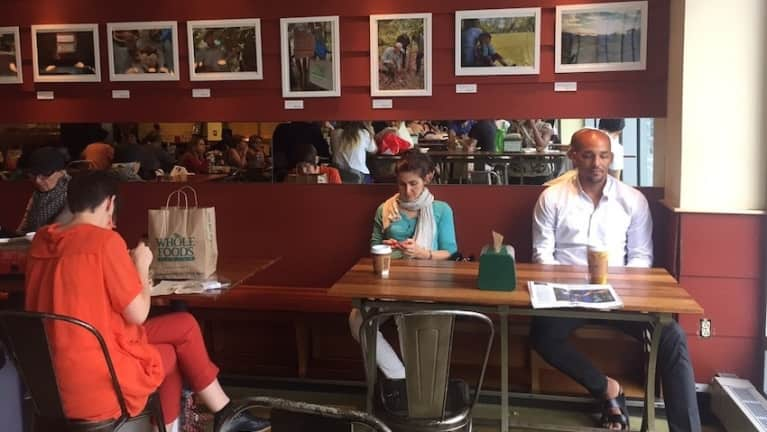 Location: Union Square
Time: Wednesday at 3pm
Quiet: 3
Comfort: 7
Privacy: 2
Average Score: 4
I chose to sit in a corner, to reduce the movement around me, but it was still very noisy. I timed the meditation with my iPhone, which was on the table, and I think it also notified people that I was meditating and not sleeping.
There was a woman sitting across from me reading while I meditated, but I was left undisturbed, and people weren't really coming and going very much. Overall, it was decent spot, but probably too noisy to use as a place for regular meditation.
Photo by Clara Auguste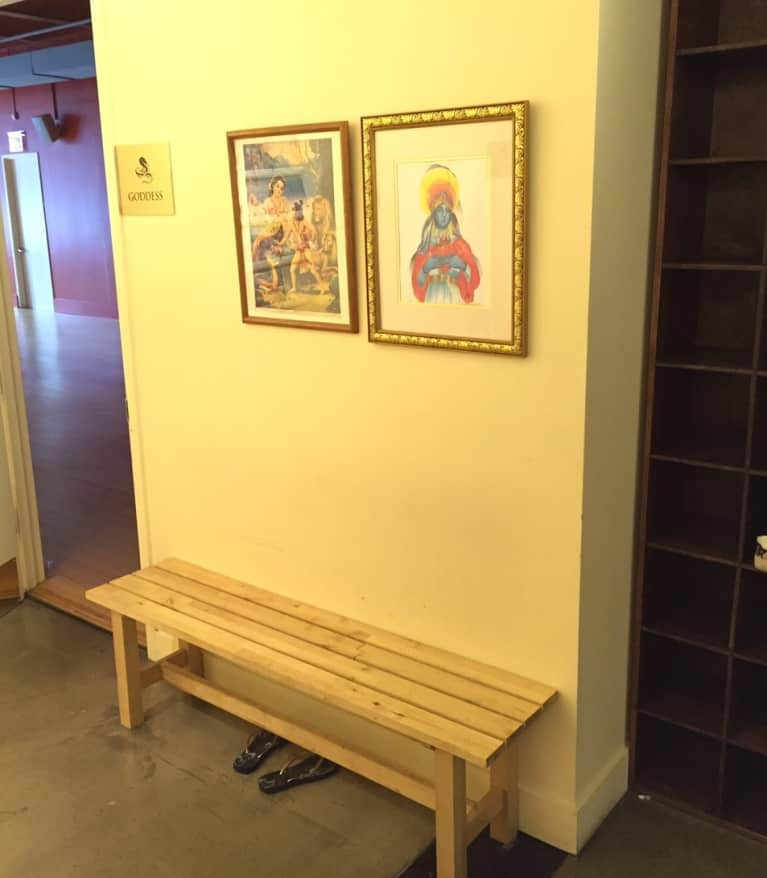 Location: Union Square
Time: Thursday at 5:45pm
Quiet: 8
Comfort: 4
Privacy: 6
Average Score: 6
I walked in and asked the girl at the front desk if I could use one their empty rooms to meditate. She said there were no empty rooms, but invited me to use their hallway.
She seemed surprisingly open to the idea of having a random person off the street come in and meditate, and escorted me to the back of the studio to a quieter place where people usually sit to do just that. It was a bench right outside of a yoga room. I could faintly hear the yoga class, but otherwise I was undisturbed, and leaned against the wall for back support.
On my way out, she informed me that Jivamukti has free meditation classes every morning and one night a week, which is open to the public.
Photo by Tomas Zobal
Holy Innocents Church: Pew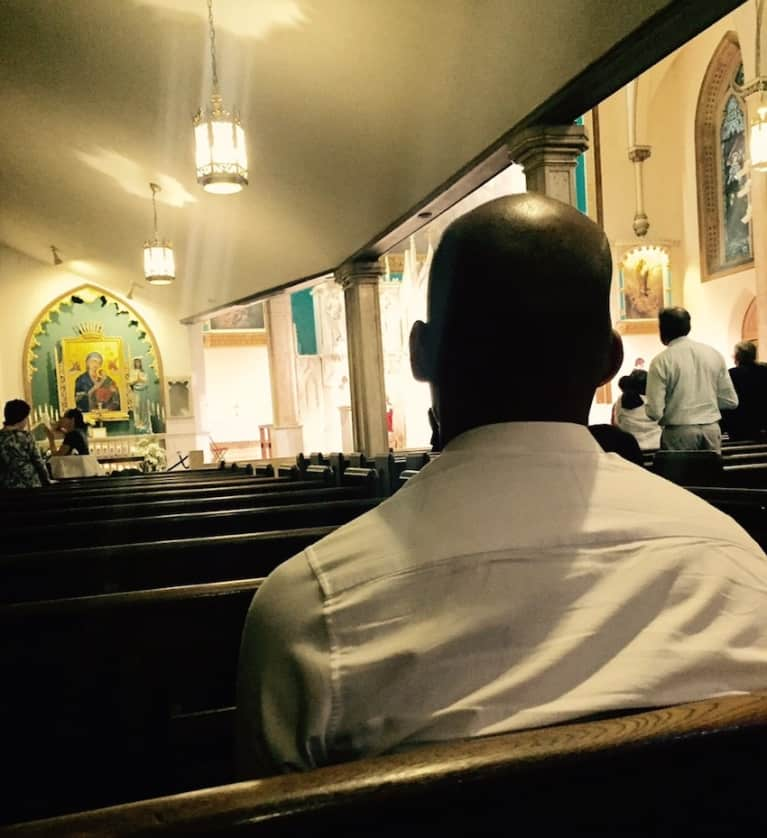 Location: 37th & Broadway
Time: Friday at 5:45pm
Quiet: 8
Comfort: 7
Privacy: 9
Average Score: 8
When I entered the church it was quiet, and there were only about a dozen people scattered throughout the sanctuary. It was easy to find privacy, and once I was done, I snuck out.
This was one of the better places to meditate on a regular basis, in terms of comfort and privacy. You can leave a donation if you wish on your way out, but it's not necessary.
Photo by Karen Mahrous
The Big Quiet: SummerStage Lawn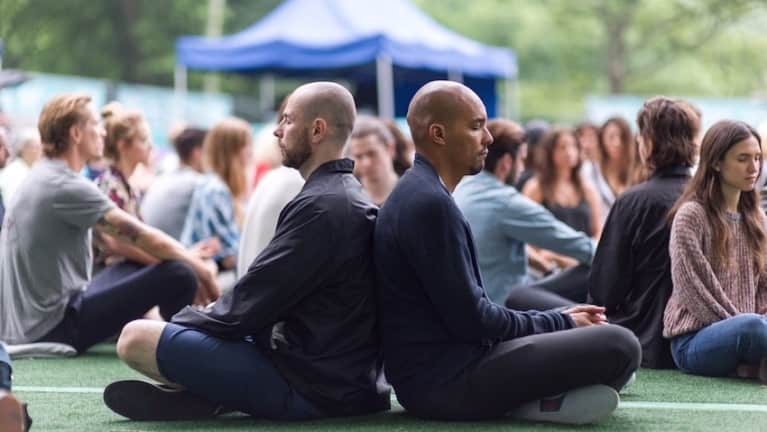 Location: SummerStage, Central Park
Time: Saturday at 5:15pm
Quiet: 6
Comfort: 6
Privacy: 6
Average Score: 6
This was the one day I meditated outside, because I had previously arranged to attend a mass meditation in Central Park, called The Big Quiet. About 500 of us sat together, some back-to-back, for a 20-minute meditation.
Although I was targeting indoor places, I'm including this one on the list because it shows how you can use back support with a friend. And it consequently ended up being one of the deepest meditations of my experiment. We also made history, as it was the first (and largest) mass meditation the city has sanctioned to date.
Photo by Stephen Wilson
Barnes and Noble: Top Floor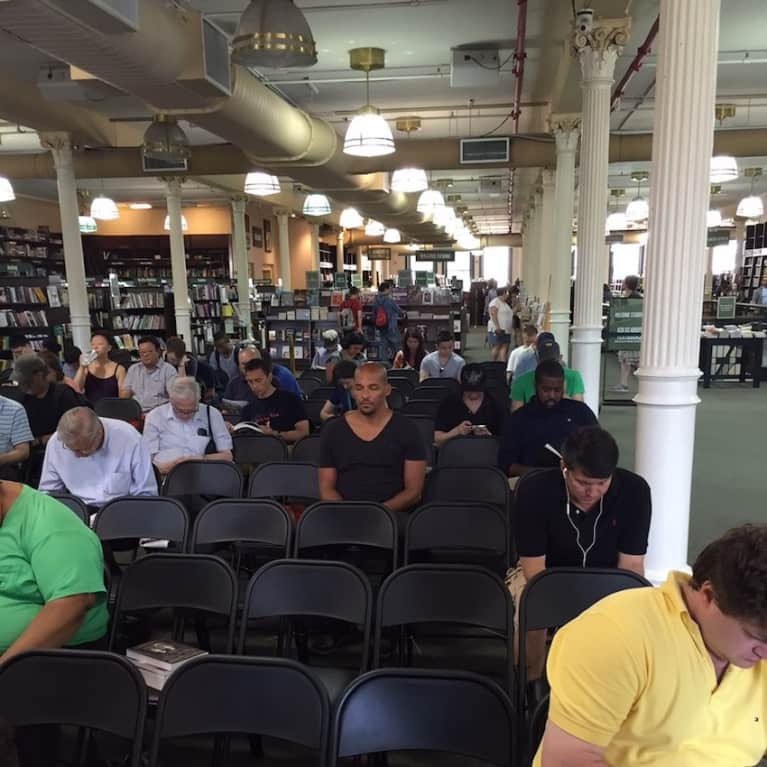 Location: Union Square
Time: Sunday at 3pm
Quiet: 7
Comfort: 9
Privacy: 8
Average Score: 8
Barnes & Noble has a seated area for book signings on the top floor, which is perfect for meditating on a regular basis. It was extremely quiet, the chairs are cushioned, and there were no disturbances.
I had a very deep meditation and if I lived in New York, and worked around Union Square, this would be my go-to place for meditation in the afternoons.
So if you're in a situation where you're always on the road, or if meditating at home, in the car, or at the office is not an option, try scanning around for alternative indoor and outdoor meditation spots in your neighborhood.
And please leave a comment in the section below with the public places you recommend.
Photo by Tomas Zobal