Mom's Post-Baby Belly Pic Is Fantastic Response To "Perfect Body" Comments
Sometimes I get afraid that eventually people will become tired of the body-positive movement. But when I see women like Kimberly Henderson trying to inspire others, that's when I feel like we're really getting somewhere.
Kimberly Henderson gained fame a few months ago when she shared a video of herself singing a goosebumps-inducing version of Whitney Houston's "How Will I Know?" to her baby.
Now, she's using her newfound stardom to spread an important message about body image.
Henderson is constantly getting comments on how "perfect" her body looks despite having kids, but in reality, it's taken her some time to accept her stretch marks and loose skin after four pregnancies.
So she posted this photo of her belly to Facebook to empower other women to wear their battle scars with pride:
Here's the accompanying caption: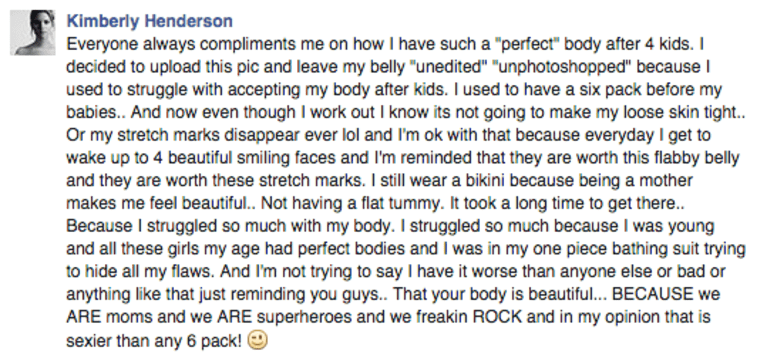 As hoped, the photo left a lot of women feeling pretty inspired, posting photos of their own bellies in solidarity.
Women like Henderson prove that there's nothing sexier than motherhood and confidence — even the flattest abs.
What do you think of the post-baby selfie trend?
(h/t POPSUGAR)