No-Bake Vegan Dessert: Strawberry Coconut Cream Pie
Summer is officially here which means it's berry season!
This no-bake pie is one of my favorite seasonal desserts. It's so rich, creamy and decadent — you would never guess it's vegan and gluten-free.
Strawberry Coconut Cream Pie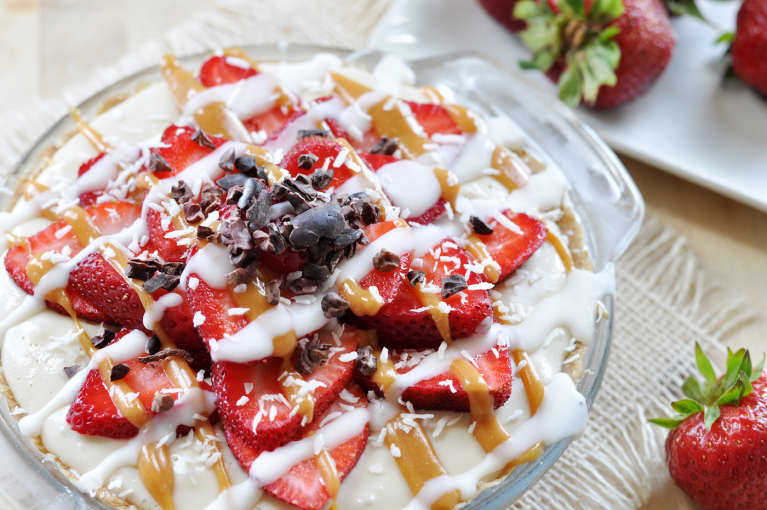 Makes a 9 inch pie
Ingredients for crust
1 cup rolled oats
8 dates, soaked in water 30 minutes
1/2 cup shredded coconut
2 tablespoon coconut oil
2 cans full-fat coconut milk (see preparation instructions)
1 cup cashews, soaked in water 2 hours
1/3 cup maple syrup
2 teaspoon vanilla extract
juice of 1 lemon
1/4 cup coconut butter
dash of salt
10 strawberries, sliced
1 tablespoon creamy peanut butter
1 tablespoon maple syrup
coconut butter, melted
1 tablespoon shredded coconut
1 tablespoon cacao nibs
Preparation
1. Refrigerate the cans of coconut milk overnight. This causes the cream to separate from the liquid.
2. To prepare the crust, pulse the oats in a blender or food processor until flour is made. Add dates, shredded coconut and coconut oil and blend until mostly smooth texture is achieved. Use your hands to press mixture into bottom of pie dish. Place in freezer to set.
3. To prepare the filling, open the cans of coconut milk and scrape out the cream. Discard or save the liquid. Blend the coconut cream with remaining filling ingredients until completely smooth. Pour into pie dish over crust. Place in freezer for at least 1 hour to set.
4. When filling feels firm to the touch, remove from freezer. First, top with strawberry slices. Stir peanut butter and maple syrup together then drizzle over strawberries. Next, drizzle coconut butter on top. Sprinkle shredded coconut and cacao nibs over everything.
5. Enjoy right away or store in refrigerator.
Photo courtesy of the author