Study: Cellphone Use Not Good for Your Brain
For years I heard people say they believed that too much cellphone use was bad for the brain, but I didn't think much of it until this past year when two people I highly respect, Dr. Frank Lipman and Horst Rechelbacher, told me the same thing. Now there's a new study profiled in The New York Times supporting this, and it's getting a lot of attention.
The study, published by the Journal of the American Medical Association, found that "less than an hour of cellphone use can speed up brain activity in the area closest to the phone antenna, raising new questions about the health effects of low levels of radiation emitted from cellphones."
Check out the comparison: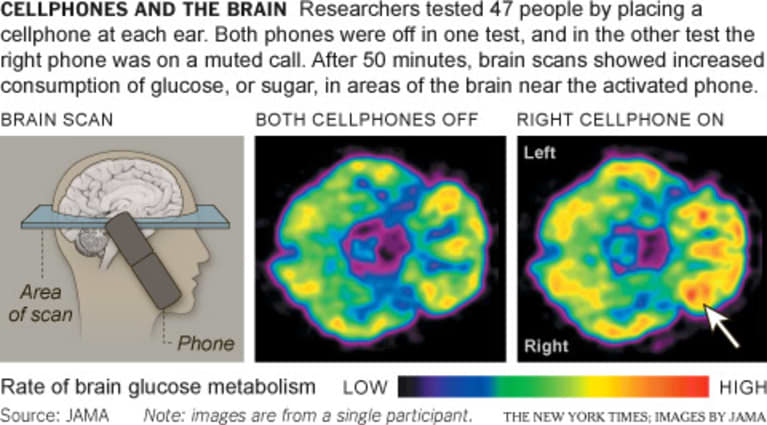 "The study is important because it documents that the human brain is sensitive to the electromagnetic radiation that is emitted by cellphones," Dr. Volkow said. "It also highlights the importance of doing studies to address the question of whether there are — or are not — long-lasting consequences of repeated stimulation, of getting exposed over five, 10 or 15 years."
The article is definitely worth a read. I don't know about you, but I'm going to be more mindful about how much time I spend on my cellphone. What about you?