There Are More Single Young People Now Than Ever Before
Since our Facebook feeds are inundated with "(S)he said yes!" posts, it may seem like everyone you know is getting married. But in reality, millennials aren't rushing into relationships — let alone marriage — at all.
In fact, according to a trend analysis by Gallup, the percentage of single people between the ages of 18 and 29 has shot up even in just the past decade — from 52% to 64%. Just 16% of young adults were married in 2014, and 14% were living with a partner.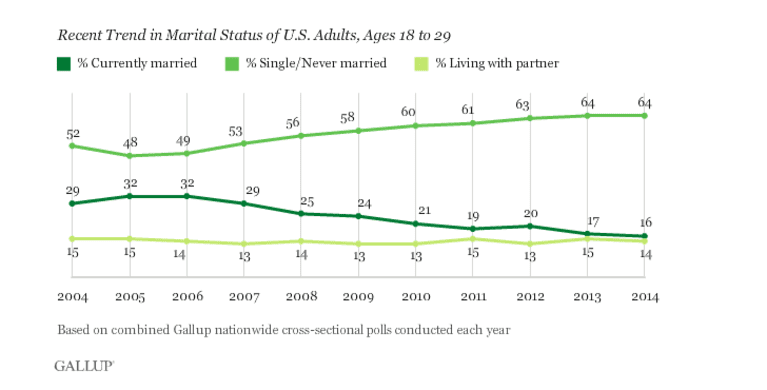 "This means that not only are fewer young adults married, but also that fewer are in committed relationships," the report reads.
It's not that millennials are giving up on romance (Gallup recently found adults between the ages of 18 and 34 expressed nearly as much desire as older adults to get married); it's just more acceptable to live with your parents for longer, and more common for people to establish a career before considering anything long-term.
In other words, younger people like the idea of commitment ... eventually. They're in no rush to get down the aisle.
There really are plenty of fish in the sea.