Beyond Zoodles: 3 Vegetable Noodle Recipes That Aren't Zucchini
Our editors have independently chosen the products listed on this page. If you purchase something mentioned in this article, we may
earn a small commission
.
Zucchini noodles are a quick and easy way to incorporate more plants into your meals. But why stop at zucchini? You can use the same method with a bunch of other fruits and vegetables with similar results. Here are 3 fresh ideas to try.
Beet Pasta Salad With Blood Orange, Honey Walnuts + Crispy Kale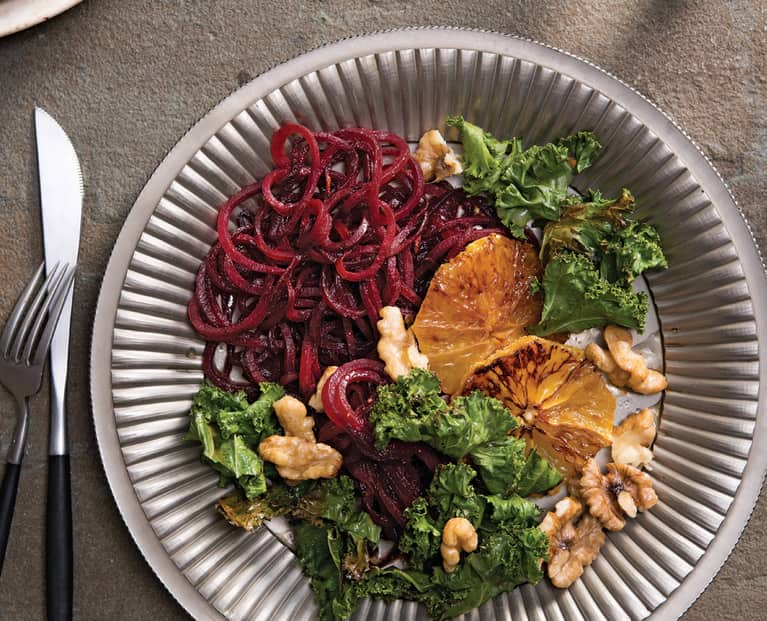 When you roast an orange, it transforms into a luxurious and sweetened version of itself. This recipe would also work well with golden beet or butternut squash noodles instead of the beets.
Serves 2
Ingredients for the vinaigrette
Juice from ¼ large lemon
Salt and pepper
1 tablespoon olive oil
1 tablespoon water
2 teaspoons red wine vinegar
¼ cup orange juice
1 teaspoon whole-grain or country-style Dijon mustard
Ingredients for the salad
2 medium beets, peeled, spiralized
Olive oil
Salt and pepper
Cooking spray
1 large blood orange, peeled and quartered or cut into eighths
2 cups roughly chopped kale leaves (stems removed)
½ cup walnuts
Raw honey
Preparation
1. Make the vinaigrette. Whisk the ingredients in a small bowl and refrigerate.
2. For the salad, preheat the oven to 375 degrees. Place the beet noodles on a baking sheet and drizzle lightly with olive oil. Season with salt and pepper and roast in the oven for 15 minutes.
3. Lightly coat a separate baking sheet with cooking spray and place the orange pieces on one side and the kale on the other. Lightly coat the kale with the cooking spray and season with salt and pepper. Bake for 10 to 12 minutes, then transfer the kale to a platter.
Note: You can always buy kale chips instead of roasting your own, but if you have the time, make them fresh and save the leftovers for snacking.
4. Add the walnuts where the kale was. Drizzle lightly with honey and toss carefully with tongs. Return the baking sheet to the oven for 5 minutes more or until the nuts are lightly toasted.
5. Divide the roasted beet noodles among serving plates and top with the orange pieces, walnuts, and kale. Drizzle the vinaigrette over and serve.
Blueberry Sweet Potato Waffles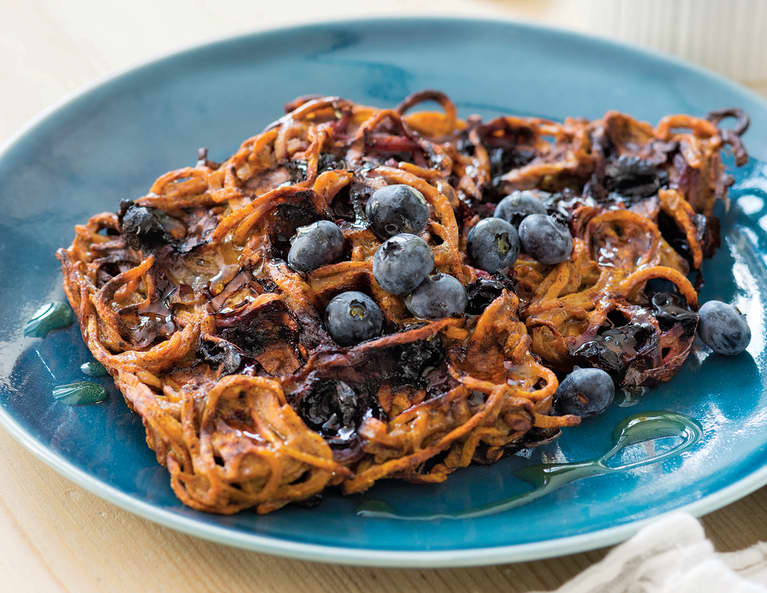 Instead of using flour, sugar, and butter — or, worse, something from a box — try this recipe. While they don't have the fluffiness of traditional waffles, they do offer an interesting texture, and the natural sugar in the sweet potatoes gives them a special sweetness. With warmed blueberries and maple syrup to accompany, these waffles are sure to become a brunch favorite.
Makes 2 waffles
Ingredients
1 medium sweet potato, peeled, spiralized
1 teaspoon ground cinnamon
Cooking spray
1 medium egg, lightly beaten
½ teaspoon vanilla extract
½ cup fresh blueberries
1 tablespoon maple syrup or to taste
Preparation
1. Preheat a waffle iron. Place the sweet potato noodles in a bowl and toss with the cinnamon. Place a large skillet over medium heat and coat with cooking spray. When water flicked onto the skillet sizzles, add the seasoned sweet potato noodles and cover. Cook for 5 to 7 minutes or until the noodles have completely softened.
2. Transfer the noodles to a large bowl and add the egg, vanilla, and blueberries. Toss gently to combine until the noodles are coated, taking care not to break them.
3. Coat the waffle iron with cooking spray and carefully pour in half of the noodle mixture, making sure to fill all the cavities with noodles. Cook the waffle following the manufacturer's instructions. When the waffle is done, transfer to a plate and keep warm while you make the second waffle. Drizzle a bit of maple syrup over each and serve.
Pears With Farro, Cherries, Walnuts + Goat Cheese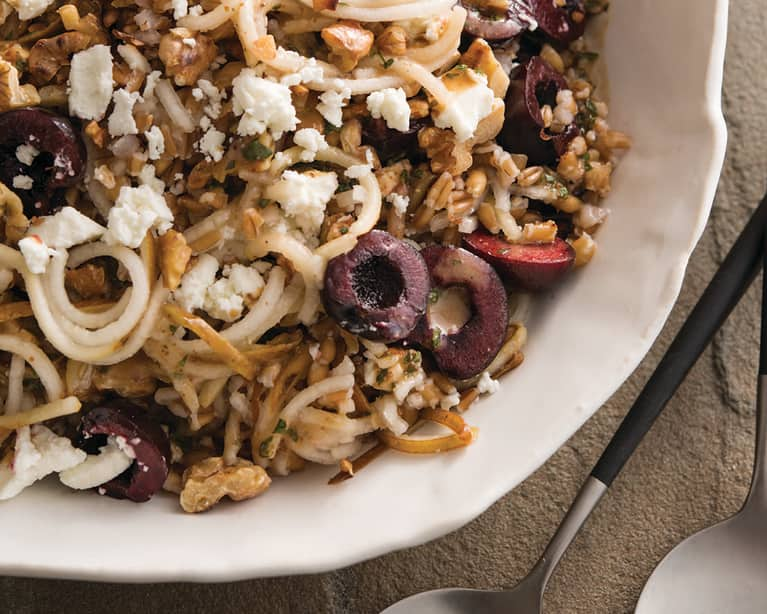 Farro is one of my favorite grains, with its pleasant chewiness and lovely nutty flavor. The creaminess of the goat cheese and the sweetness of the cherries and pear noodles complement its al dente texture. If you're grain-free, substitute shredded chard or spinach for the farro.
Serves 3-4
Ingredients for the salad
4 cups water
1 cup uncooked farro
Sat
½ cup chopped walnuts
2 medium Bosc pears, spiralized
1 cup pitted and halved fresh cherries
⅓ cup crumbled goat cheese
Ingredients for the dressing
1 tablespoon honey
1 tablespoon balsamic vinegar
Salt and pepper
2 tablespoons olive oil
2 tablespoons lemon juice
1 tablespoon whole-grain or country-style Dijon mustard
2 teaspoons minced fresh parsley
Preparation
1. Bring the water to a boil in a large saucepan over high heat. Add the farro and a pinch of salt. Cook for 15 minutes or until the farro is al dente. Drain well.
2. Place the walnuts in a medium nonstick skillet over medium heat and toast for 2 to 3 minutes or until fragrant and lightly browned.
3. Make the dressing. Pulse all the ingredients in a food processor until emulsified and evenly incorporated.
4. Combine the farro, pear noodles, walnuts, and cherries in a large bowl. Pour the dressing on top and toss to combine. Transfer to a serving bowl and top with the goat cheese.
Reprinted from Inspiralized: Turn Vegetables Into Healthy, Creative, Satisfying Meals. Copyright ©2015 by Ali Maffucci. Copyright Photos by Evan Sung. Published by Clarkson Potter, an imprint of Penguin Random House LLC.