Recipe For Glowing Skin: Coconut Yogurt + Mango Lassi With Turmeric
Coconuts are one of the most versatile and beautifying ingredients found in nature. They taste amazing on their own, work wonderfully for skincare and serve as an excellent substitution for dairy products like milk and yogurt.
When you make coconut yogurt, not only do you get all the beneficial heathy fats and immune boosting properties of the coconut, you also get a healthy dose of probiotics. It's the ultimate beauty food inside and out.
Coconut yogurt can be used as a base in a wide variety of recipes -- like the mango lassi featured below.
A lassi is a traditional Indian yogurt-based beverage made with water, spices and fruit. This recipe is close to the classic version except for the substitution of fresh coconut yogurt and optional sweetener. The flavor of this drink is exotic and intoxicating -- have it for breakfast to start on a bright note!
Coconut Yogurt + Mango Lassi With Turmeric, Rose & Cardamom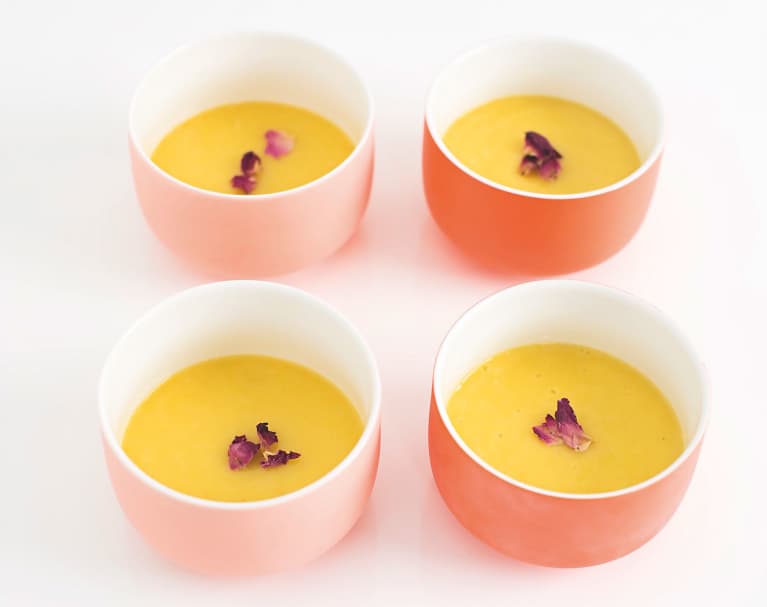 Ingredients for coconut yogurt
2 cups young coconut meat (if frozen, thawed)
1/2 teaspoon probiotic powder
Water, if needed to blend
Ingredients for mango lassi
1/2 cup coconut yogurt
2 cups coconut water
1/2 cup diced mango, fresh or frozen
1 teaspoon turmeric powder
1 tablespoon turmeric juice
Pinch of ground cardamom
Pinch of sea salt
1 tablespoon raw honey or coconut nectar (optional)
1 tablespoon rose water (optional)
Preparation
1. For the coconut yogurt, blend coconut meat until smooth. Stir in probiotic powder.
2. Place in a covered bowl in a dehydrator at 100 degrees for 8–10 hours, or ferment at room temperature for up to 12 hours. The yogurt needs to be in a warm place with good airflow. Depending on the quality and strength of your chosen probiotic, the fermentation time may vary. Look for a creamy, tangy flavor. Once fermented, stir well. Coconut yogurt lasts in the refrigerator for up to one week.
3. For the mango lassi, combine all ingredients in a blender until smooth and creamy.
This recipe is excerpted from Coconut Kitchen: Nature's Most Beautifying Superfood
Photo courtesy of photographer Greer Inez