9 Ways I Revitalized My Mind & Body In A Weekend
I had the good fortune to go to revitalize 2015, held at Miraval, and it was magical. I was finally able to turn OFF this contemplative brain of mine and just be.
It all began with a breakfast and coffee with Jason Wachob on the first day. I told him that I had been feeling lackluster in my personal and professional life.
With so many big life decisions looming, I wanted answers and I wasn't energized enough to connect with what those answers could potentially be. Similar to a swimming burnout that I'd gone through before, no part of me wanted to have any fun.
So, what did Jason provide? A listening ear. And simple, powerful advice. "Burckle," he said. "Just stop doing and wanting. Don't do anything. Just be."
Oh, was he right!
I realized that — as a former competitive swimmer (I won a bronze medal at the Beijing Olympics) — I have been "doing" and trying to produce those "athlete results" forever. So, in Arizona, for once I tried to stop and soak things in.
And I did just that. After consuming approximately 65 green juices, a margarita or two, and tons of laughs and tears in the inspirational talks, I truly revitalized. I lost my mind and came to my senses. I felt everything, and I left with some incredible friends, a fresh outlook, and some desert sunburns.
Here's what I did:
1. I ditched my phone.
Yeah, I did it. For a day. I "left it" somewhere. The number of conversations I had with actual human beings, face-to-face, was astounding.
2. I interacted with someone new every time I could.
I talked to someone new at every meal, juice, coffee, meeting, walk, and even on the yoga mat. (No, Light and Charlie, I didn't meditate and talk to someone at the same time.)
3. I splurged on a deep tissue massage.
Whoops? (Not at all, massages are great for you, says Dr. Joel Kahn.)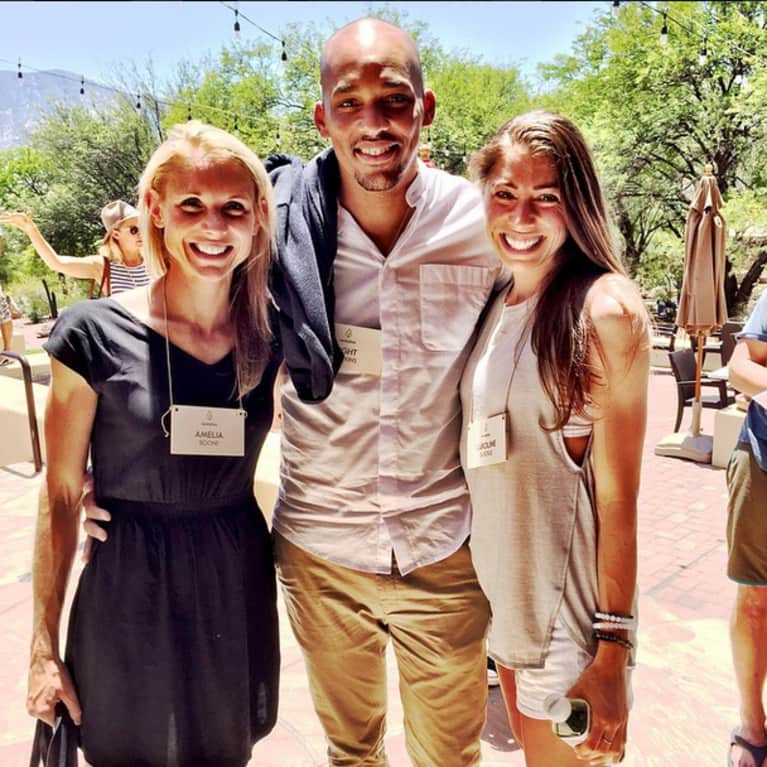 4. I rose with the sun … at 5am.
That Tucson sun apparently is an early riser, too.
5. I ran trails with two Ironman champs (and lovers), Hillary Biscay and Maik Twelsiek.
Intimidated? Uh ... yeah. Do one thing a day that scares you.
6. I allowed myself to be vulnerable.
I owned being an Olympian. I loved it ... huge steps! Then, when people asked me specifics about what my "plan" was, I would tell them the outline, and then say, "Well, the rest is totally up in the air!"
There was something beautiful about not having to know what's happening next and to be happy with what I've accomplished.
7. I loosened up a little bit.
My typical clean-body routine didn't have to happen at a retreat. I was able to enjoy a glass of wine or a margarita and say… who cares? Enjoy life. It's about moderation and balance.
8. I chose to open up to a few people about some struggles in recent years.
No, not to complain. But to be real. The result? So glad I did. The insight provided from different perspectives was unbelievably refreshing. We are all human.
9. I shed a few of my tough-girl tears during Kathryn Budig's talk.
Period. Girl, no words to say but Amen and yes m'am. Watch it, ya'll, when it's online next month.
And, that's a wrap. So glad I was able to just be. And very grateful to Jason for the encouragement.
My takeaway? Sometimes it's necessary to leave your over-thinking mind at the door, and check into your senses.
Revitalize!