Brazil Nut Pesto + Chickpea Flatbread
The warm weather is here to stay, which means that the farmer's markets are booming with fresh and flavorful fruits and veggies. One of my favorite finds this time of year is the artichoke, a vegetable that's packed with nutrients and gives you just a hint of sweetness. Make sure to pay attention to that when you make this recipe!
Socca is a kind of chickpea flatbread that provides the perfect gluten-free accompaniment to this dish.
Brazil Nut Pesto With Artichokes + Chickpea Flatbread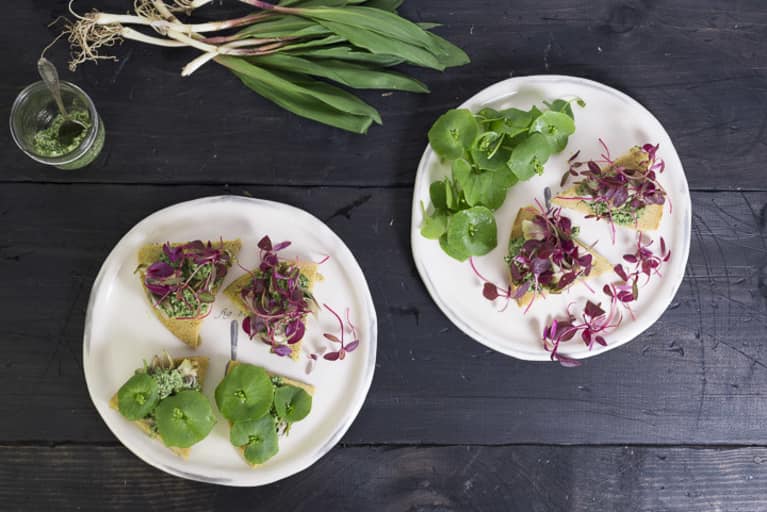 Ingredients for artichokes
2 medium sized artichokes
juice of half lemon
salt
approximately 3 cups water
8-10 ramps
handful of basil
juice of half lemon
2 teaspoons nutritional yeast
salt
1 teaspoon olive oil
handful Brazil nuts
1 cup chickpea flour
1 teaspoon garlic powder
1 cup water
1 tablespoon olive oil
1 teaspoon olive oil (for greasing pan)
salt and pepper
Preparation
1. For the socca, combine all ingredients and whisk until well blended. Cover and set aside for at least an hour.
2. For the artichokes, slice approx ¾ inch off the tip of the artichoke, and cut ends of stem. Steam using a steamer basket (or your preferred method) for 20 to 25 minutes, until the artichoke softens. Place immediately in cold water and add juice of half of a lemon. Leave in water while making pesto and socca (so that they don't oxidize).
3. Using the broiler, preheat the oven to 425F/220C. Pour 1 teaspoon oil onto 9-inch cast iron skillet and make sure the bottom and sides of pan are greased. Pour the socca mixture into the pan and broil for approx 10 to 15 minutes, or until top begins to brown slightly. Remove from pan (the socca should come out pretty easy and should not stick) and cut into slices as desired.
4. For the pesto, add the Brazil nuts into a food processor and process for approx 20 seconds. Cut the roots off the ramps (if applicable) and chop. Add ramps and remaining pesto ingredients into food processor and process until desired consistency.
5. To assemble, remove artichokes from water and cut away the leaves (you can eat the meat off the leaves later if you wish), leaving only the heart.
6. Cut the hearts into small pieces. Spread pesto on socca, add the artichoke hearts and microgreens if using.
Photo courtesy of the author