Veggie-Packed Super-Crunch Salad With Lemon Vinaigrette
Produce is coming into its peak season — indulge in nature's finest offerings with this super-hydrating super crunch salad!
Perfect for a lunch on the go or the centerpiece of a healthful dinner all you have to do is simply julienne vegetables into a bowl and toss with my easy lemony vinaigrette when ready to eat.
There is a rainbow of produce to choose from; I love the mix of breakfast radishes, heirloom colorful carrots, cucumbers, Jerusalem artichokes, shelled peas, kale, lettuces, microgreens, sunflower seeds, hemp seeds and pomegranate seeds tossed in for extra crunch.
Antioxidants, phytonutrients and yum in every bite!
Super-Crunch Salad With Lemon Vinaigrette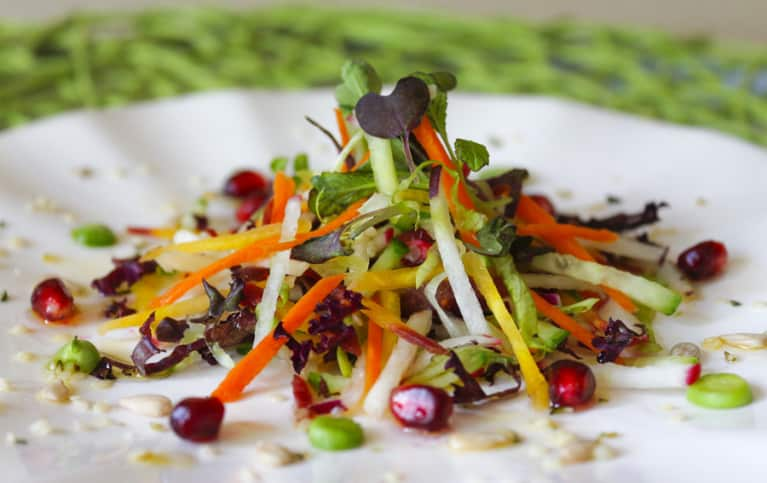 4 medium breakfast radishes, use multicolored
¾ cups carrots, use heirloom multicolored, peeled
½ cup cucumbers
¼ cup Jerusalem artichokes, or jicama, peeled
1 cup curley red kale, stemmed, torn into bite-sized pieces
1 cup green leaf lettuce
½ cup microgreens, or your favorite sprouts
¼ cup fresh shelled peas
¼ cup pomegranate seeds
¼ cup sunflower seeds
2 tablespoons hemp seeds
Preparation
1. Use organic vegetables. Wash and dry all. Julienne the first four vegetables.
2. Add them to a large bowl. Slice the kale and lettuce thinly (chiffonade) and add to the bowl.
3. Add the remaining five ingredients (microgreens through hemp seeds).
4. Toss all well. Refrigerate to crisp up, 1 hour; it will be super crunchy!
Make a simple lemon vinaigrette:
1. Add two strips of lemon rind to 1/4 cup of fruity extra virgin olive oil in a small saute pan.
2. Heat until just bubbly, remove from the heat.
3. When cool, discard the lemon rind (it imparts lots of zesty flavor!)
4. Whisk 2 tablespoons of lemon juice with a pinch of Himalayan sea salt and some freshly ground black pepper in a small bowl.
5. Stream in the lemon olive oil, whisking.
To serve: Dress and toss the salad before serving. Let the flavors mingle a few minutes and serve.
Photo courtesy of the author