Bringing Your Yoga to the Office?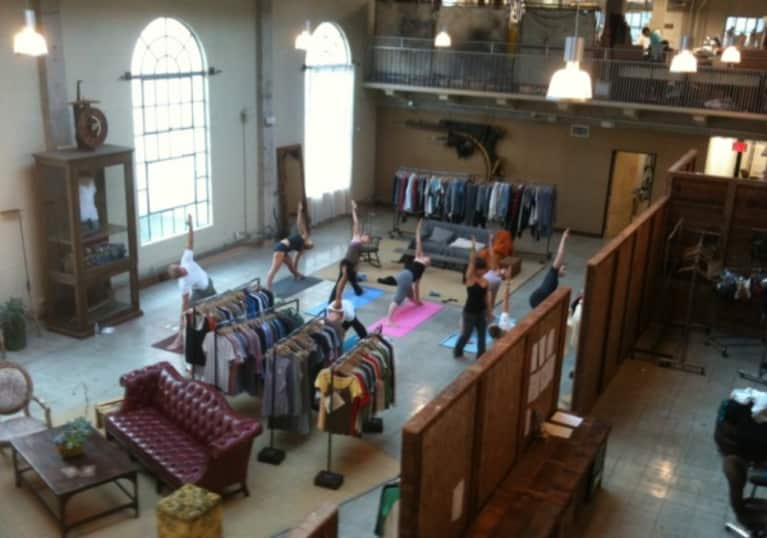 A lot of my work has been to bring yoga into schools and to youth, but another place in need of deep breaths, relaxation and reinvigoration is the office!
What if there was a way to let go of a shoulder-slumping amount of office stress even before you leave at the end of the day? What if you could revitalize mid-afternoon without another shot of espresso or candy bar? Working in an office often means being on someone else's schedule, dealing with all sorts of personalities, having stress on daily repeat, lots of sitting and computer work (believe me, I've been there). Even if you love your job it can be a lot. Did you know most sick days are caused by stress? 
You can practice unloading that stress with a few yogic tools... and you don't need to completely change into your yoga clothes to benefit from yoga and change your day. The following sequence is from Nava NYC, a collective of nine teachers who are bringing inner peace to work. (Full disclosure, I'm one of them!)
Tip 1: Inhale deeply. Exhale completely. Repeat. Breath is an amazingly powerful tool. Taking a few moments to really breathe, consciously and deeply, can shed stress and wake you up. Go for it, let yourself breathe, fully.
Tip 2: Under your desk, alternate pointing and flexing your feet ten times, to improve circulation. Go ahead and slip off those polished loafers or killer heels. You feet have gotten you through the day thus far, give them a moment to stretch and move!  Increasing circulation in the feet will effect the whole body. Another great idea is to keep tennis balls under your desk to roll your feet over in a mini-reflexology session.
Tip 3: Turn off your devices, drink some water. Sometimes being too plugged in can drain us, literally, as if our blackberries and iPhones are deleting our own internal energy reserves. Can you turn them off for a period of your day, take those deep breaths and drink some water? Yes, water. It's amazing what drinking a lot of water will do: flush out toxins and give your body some balance. You can drink as much of it as you want. Make it a new habit!
For more tips on corporate yoga (and/or a free corporate yoga visit!) check out Nava NYC.
Here's to your health!
(Pictured above is office yoga at Alternative Apparel's LA office!)