7 Decluttering Tips to Contain Yourself!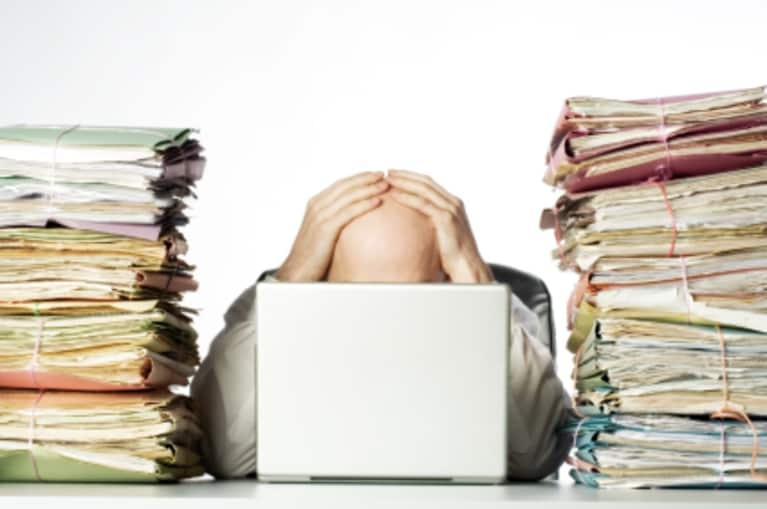 Humans like structure. Even the most freewheeling of us may practice ashtanga yoga or veganism to create some boundaries to tame our time and minds. The same holds true for stuff; it also likes to be contained. Because your pile of receipts can't have its own routine of sun salutations, how about giving them the structure they crave.
One of the greatest causes of clutter is lack of storage. A pile of hair clips, pens, and breath mints could remain a mess of junk or could be neatly arranged in containers. Put away properly, it won't be a source of stress or self-judgment every time you open the dreaded drawer.
Almost everything in your home could be put away somewhere. Options for containers are endless, as are the items that can go in them. Here are some examples of stuff that wants a home and that will start you on the path to clearing clutter…
1. BUSINESS CARDS: You return from a networking event with a pile of 20 business cards. What to do with them? Be sure not to randomly toss the card on your desk or stick it in a mystery junk drawer.  
If you must keep the actual cards rather than scanning or manually entering the information into your address book, then get a small container for them, like this cute mini file cabinet. Ideally you can file the cards by name or category. At the very least, get a small box or business card holder for the stack until you can sort the cards at a later date (key: don't forget to schedule said later date).
2. KITCHEN UTENSILS: It's a snow day and you're making heart-shaped cookies with the kids. But where is that heart-cutter… you know it's in there somewhere. Save yourself time and stress by putting a simple dividing tray in the drawer. Bed Bath and Beyond has many options, including this expandable one.  
Keep frequently used utensils in a jar near the stove. For the avocado slicer or carrot curler, stash them in their own drawer compartment, so they can be easily located.
3. POTS AND PANS: Mom always assured you there was a lid for every pot. That's cool, Mom, but now that you found them all, where do you put them? Use a drawer where you can put a slider like this. It is a little bulky in a tight kitchen space, but you will find it a neater way to keep track of the storm of clatter.
4. CLOTHING DRAWERS: Are you one of those people who has limited drawer space and shoves as much as possible into each drawer? No? Really? I don't believe you. We all are.  
One key to finding items more easily in an overstuffed drawer, whether it is underwear or a sweater, is by putting separators into big drawer spaces. You can utilize one drawer for multiple categories and find items quickly. These adjustable pieces are easy to use and make a mound of clothes more manageable.
5. TOOLS: If you an occasional handyman and not Bob the Builder, you probably have a mess of nails, screws, hooks, and other one hit wonders of hardware stashed somewhere or strewn everywhere. Save your sanity and get yourself containers for these sharp little things.  
A small drawer set can fit on a high shelf or in a utility closet for the occasional time that you need to hang a picture. This storage cabinet may be too elaborate for your needs, but it's pretty awesome.
Can you store it? Yes you can!
6. SHOES: Whether your shoe collection is small or as expansive as Carrie Bradshaw's, it should have a place to rest. Options range from hanging bags with pockets to stackable racks. For less frequently worn shoes, consider these clear stackable bins. They store well and are easy to identify. Weigh out the size of your collection, your space and your capacity to maintain the selected system. You can buy the best system in town, but you are ultimately the one who has to keep it up.
7. CUTE CONTAINERS: Containers don't have to be an eyesore! They can be kooky or classic or whatever reflects your design sense and personality. Keep your eyes open for boxes and bins that appeal to you. 
This is just a sampling of how containers can hold it all together. Mastering this step is half the battle of staying organized. Once items have an assigned home, it is easier to keep them in order. It's amazing what peace of mind a little structure can give us.