Q & A with Dana Flynn of Laughing Lotus
Our editors have independently chosen the products listed on this page. If you purchase something mentioned in this article, we may
earn a small commission
.
Dana Flynn's class at Laughing Lotus is an experience. Her infectious energy soaks up the room as she mixes poetry, movement, and music in a way that's raw, genuine and somehow makes it all fit together in a warm, welcoming and inclusive atmosphere. She's just one of those people who has "it" -- that indescribable presence which you can't help but feel better just being around.
How does she do this? I don't know if there's a secret sauce to Dana, but my best guess is that Dana's unique background has played a role. Maybe it has to do with the fact that Dana owned and operated one of the most successful restaurants/clubs in the 80s called "Trixies" where she crossed paths with the likes of movers, shakers, and celebrities (see photo below of Dana with Malcolm Forbes on his yacht), which even lead to Dana being on MTV! We could stop right there and just discuss that, but let's get to the yoga.
MBG: How did you go from stockbroker to restaurateur to MTV to yoga? Was there an "a-ha" moment or a series of moments that led you to practice yoga and open a studio?
DF: A lot of Living, I would say! I was right out of Cornell when I went down to Wall Street and became a stockbroker. I made hundreds of phone calls a day to have like twenty conversations to later make one sale. I had always wanted to open up a joint, and doing well on Wall Street gave me a lot of confidence. I opened up Trixies on West 47th Street and it was a real hit and MTV actually called me up and asked me to audition. I had all this cool stuff going on, but somehow got a feeling that there was something 'missing' or something 'more' that I wanted to experience. And this began my search for meaning, the mystery, the sacred… the beginning of my practice for wholeness, yoga.
When did you first decide to start Laughing Lotus? Where did the name come from? Why is fun & laughter so important in yoga?
My partner Jasmine and I had met practicing yoga and we both felt like we wanted a place to hang out and share the practice that was moving through us. Everyone was pretty serious about their yoga at that time -- like a 'my yoga is better then your yoga' type vibe. Putting "laughter" in the name would really remind us what it's all about. The Dalai Lama is laughing all the time, and he hasn't had an easy ride. We loved the great mystical poet Hafiz and what he wrote: "[Laughter] is the glorious sound of a soul waking up!" That did it for us! Who doesn't want to laugh more, feel Happy -- an Aliveness?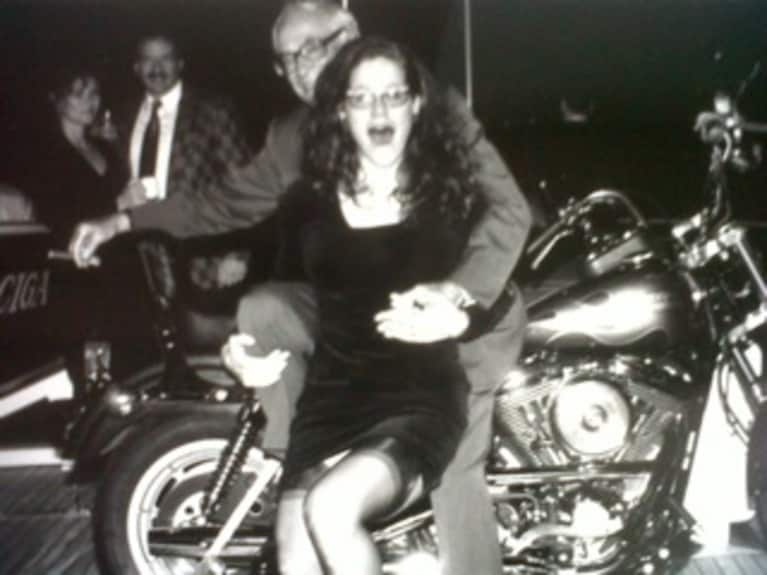 What books have become most influential in your practice?
The Gift by Hafiz, Awakening the Spine by Vanda Scaravelli, a book of Piscasso's artwork, Patti Smith's poetry and lyrics. Music is my GOD! Nina Simone gets me out of bed in the morning.
"Movement as a spiritual awakening" -- can you elaborate on this concept?
The movement is MY Medicine. Moving and churning the body into ecstasy is how I feel God's Presence. At first I am dancing with GOD and then we become ONE.
"You're the teacher and you're the student" -- why is this so important?
I am forever the Student, it helps me be grateful and allows me to listen. This Teacher loves to learn.
How would you describe your style? Why is fun so important?
Flowing Whirling Cosmic Devotional Intense Joyous Deep Real and Raw. Why do it if you're not having FUN?! If you want FUN in your practice, you got to put FUN into it.
Has there been anyone in particular who's been influential in your practice?
My partner Jasmine, with whom I created Lotus Flow -- it actually moved through us after many years of practicing together. I can still hear Sharon Gannon's voice in my ear and Rodney Yee's easy going receptive style. It's always a nice balance.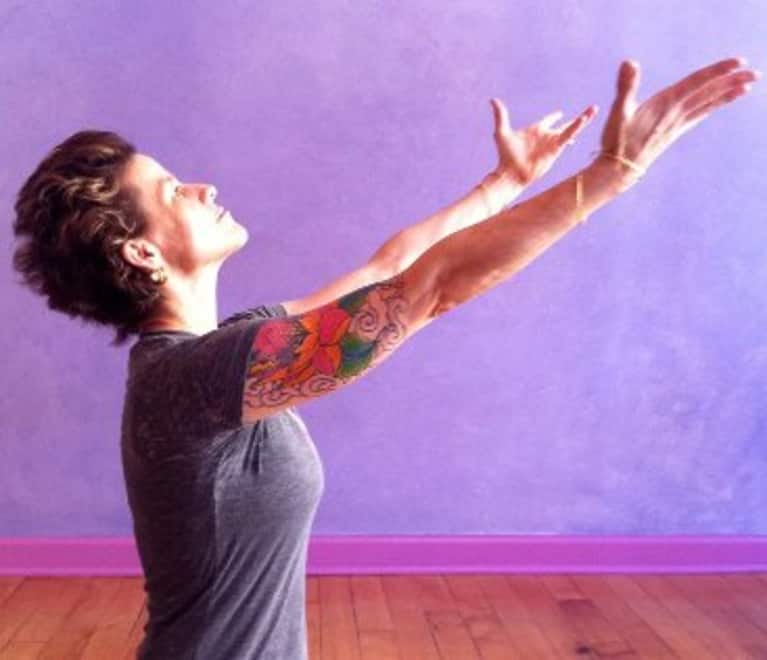 What does mind/body wellness mean to you?
ONE LOVE! Dissolving our feelings of separateness. Connecting us all to the BIG ONE!
What are some of your favorite healthy places to eat in NYC? In SF?
NYC: s'Nice, Blossom Café, and Souen
SF: Udupi, Chaya, and Millenium
What are you working on now? What's next for you?
NYC is expanding and opening up a Lotus FLY School and Dance Hall (More on that later).
We will go live by streaming classes and we are readying our Lotus Channel.
MORE Lotus Flow SCHOOL around the country and even a 200 hour in India, February 2012.
VIP: Linking up with the Big Mystical Family of YOGA, One TRUTH, many Paths, Namaste!
For more on Dana and Laughing Lotus:
Laughing Lotus NYC on Facebook and Twitter
Laughing Lotus SF on Facebook and Twitter
images via Sarah Herrington