Q & A with Brian Johnson of PhilosophersNotes: CliffsNotes Meets Personal Growth
Brian Johnson has always been passionate about understanding what makes great people great and applying the truths they embodied to make his own little dent in the universe. After selling his last business (social network Zaadz) and traveling for a bit, Johnson decided to give himself a Ph.D. in optimal living with a specialization in greatness and bliss. He figured he'd get a master's when he'd distilled 100 of his favorite books into concise, fun, inspiring summaries. Then, on a flight from Tokyo to L.A., he had an "Aha!/Hallelujah!" moment when he opened SkyMall to an ad for a company that summarized business books for busy executives. He decided someone should do summaries of self-development books for the "busy self-actualizer"-- and that that someone should be him. Enter PhilosophersNotes. (Imagine CliffsNotes. Only shorter. And cooler. And a lot more inspiring.)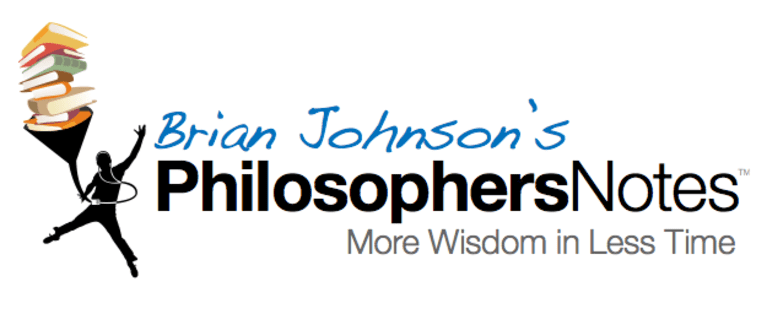 MindBodyGreen: After you came up with the concept for PhilosophersNotes, what was the first book you started to work on? Why?
Brian Johnson: I'd been working on distilling the wisdom of my favorite teachers for the better part of five years before this moment, so this was really an opportunity to crystallize a lot of the ideas I'd been exploring for a while. I'm not sure which book I wrote a note on first, but the few months after the "Aha!" moment were among the most creative of my life. I created notes on 40 of my favorite books-from Stephen Covey's The 7 Habits of Highly Effective People, Deepak Chopra's The Seven Spiritual Laws of Success, and Wayne Dyer's The Power of Intention to Ralph Waldo Emerson's essays, Friedrich Nietzsche's Thus Spoke Zarathustra, and Marcus Aurelius' Meditations. It was a lot of fun!
MBG: What are you reading right now? What's the last great book you've read?
BJ: Just finished Dan Brown's Angels and Demons and excited to start The Lost Code tonight, as I realize how much I love fiction and how much it feeds my creativity. The last great book I read? The Pursuit of Perfect, by Tal Ben-Shahar. He's a leading positive psychology professor who taught the most popular class in Harvard's history, and who wrote another great book called Happier. In this one, he differentiates the "perfectionist" from the "optimalist." Genius stuff.
MBG: Are there any books that have particularly inspired you? Sometimes there's been the right book, at the right time, at a critical moment in our lives-a book that seems to just "click" and make all the sense in the world, and points us in the right direction. Has there been a book like that for you? If so, what was happening in your life, what particular message resonated, and what ensued?
BJ: Great question and well said. There have been several books like that. One of the most transformative books for me was Deepak Chopra's The Seven Spiritual Laws of Success.
Quick context: I was running my last business, Zaadz, and was reading his chapter on the seventh spiritual law -- the Law of Dharma -- where he makes the point that we all have a destiny, a purpose to fulfill, a way to give our greatest strengths in greatest service to the world.
In the book, he asks the question: "If you had all the time and all the money in the world, what would you do?" As I contemplated it, I realized that, for the first time in years, my answer wasn't an immediate "I'd put it all into Zaadz!"
I vividly remember sitting there in stunned silence. Although I didn't know exactly what I'd do next, I knew that if I had any integrity about my ideals, I needed to do something. Within a few weeks, I decided to sell the business-and within 30 days of that, the business was sold and the teams were integrating. During my travels after that, I decided to give myself a Ph.D.-- and then the "Aha!" moment came along and, two years later, here we are.
MBG: What's your desert island book?
BJ: It's funny, because I've been asked this question a lot and I've never had a really good answer. I've gotten so many great ideas from so many great books -- without one book being the one. So, having loved a lot of books, and at the risk of self-promoting, I'd bring the PhilosophersNotes coffee-table book we're creating -- it's packed with more than 1,000 of the biggest ideas from 100 of my favorite books and is the perfect distillation of all my favorite wisdom!
(And, for the record, if I could have two books, I'd bring a big, blank journal with me to that desert island.)
MBG: What does mind/body/green wellness mean to you?
BJ: To me, mind/body/green wellness means wellness that starts from within and naturally emanates out to our friends, families, communities, and world. I'm a firm believer that we need to be the change we want to see and that global change must begin within each of us.
In Spiritual Liberation, Michael Beckwith tells us: "An enlightened society can only be created by awakened beings." And Eckhart Tolle says it this way in The Power of Now: "As within, so without: If humans clear inner pollution, then they will also cease to create outer pollution."
MBG: What is your favorite way to relax or exercise?
BJ: I love my meditation practice. More than 450 days ago, I committed to a daily practice of an hour first thing in the morning. It's incredible how grounding this practice is for me, and I'm giddy to see what I'll feel and be like with 10 years under my belt.
I also love to take 20-minute meditation breaks during the day, doing a guided meditation or simply visualizing and breathing. Plus, my hikes are incredibly restorative, as I just love to move in nature.
MBG: Any advice for someone who wants to begin meditation or mindfulness practice?
BJ: My top advice: If you're going to make your meditation practice a priority (which I'd recommend if you're feelin' it), make it a 100 percent commitment. Jack Canfield has a great line in his Success Principles -- he says that "99 percent is a bitch and 100 percent is a breeze." In my experience, if we kinda, sorta, almost commit to it, we're going to have a really hard time making it stick. If, on the other hand, we make a 100 percent, nonnegotiable commitment, it's amazing how easy it is to go rock it. Another big thing for me: Be consistent with the timing. I do it first thing in the morning and now I can't imagine not starting my day with it!
MBG: You've got 100 awesome titles on PhilosophersNotes -- ranging from Wayne Dyer to Tony Robbins to Russell Simmons. What's next?
BJ: I've partnered with an awesome company called Mind Valley to take care of all of the business stuff so I can continue to focus on reading, writing, embodying, and sharing. We're really excited to create a company that embodies the ideals we believe in and have a lot of cool stuff in store. I'm probably most excited about the scholarship program we've created, where we're matching every subscription we sell with a scholarship for someone in financial need -- making it so that money won't be a limiting factor in spreading the love. I'm also excited to see the coffee-table book and workbook we've been working on, along with the preloaded MP3 shuffles we're making available that'll be packed with 30 hours of content. Plus, I'm working on "PhilosophersNotes TV," where I'll be sharing quick, inspiring, fun, and practical video blogs on my favorite big ideas. And I'm creating a radio show where I'll be interviewing my favorite authors and heroes -- capturing the wisdom they've picked up on their hero's journey that can help us rock our greatest lives. Good times!
MBG: You've had the opportunity to meet some incredible conscious business leaders. Has one person been particularly inspiring?
BJ: John Mackey, the CEO of Whole Foods, is on the top of that list. He became a friend and mentor (and investor) of mine while I was running Zaadz, and he's transformed my consciousness on business. His debate with Milton Friedman in Reason magazine titled "Rethinking the Social Responsibility of Business" brought tears to my eyes when I first read it, and I highly recommend it for anyone interested in the ideals of conscious capitalism. Although his ideas on things like unions and health care are often misunderstood, his passionate commitment to changing the world by creating a business that operates on the power of love and service as primary virtues is deeply inspiring to me.
MBG: Do you have a favorite guilty indulgence?
BJ: Coconut Bliss.
MBG: Favorite quote?
BJ: How about two?
Abraham Maslow: "What one can be, one must be."And, Nietzsche: "'This is my way; where is yours?' Thus I answered those who asked me 'the way.' For the way-that does not exist."
For more on Brian Johnson and PhilosophersNotes: