Brief Modern History of Yoga & Gurus In Unassuming Packages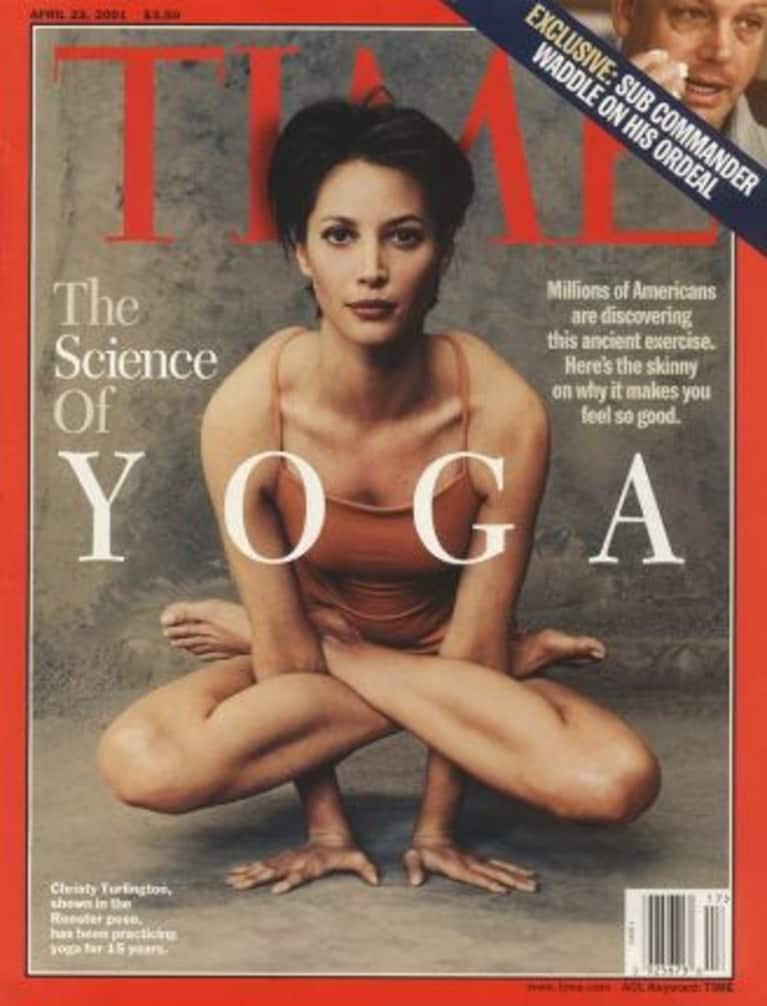 With his very slippery athletic socks and mat that could act as a flotation device, he arrived. It was his wife's idea -- she did yoga with a group of ladies from her book club, and she thought it would be good for him to try. He was none too pleased, still, he had dutifully followed her orders and arrived with the all-telling copy of Time magazine boasting a pretzel posed Christy Turlington on its cover as if his wife had pinned it to his chest. Instead of namaste, he insisted on saying "Amen" -- just in case there was some sort of voodoo he was exposing himself to. "I will never see this man again", I thought to myself. It was the second yoga class I had ever taught and the first he had taken. We were in a very unpopulated gym in one of the high-rise corporate buildings in Century City, California and Jim was one of 2 in the class. You could hear CNN on the monitors outside, along with the choir of cardio machine options purring, but in our little overly air-conditioned bubble, what you could mostly hear was fear. All of us were facing something brand new, and we weren't really sure we knew what we were doing.
Clumsy uncertainty prevailed. At some point Jim agreed to take off his socks, and I brought him a more stable mat, but he was still not really buying it. "Take child's pose (balasana) anytime you need it" I told him, crawling into it myself as a guide. That pretty much insured that he would be doing no such "resting pose" that evening or any other time…he'd show me. Meanwhile, I was the one in need of the time-out child's pose. A questionable leader at best, I tried to eclipse my newness with butchered Sanskrit and calculated sequencing. The 2nd member of class rolled up her mat and left without any eye contact or acknowledgment. My boat was sinking, and it was just Jim on his life raft, and me looking for a buoy to hold on to.
But how did a thousands year old tradition from India, Jim, Christy Turlington, Century City and myself all work themselves into the same awkward first date?
Yoga has been on many uncomfortable dates in the states since it first arrived in the late 1800s, and has had more press than even Mrs. Turlington can point to. Ralph Waldo Emerson and Henry David Thoreau were big Bhagavad-Gita fans even earlier than that, but they were more about texts than they were the actual experience. Initially yoga was perceived as best suited for the nefarious and hedonistic. In the 30's its image improved a bit with the likes of Cole Porter and Greta Garbo accrediting it to keeping them calm. In 1946 Yogananda's Autobiography of a Yogi was published. "You Americans exercise your bodies and brains too much and your will power too little," he is quoted as saying. (Interesting to note from our post 2000 vantage point.) In the 50s, Eleanor Roosevelt admitted to enjoying headstands in the White House, but shied away from calling it yoga. YW and YMCAs had "Hatha" offerings, and even Gary Cooper copped to it. The free love/drug culture of the 60s cast a bit of a shadow on the mainstream acceptance of yoga. But the Beatles went to India and if you weren't afraid of Woodstock, then you weren't afraid of yoga either.
The Jane Fonda, high impact Flash Dance chapter of the 70s and 80s just didn't have the attention span for yoga. It was all about raising your heart rate and keeping it there—who had time for stretching and breathing? Dr. Dean Ornish's revelations about yoga and life style changes, along with Madonna's impressive Ashtanga arms, were the impact that started the ball out of the park in the early to mid 90s. Now in gyms, studios, parks (you name it), toe-ringed, green tea-drinking, boob-jobbed Republicans join $120 mat-bearing, Nike-clad Democrats in downward facing dogs all across the US. So Jim and I were not so unique. We were part of a lineage of fits and starts and at this point loads of wellness marketing, too. But in the months to come we would discover something together that exceeded any trend or media hype.
Jim did return to my class—every week, in fact. Through our practice together, we began to develop clarity, discipline and a kind of faith. I was getting my footing, and so was he. Fear gave way to understanding, and when the holidays came around, Jim asked if I could write down "some of those poses" for him so that he could still do them in his hotel room while on vacation with his family. We had inspired in each other 2 key components found in Patanjali's Yoga Sutras: abhyasa (persevering practice) and vairagya (surrender). All of us (even yoga itself) stumble when we are new or unfamiliar. As my days at the gym came to an end, I noticed how strong Jim had become, and how willing he was to crawl into a child's pose when he needed to. Encouragement, teachers and even gurus come in unassuming packages. I am certain that Jim taught me more than I ever taught him.