A Lighter Lunch: Arugula, Pomegranate + Salmon Salad
Spring has arrived, with longer days and summer just around the corner. As temperatures start to rise, it's the perfect season to spring clean your diet and embrace the fresh fruit and vegetables of spring. There's nothing like the crisp crunch of fresh vegetables, or the juicy sweetness of a piece of ripe fruit to light up your taste buds and look after your body and mind with this healthy and delicious spring salad recipe.
Today for lunch I had a delicious salmon, avocado and pomegranate green salad. It was the perfect pairing of avocado and salmon with some arugula and edible flowers. I then topped it off with the beautiful color and taste sensation of pomegranate seeds. Delish!
A Lighter Lunch: Arugula, Pomegranate + Salmon Salad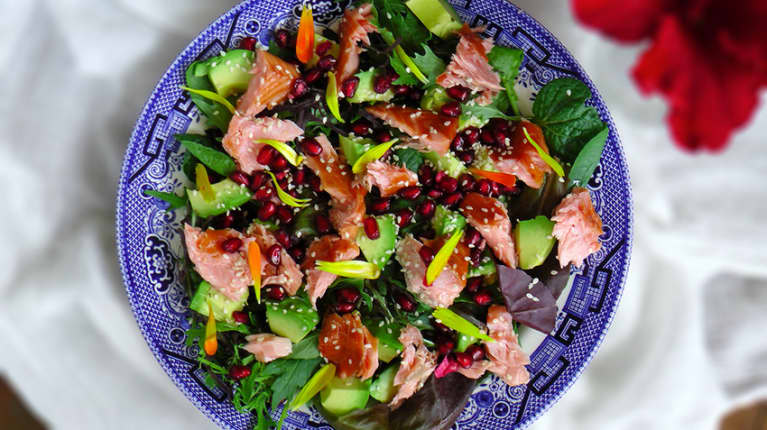 A handful of arugula
A handful of baby lettuce leaves
A handful of baby spinach leaves
The petals of one edible flower
½ of an avocado
1 smoked filet of salmon
A handful of pomegranate seeds
1 tablespoon of sesame seeds
A drizzle of avocado oil
A squeeze of lemon juice
Preparation
1. Toss together the lettuce, spinach, and rocket in a bowl or arrange on a plate.
2. Cut up the avocado and add the pieces to the salad greens.
3. Break up your salmon into rough pieces and arrange on top of the salad.
4. Cut open the pomegranate and sprinkle the seeds on the salad.
5. Drizzle with avocado oil and lemon juice.
6. Scatter sesame seeds over the salad and serve.
Photo courtesy of the author