Carob Truffles With Mango Filling
Stuffed truffles have always been one of my favorite desserts. You never know what is inside. And only when you bite in it, a sweet surprise is revealed.
Their preparation is super simple, it will take you no more than 10 minutes to make. And because they contain almost no fat and they follow good food combining rules (which most raw recipes don't), they are really light on your stomach and easy to digest.
You can easily eat them for breakfast and feel energized throughout the day. Trust me, these delicious truffles really are kind of spectacular!
Mango-Stuffed Carob Truffles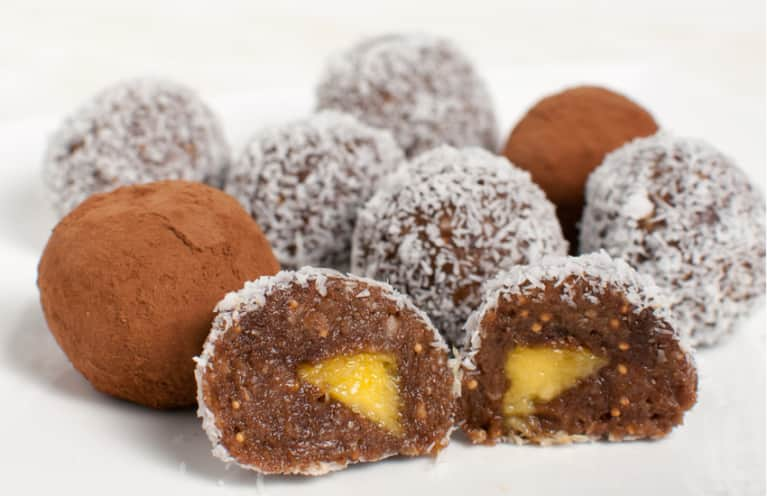 Makes 10 truffles
Ingredients
1 cup (125g) dates
3 dried figs, soaked
1/2 tablespoon carob powder
1/3 teaspoon vanilla powder
1/4 fresh ripe mango, cubed
1/8 cup (10g) coconut flakes or 1/8 cup (12g) carob powder
Preparation
1. To make the dough, soak the figs in warm water for 15 minutes. Drain the figs and then mix them with the dates in the food processor. Add the carob and vanilla powder and process again. Mix until well incorporated.
2. Cut the mango in little cubes.
3. First shape a circle out of the dough and then place one mango cube in the center and carefully merge all edges together.
4. Coat them in the coconut flakes or carob powder.
Recipe note: You can also use other fruits instead of the mango (for example raspberries, blueberries, papaya …).
Photo courtesy of the author