Next-Level Hummus: Roasted Garlic + Cauliflower
Anyone who's been on an anti-candida protocol knows it can certainly be a challenge, and it isn't a quick fix by any means. Having to eliminate many foods, sugar and carbohydrates often makes for a frustrating first go.
It's tough but it isn't impossible. And believe me, you become very creative in the kitchen!
Hummus is a perfect on-the-go snack, a delicious spread, and ideal for a quick salad dressing. However, with the anti-candida diet, chickpeas, along with many other legumes, are not on the menu.
Cauliflower, when roasted or steamed, takes on a very similar texture to cooked chickpeas and makes for an almost-identical hummus when blended.
Roasted Cauliflower + Garlic Hummus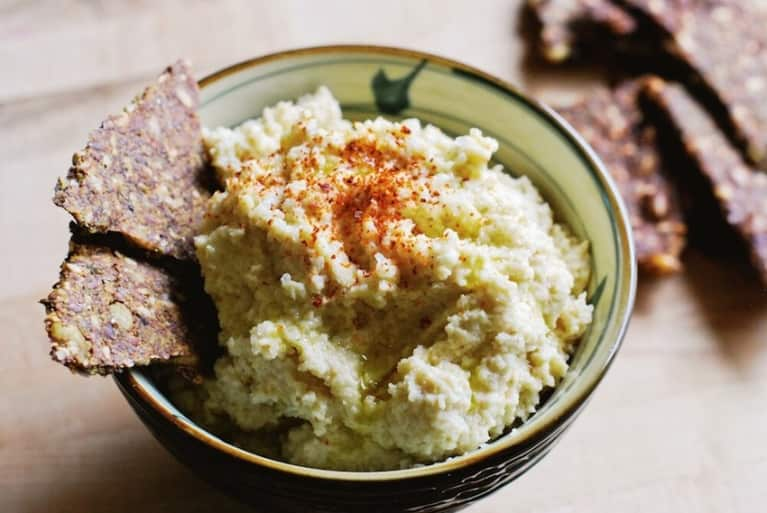 1 head garlic (keep raw for additional candida-fighting benefits)
6 tablespoons extra-virgin olive oil
1 large head cauliflower, chopped
2 tablespoons tahini
1 tablespoon fresh lemon juice
1 teaspoon ground cumin
1 teaspoon paprika
sea salt and ground black pepper
Preparation
1. Preheat oven to 350 degrees Fahrenheit.
2. Chop off the top of the head of garlic and lightly coat with olive oil. Place in a small baking dish and roast in oven for 35 minutes.
3. Break down cauliflower into smaller florets and place on baking sheet. Coat with extra-virgin olive oil and place in oven. Roast for 20 minutes. You can also steam your cauliflower until it's cooked, about 10 minutes. Drain and place in food processor.
4. Squeeze the garlic cloves out of their skins and into the food processor (or simply remove garlic peel, if using raw.
5. Add in tahini, lemon juice, olive oil, cumin, paprika, and a pinch of s&p to the food processor and pulse until smooth in consistency. Adjust seasonings to taste.
Photo courtesy of the author